Fall is here! Well, actually the rain is here is Florida. Loud and proud. I almost drowned on my run today. I didn't even take my Garmin because it was raining so much I didn't want to chance it. So, I have no idea how much I did.
Back to eating…  Fall / pumpkin season has arrived. And with it comes all of blogland freaking the heck out over Pumpkin. Pumpkin Lattes! Pumpkin Bread! Pumpkin toothpaste! You want it, we got it.
Specifically, I have a protein packed Pumpkin Spice Frappuccino recipe for you today!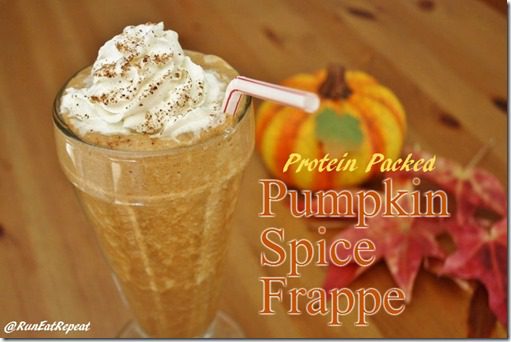 Skinny Pumpkin Spice Frappe Recipe
Ingredients:
1 cup coffee (brewed strong)
2 Tb. canned pumpkin
1 scoop vanilla protein powder (or chai flavor)
½ tsp pumpkin pie spice
ice cubes (freeze almond milk ice cubes to make it extra creamy)
1 packet sugar/stevia to sweeten
whipped cream, sprinkle nutmeg or cinnamon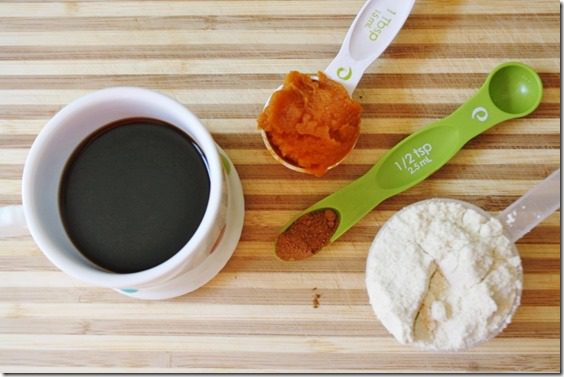 Blend. Top with whipped cream and a sprinkle of nutmeg or cinnamon. Enjoy!
Question: How many pumpkin drinks have you enjoyed so far this year?
I actually don't like pumpkin flavor in my iced coffee (and that's what I drink daily) so this shake is the only one so far! I am craving some pumpkin desserts though!