Morning! I tried to do a run this morning, but yesterday's double run left my knee a bit tired. I like to be super cautious about that, so I walked instead. I'm going to do some abs and arms after my dentist appointment and am formally announcing it so I'll stick to it!
After my 3 mile walk I came home HUNGRY and decided a high volume breakfast was in order. Whenever I want to pump up my meal I add tons of veggies – in this case I added a cup o' pumpkin to my honey yogurt. (I think pumpkin is technically a fruit, but has stats similar to a veggie.)
I paired the big yogurt bowl with a bagel.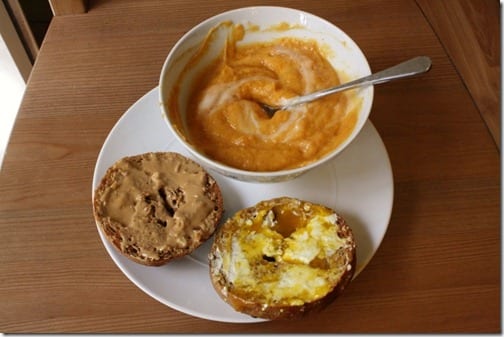 Everyone keeps asking about the Trader Joe's Mango Butter… Yes, it's amazing. Yes, I eat it by the spoonful straight out of the jar. Yes, I realize that is doing me a disservice.
Remember my whole root canal debacle? Well, today I'm getting my permanent cap. I am soooo over the dentist. Wish me, my mouth and my wallet – good luck!
See ya later