I have something very cool going on for February… I was asked to answer a reader question in Runner's World magazine! It's in the February issue which is on stands now (the March issue is out too so check to make sure you have the right one).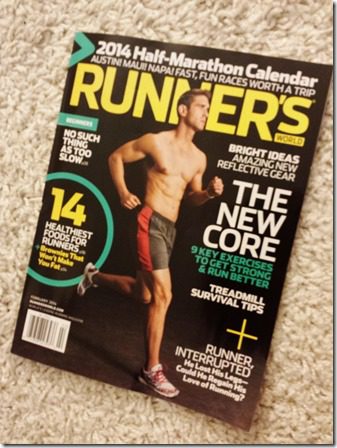 I'm still taking it easy from the race so I did a few miles to shake out and stretch. But, I do have a great tempo run for ya if you are into that sorta thing.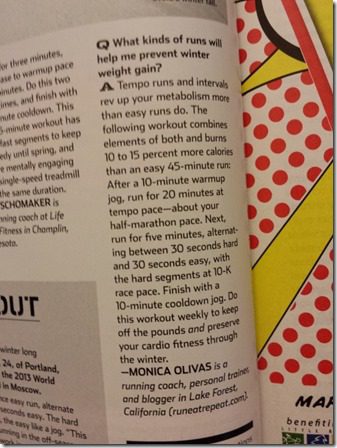 Your tempo pace depends on YOU. Your tempo run should be at a "comfortably hard" pace, something that makes you huff and puff a bit, but you can maintain for a while (in this case 20 minutes). It's not a sprint because you need to keep that pace for longer than just 100 meters. It's faster than your usual shake out pace.
If you don't run 10ks or have any idea of your half marathon pace use the effort scale to judge. Your tempo run might put you at a 6 on the scale, the sprints would put you at an 8 or so.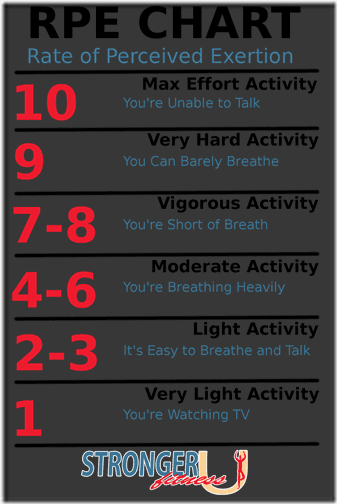 (source)
My advice was not for a specific distance race, but just to keep in shape and burn calories during the winter season. If you are training for a race and want to do tempo or speed work look up training plans that have a day or two of faster running incorporated.
Just the tip: You can do a workout similar to a tempo run with any cardio = push yourself on the bike, elliptical, stairmaster… for 10-15 minutes after warming up.
Other resources:
In other news… I am digging the heck out of this Bruno Mars song right now.
Young Wild Girls
Question: What song are you digging today?