Hi! Here's a quick round-up of Run Eat Repeat reader questions from email, Instagram, Twitter, Facebook, sky writing, Craigslist encounters, engraved plaques, graffiti and other random places you reach out to me… from this weekend.
First… I ran the Surf City Marathon this weekend. Check out my recap here: Surf City Marathon Results / Recap / Recycle / Rihanna / Reuse
After the race I went to my parents' house to eat nachos and watch the Super Bowl (half time show). The pups were adorable as always. Love love love them.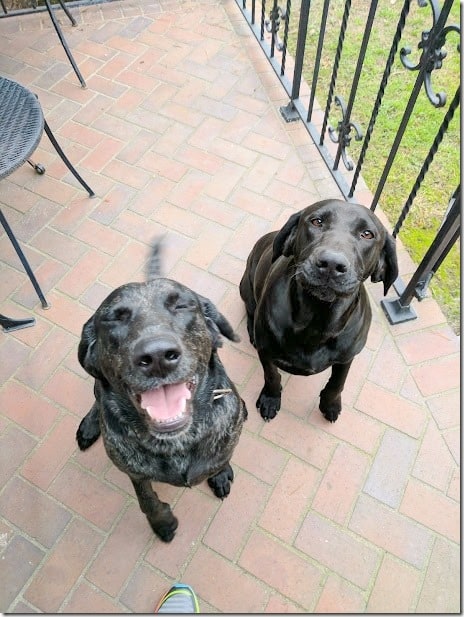 Randomly… I was in the kitchen making nachos when Ben showed up with a HUGE container of legit nachos from Pepe's. Boom. Great minds think alike?
This thing was packed with all the nacho happiness that makes life worth living.
In addition to nachos – I had a massive carrot cake cupcake because I've been wanting a good piece of carrot cake. Unfortunately it wasn't good and I had to share it in an effort to get rid of it. I want an EPIC piece of carrot cake.
RER questions…
1. Where is that dress from?
I did a random video on Instagram and was wearing this new top. It's a body suit with an extreme scoop back from Wet Seal.
PSA: The Wet Seal at the Irvine Spectrum is going out of business and everything is super sale.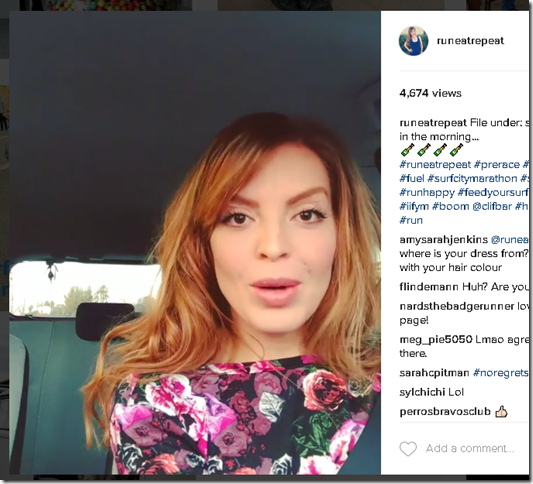 2. Do you drink Spark before running?
Yes. Sometimes, it really depends on the day. I'll sip coffee while changing / braiding my hair / putting on sunblock … Then, I mix a Spark to drink after my run and put it in the fridge to be cold and waiting for me when I get back.
But sometimes I don't wait and sip some of it while checking email or doing other random things before I finally get out the door.
Tip: You have to put it in a water bottle or something and shake it to mix. It has vitamins and can smell vitamin-y if you just stir it with a spoon. I use a big blender shaker cup that I think is made for protein shakes. I use one packet or scoop of Spark and about 20 oz of water.
3. Do you take walking breaks when you run?
Yep. Sometimes. It depends on where I am, the elevation, my body, goals, mood, temperature, horoscope… basically, yes sometimes I walk (mostly hills).
4. Did you run the whole marathon?
Yyynope… I almost said yes, but remembered that I stopped to take a few pictures around Mile 20 and change my music because I needed a really good song to pick it up. I probably took 3 short walk breaks during the race.
5. Did you do an ice bath after the Surf City Marathon?
No. But I should have. I just didn't have it in me to torture myself more.
6. What aroma therapy diffuser do you have?
I got a few questions on twitter about my lil aroma therapy machine. I have a small, easy breezy one from Now Foods. It's this Ultra Sonic Oil Diffuser from Now Foods. It's small and very easy to use – fill with warm water, add a few drops of whatever oil you want and enjoy.
Tip: You have to buy some oils to go with it. I started out with this super basic 3 pack. And now I'm slowly adding to the collection now that I know I actually use it and like it.
Do you have questions for me? Ask me in the comments or email runeatrepeat at gmail.com
And since I answered some of your questions – I have a few for YOU….
Questions:
1. Do you know of a class / book / seminar that teaches how to use apps / Google calendar – in a way that will organize your life?
I'm not asking for myself, but I might be interested. I know a young adult person who needs some organization help.
2. Where is the best place to get carrot cake?
Don't link me to a recipe, I don't want to eat a whole cake. Trust me, I'd eat the whole thing.