Hi! I ran the Surf City Marathon this morning! It's one of my favorite races in Southern California. Here are my results and recap…
The Surf City Marathon and Half Marathon is in Huntington Beach, CA aka Surf City USA. Most of the course is along PCH in HB.
The night before the race I did set out my clothes and broke the #1 rule of races (don't try anything new on race day). I just bought some new running tanks and wanted to wear one.
Race morning always starts super early. I'm extra busted because I stayed out too late last night. Oh well, sometimes you gotta get out for a bev.
I did my usual pre-race rituals … clothes, sunblock, coffee, 02 Gold…
and I had my fuel ready to grab and go.
The best part of the Surf City Marathon expo…
There was a VW van club displaying their vans. Inside one of the cars was a MASSIVE pup. I love him.
Lil reminder for runners / walkers…
The pace teams plan in walking breaks for some of the groups. It's totally okay to walk.
Surf City Marathon Race Morning
Race morning!
The full marathon starts before the half so the porta potties were empty. Boom.
Some of the course was on the beach bike path. I've heard people complain about this because full marathon runners turn away from the finish line to back track for a few miles on the path. That is kind of defeating. But, it's on the bike path and it's hard for me to complain about being at the beach
My race…
My goal was to run slow for the first half of the race (I was thinking goal pace plus 30 to 60 seconds) and finish at goal pace. I was thinking about this and kind of hesitant because it's super super hard to finish strong like that on a marathon. I don't know if I've ever run a negative split race before. But, I know it was a smart goal so I told her I'd go for it.
Long story short… I didn't hit that goal. I had a really hard to time running my slower pace, but I did really make an effort to keep it at an easy pace. It felt easy, but I knew I'd regret it later. I did. I was strong for about 16 miles and then started to slow down. I pushed myself in the last 6 miles but I'm just not in good enough shape to run fast at that point.
The good news is I can take this as an opportunity to learn where I am right now and what I need to do to train for my goals.
I felt super tight and tired and basically wrecked right after the race. So, I don't think I could have done much better at the end of the race, but I could have run smarter in terms of pace and being more aggressive at the end. I gotta just say my mantra and get it together.
Also, I tried to run the tangents but still ended up doing 26.56. You never run 26.2 miles exactly but this was a little surprising since there aren't a lot of turns on the course.
Best part of the course – views of the ocean.
Second best part – the Bacon and Beer Station!!!!
Someone was saying "have some sodium, get on the podium!" as I passed. I totally believe in tons of sodium (that's what works for ME, don't try this at home) so I loved that.
Surf City Marathon results – 3:47:18 – average pace  8:38
Surf City Marathon – Post Race Thoughts
Thoughts on Surf City half / full marathon… great course. It's mostly flat. Near the ocean makes for cooler weather than inland.
Last year it was HOT. And there have been a few years I've run it and it's been hot, so that's a risk. But it's a flat course and well organized.
Post-race party… nachos.
Ben came over to my parents' after and brought nachos… for himself. But I ate some of them. Maybe most of them. .
Question: Did you race this weekend?
When's your next race? Did you have nachos??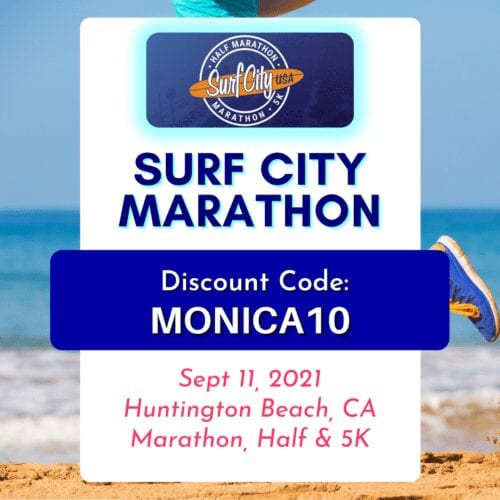 UPDATE:  Surf City Marathon & Half Marathon Discount Code for 2021
Get 10% off the Surf City Marathon or Half Marathon with discount code: MONICA10