Hello! How are you?
I'm feeling great considering I ran a full yesterday! I'm not sore at all and kinda feel like I wanna go for a run even! But, I'm not – I am taking a rest day. I am wondering though if I should be sore? Maybe I should push it more in races?? Hmmm.
I did hit up the gym for some light weights (okay, mostly to see my friends) but that's it. I rocked a headband – so that's how you know I wasn't taking it seriously. Red/big hair don't care.
Music Monday –
We need a slow recovery song today… "I belong with you You belong with me You're my sweetheart"
RER Readers Run!
I asked for your pics of the Surf City Marathon / Half and you delivered.
Reader Shannon spotted me before and during the race! I guess red hair don't care and is also easy to see in a crowd?!
Sarah and Sarah from The Fit Foodie ran the half repping for Oiselle! (photo taken by Striding Mom)
Julie looks pretty Happy here
Dione's husband Jeff ran his first half at Surf City!!! (He's second from the right.) Congrats!!!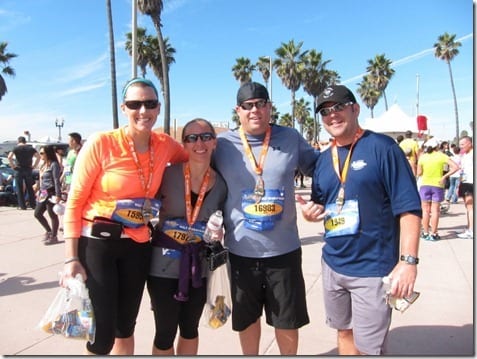 Another Monica knows how to party too…
SoCal Rachel bustin out the bling:
Surf City was Jen's 2nd Half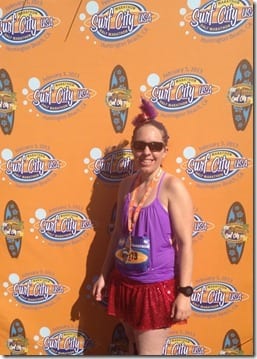 Katie from GettinMyHealthyOn.com ran her first full at Surf City!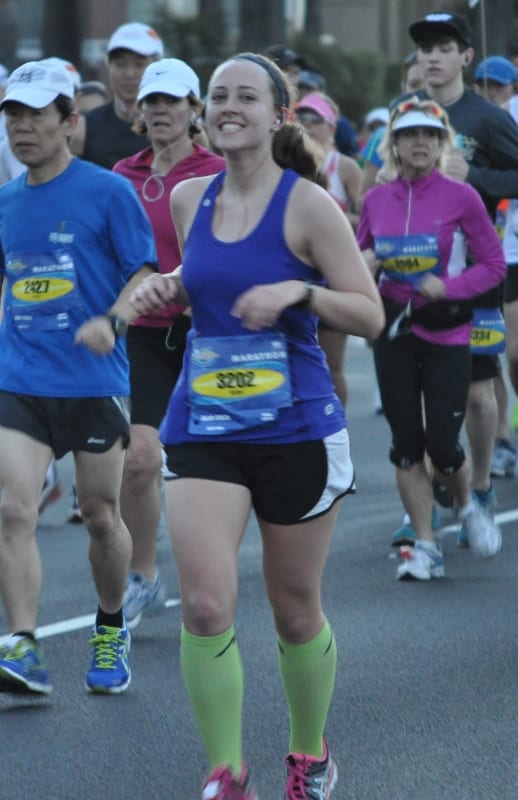 Debbie and her husband trekked here from Virginia to run the half for their anniversary! Isn't that super cute?  Congratulations!!!
Anyone want to run a race for my RER anniversary with me hand in hand all romantic like?  <- My blog anniversary is coming up soon! Just sayin'
Speaking of – did you know you can get married on the Rock N' Roll Las Vegas course?!
I took this pic of some of the couples before the race in Vegas. I love the idea of it but am not sure it would make for the most romantic ceremony?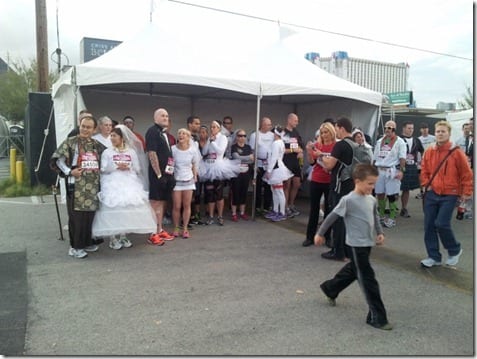 Question: Would you get married during a race? Yes or No?
Would you celebrate a milestone with a race?
Yes, I would celebrate a milestone like that for sure – I love how Debbie and her husband ran a race for their anniversary!