Soooooo, a lot of you were asking if you missed where I said whether I was doing the Full or Half marathon at Surf City. Well, you didn't miss the announcement – I didn't say because I wasn't sure.
Every year after Long Beach I sign up for Surf City and every year I party too hard during the holidays and stop training. Most years I end up not running or dropping to the half. Since I spent 2+ weeks in FL over the holidays and have been focused on living not running lately I once again was NOT ready to run a full marathon. This is a shock to no one.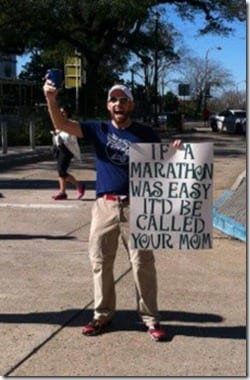 (source)
But, I figured I need to see where my fitness is since I just signed up for LA in 40 some days. The lil' problem with having a blog is that people pay attention to your running schedule and you can't fly under the radar and run a race 'no pressure'. It's pressure when you guys are curious to know how I did! So, to save myself from an ulcer I didn't make a big 'to do'.
Plus, SR said I had to start running more full marathons because her New Year's Resolution was to stop hanging out with lame-os. Since my friend balance is in the negative these days I took her advice
Yes, I'm wearing a man's dress shirt as my pre-race gear. I grabbed it from Ben's old pile of Good Will stuff he left on the floor.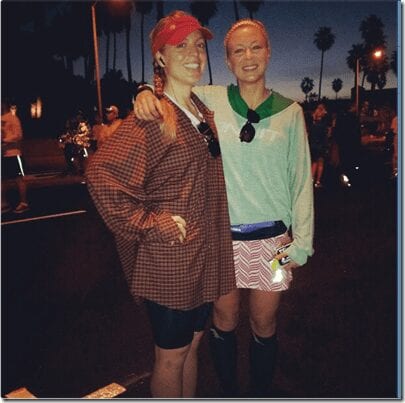 I lined up with my new friend Superman – I mean Marathon Man and went in for the full marathon.
Okay to the good stuff….
NEW Marathon PR = 3:50:40
PR Dance!!!! and/or my bad Michael Jackson impression.
Coach Steve PR'd too!!!! He's my favorite person in the world right now because his advice on fueling changed my life.
Fun fact: ALL the girls thought it was weird that I was running the full. Sheila even texted me last night tempting me to run the half and hit up Sharkey's for Mai Tais instead. I was thisclose to taking her up on that offer. I kinda want a Mai Tai right now actually…
Fun fact #2: I emailed the girls last night this following, "We all know I am not prepped for this race. If I die please drag my sad carcass into the Pacific Ocean and call it a burial at sea."
From left: Sheila, Kristin, Skinny Runner, Sarah, Margot, some Mexican
I am on my way to a Super Bowl party!!! I think I deserve a BIG PR drink – what should I have? I'm thinking a Margarita sounds amazing…
Question: What are you drinking today?
Thanks to all the RER readers who said "Hi!". If you ran Surf City send me a pic and I'll post it tomorrow!!! runeatrepeat at gmail dot com