Hello! How's it going? Over here it's going pretty great because I scored a great deal on new running gear AND got the new Quest bar! Double win for running and eating.
The new running gear was a random find actually! I went to the mall to buy the new Quest bar in Oatmeal Chocolate Chip. After I scored those bars aaaand a few whole boxes that were on clearance (!!!) I walked around a little bit and went into JC Penny. I found these 8" compression shorts and the top by Xersion. Both were on sale so I bought 2 pairs of shorts. (Which kind of cancels out saving money, but I love them so it's okay.)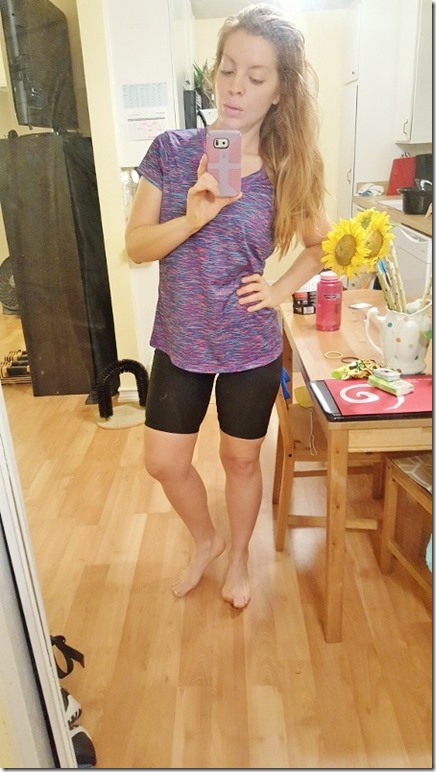 If you don't have a JCP near you, these look similar in length and have tons of color options…

About the Quest bars…
I have loved the Chocolate Chip Cookie Dough flavor forever.  I like some of the other flavors, but only love love that one and Smores,  okay and the Oreo one. Anyway…
I knew I would love this flavor so I went in with high expectations. Aaaaaand I was not disappointed. I love this one too. It does not have as many chocolate chunks (not even close if I really think about it) as the cookie dough flavor but it's still really good.
In other food news, I hung out with my BFF yesterday. We hit up a drive-through for lunch and since I was the passenger I was able to enjoy all the 'stray fries' on the way home…
Stray fries are fries that are just in the bag and not in an individual packet of fries and therefore are my fries because they would be homeless and lost without me eating them. I'm doing a good thing by saving them from a cold, lonely death in the bottom of the bag.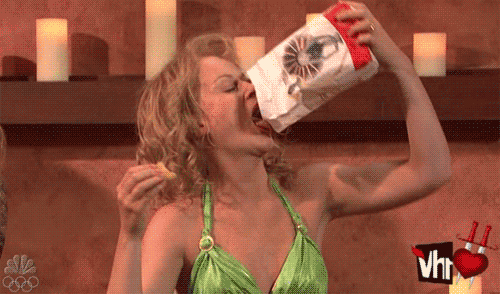 I was up near LA for a funeral so I stopped at my parents' house and hung out there for a bit too.
Bonnie is my shadow and I love it.
Revel Race Discount
So we talked about running and we talked about eating and now we can talk about saving money while running (or really racing) because I have a great discount to share with you.
The Revel Race Series is giving RER readers $10 off entries for their full or half marathon races.
Head's up – this is a little more complicated than just using a code so follow along with me on this…
1. Sign up as a part of Team Run Eat Repeat to any of those races using the links below. That gets you $5.00 off.
2. "Like" their Facebook page when you checkout and that will get you another $5.00 off.
3. Run. Eat. Repeat.
Here are the races and links to use for each:
Revel Big Cottonwood Team Run Eat Repeat – Sept. 10, 2016*
Location: Salt Lake City, UT
Revel City Team Run Eat Repeat – Nov. 12, 2016
Location: Azusa, Los Angeles County
Revel Mt. Charleston Team Run Eat Repeat – April 29, 2017
Revel Rockies Team Run Eat Repeat – June 11, 2017
*Note: The Big Cottonwood race is just 1 month away so if you are looking for a race soon – jump on it!
Other race discounts:
March 8 / Glendale, AZ
Get 15th off with the discount code below…
Use code:   RUNEATREPEAT15
Lexus Lace Up Running Series – your choice of 4 races around Southern California
Discount Code:  RER15
Rock N Roll Las Vegas Half or Full Marathon code (for either race)
Use code: RUNEATREPEAT
Question: Are you training for a race right now? Have you tried the new Quest bar? Thoughts?