Hi! How's it going? It was the most gorgeous fall morning yesterday. This is perfect running weather!
My Brooks running shoes were still wet from Monday's rainy run so I switched it up and wore my new Saucony Kinvara 7s.
I think I won these in a contest for the Lexus Lace Up Irvine 10k. I've only wore them once or twice so I can't give a complete review right now but I like them so far! They are lightweight, fit great and great colors.
It was a great run, but I had to take a detour on the way back. When I went out the path was open but on the way home I saw a hand written sign that said 'trail closed'. I ran around it because I needed to go that way and sometimes the trails aren't really closed – there is just some landscaping happening or something.
Well, it turns out it was really closed and I had to cross the street and just head home on sidewalks. No big deal. But I thought it was random that this was the reason the path was closed: Fresh Oil. I think they're covering all the running paths in Orange County with coconut oil because it's great for the skin and must also be great for the ground?
I came home to tell Vegas about the fresh oil detour, but he said cats don't cook their food or run so he doesn't care.
Breakfast was eggs cooked with deli turkey and toast. I always take a bite of the toast immediately because it's important to check and make sure it's delicious.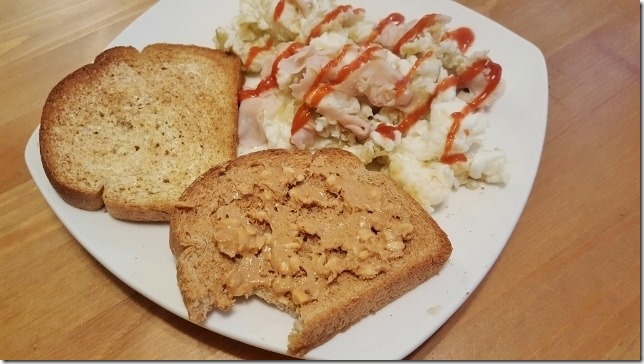 I never check my mail. Most packages come to my door – but every now and then I get something awesome. Yesterday I got two great surprises!
First, SR sent me cookies because she likes me to gain weight. She sent me a few Complete Cookies because I had said I've never tried them before.
Since she moved away we've mailed stuff to each other to be nice /funny/random/keep in touch. I think I'm going to send her a banana since it's great running fuel.
Pro tip: Put it in them microwave. So good!
I've seen these at the health foods store near the protein bars. You can also order them online via Amazon. They're a little pricey but super BIG.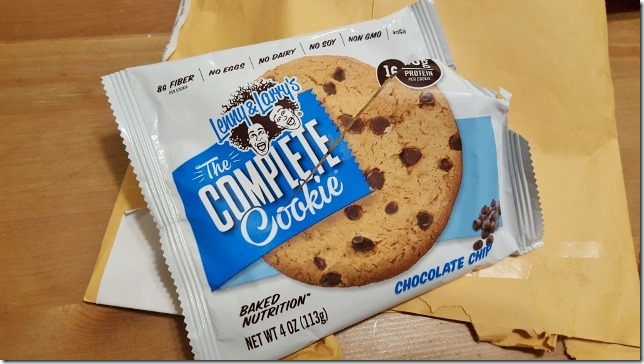 And ProCompression sent me a pair of Polka Dot socks. LOVE. I love all things polka dot!!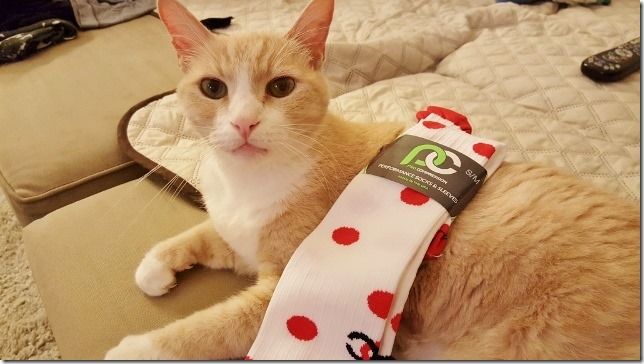 I also had salad and hummus to balance out my cookie consumption…
Rock n Roll Las Vegas Marathon Commercial & Promo Code
The other night I was randomly watching TV and folding laundry when I saw a commercial for the RNR Las Vegas race!! It immediately caught my attention.
Have you seen it? I kinda love this since it's one of my favorite races (and places).
***You can get $15 off any 2016 RNR half marathon or full marathon (including Las Vegas)  with promo code: RUNEATREPEAT
(Check out all the races here.)
Questions: When was the last time you got new
running shoes
?
When was the last time you went to Las Vegas??
Do you think I should get a tiny pair of compression socks for my cat?