I did it! When I signed up for the Las Vegas Half Marathon I thought, "This could either be the best idea or the worst idea I've ever made." Well, I don't think it ended up being either (dramatic much), but it did end up being a really good idea!
I was able to sleep in a bit considering it was a race day. The starting time was 7am and we were staying right next door! I needed all the sleep I can get this crazy weekend.
I woke up early and did my pre-race ritual – braids, sunblock, #2, toast bread with almond butter, chug water, put on timing chip… not necessarily in that order.
The race started in front of Mandalay Bay. It is the south most casino on the strip and went north from there.
I was staying at the Luxor. My friends and I love this place and not just because they followed me back on twitter (even though I thought that was very cool).
I hate to admit this, but there is a part of my heart that gets super happy when I see the Half Marathon / Full Marathon split and I get to go towards the Half side. Please tell me someone else feels like this.
Heather didn't come down because she enjoyed a few too many adult beverages last night. So, this is the only post-race picture I got. Well, I guess I can catch the professional ones?
Maybe Heather should have taken her fortune (from the fortune cookies we got the from expo) a little more seriously?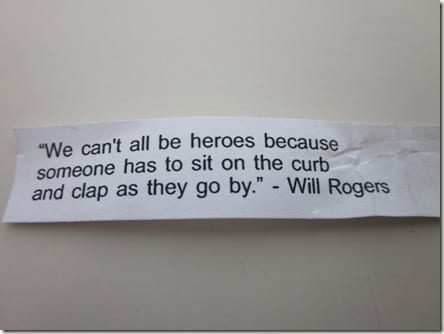 Kidding.
I thought I would share a few tips I learned from the Las Vegas Half Marathon:
1. Don't go dancing in heels the night before a race – especially new ones that haven't been broken in.
2. All clear liquids are NOT equal. Vodka does not water make.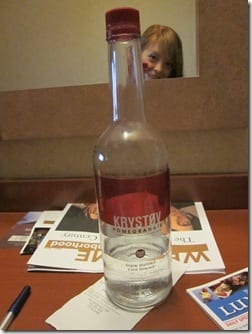 3. Fish burritos are a bad idea the night before.
5. If your friend takes pics like this the next morning – she is still drunk. And if you think it's a good picture, so are you.
When I got back to the room I chomped on an apple.
ALL WEEKEND I was talking about Belgium Waffles. Seriously. Is that sad? Don't answer that.
Anyways, Heather and I decided to order two delicious dishes for breakfast and share.
We got the amazingly light and fluffy Belgium Waffle.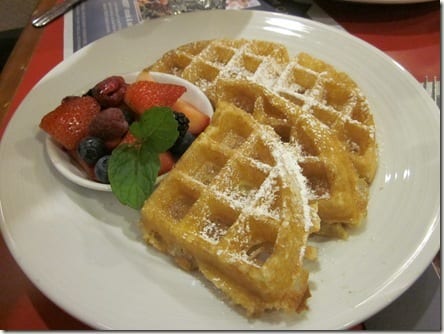 And a veggie omelet with hash browns and toast. I love that Heather and I have similar taste in food and can get everything we like and share.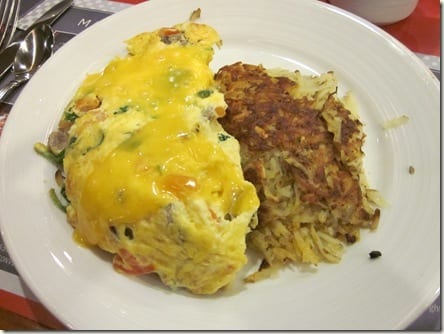 I got coffee because we had a very long drive ahead of us and I am a bit tired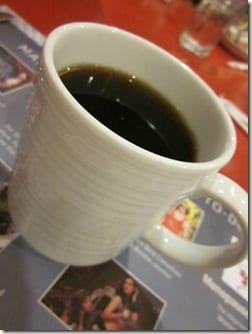 I am always sad to leave this city. I love it!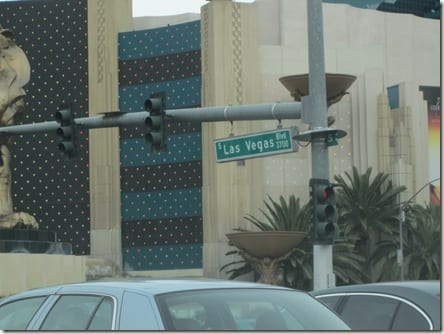 My road trip buddy, Heather.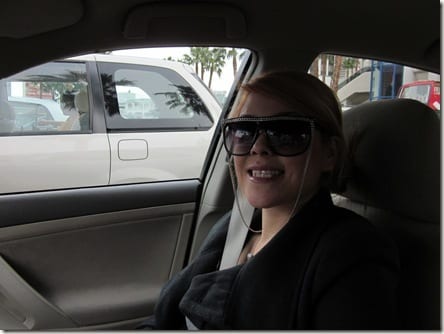 I am wearing my medal for the drive
I love road trips! The road  from Las Vegas to the state line is all open desert. It's pretty cool.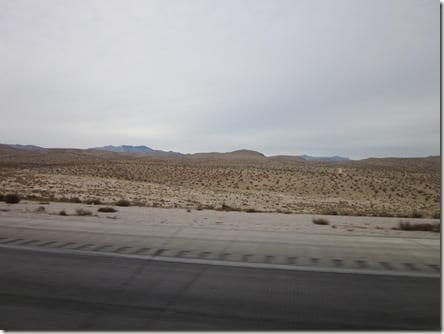 Actually, I take that back. Normally, it's pretty nice but today it took 2.5 hours to move 40 miles. I kid you not. It's a miracle I didn't pee my pants. Miracle.
Snacks for the road!
After we got past the traffic it started raining. A drive that normally takes under 4 hours took over 7 today. What.the.heck.
I wanted to wait until I got to my mom's for dinner, but by 7pm we still had least an hour more to drive so I got Panda Express.
Panda Express has Eggplant Tofu that I love. Note: they specify that they don't have any vegetarian ingredients so this must be made with chicken stock or something.
Now I'm finally at my mom's waiting for Ben. He went on a road trip with my Dad and brother and need to meet here to get home
Las Vegas Half Marathon Final time: 1:51:16
I set a new PR!!! (Technically my Freedom Run Half was faster, but it was a short course and don't think it should count.)
Overall, I LOVED this race. I love Las Vegas and running down Las Vegas Blvd. past all the hotels was very cool! Everyone was in a good, fun mood and even though I was running alone I had a great time.