I scored with the Manager's Special again yesterday! Tofu Steak for $.39!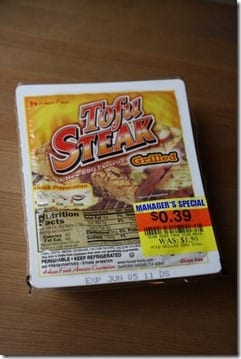 I used my super cheap tofu to make a big stir-fry. This is a more "dinner" kinda meal to me, but I have to work from 4-7ish so I made it for lunch. This way Ben will have dinner ready when he gets home too
 Sometimes I'm a good lil' wife like that.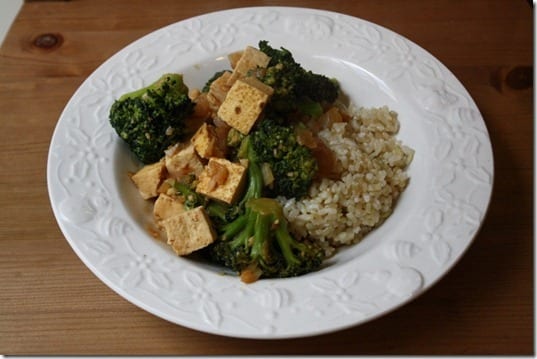 This mix had tons of onions, broccoli and peanut sauce that I made myself. Plus, lots of brown rice. I actually measured it out today – 1 cup, then 1/2 more when I went back for seconds.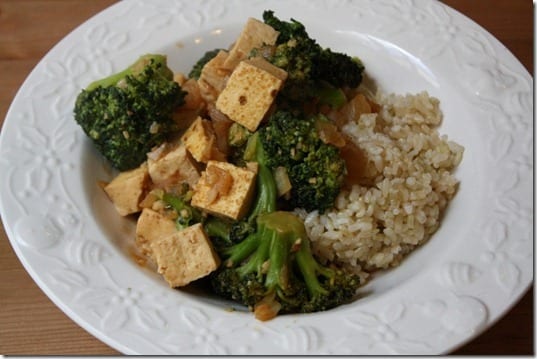 This weekend Jules emailed me this question. It's a pretty common question and problem so I thought I'd address it here. Weigh in with your solution in the comments!
I ran a 10K this morning and…My legs rubbed together creating an almost bruise on my inner thighs.  And I have a high tolerance for pain when I tell you this hurt! My lungs felt great, my heart was beating strong, my knees held up, my calves were feeling good, but my thighs made me slow down.  Grrrr….
I asked a friend about it after the race, and she told me it was "chub rub."  And so I ask you- and your readers- three questions:
1) Besides losing 30 pounds (working on it!) and/or wearing capris (it was 94 degrees out this morning!), is there a prevention?
2) Is there a treatment or cure- because OUCH.
3) Can we come up with a better name for this phenomenon than "chub rub"
Yes, I am all too familiar with chafing thighs… That stinging in the shower. That awkward walking around the rest of the day. Ouch.
1. First off, I don't think I'll ever be thin enough to not have this problem. So, losing weight isn't the only solution and shouldn't stop you from running. I am shaped in a way that keep my thighs kissing. I'd like to think they love each other (and that's why they won't leave) – so I work with it.
2. This is totally an issue for me so I either lather up the vaseline. I personally don't use Body Guide because Vaseline is cheaper.  Heck, I don't even buy Vaseline – I buy this Petroleum Jelly from the 99 Cent store! Put on a thick layer if you go this route. Warning: It stains, but it prevents a lot of hurt so be generous.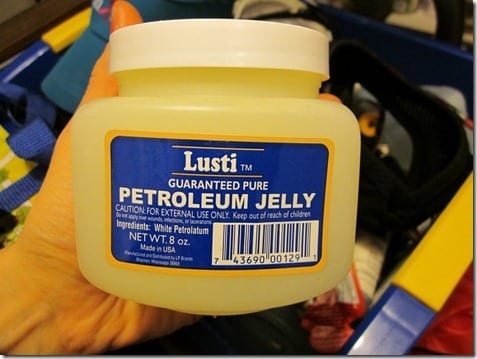 Or I wear capris. In the summer I try to use long shorts/short capris.

3. Please chime in with your solutions to preventing Chub Rub & ideas for calling it something other than Chub Rub! Thanks