Hi! How's your week going? Have you changed anything in your running routine? Today's runner safety topic is about being seen and listening. Check it out below!
This morning I ran without a running buddy, but I was on a path that has other people and houses around (not horses this time).
I was visible because I wore a hot pink shirt (and have an enormous orange head). I like bright running shirts! Do you?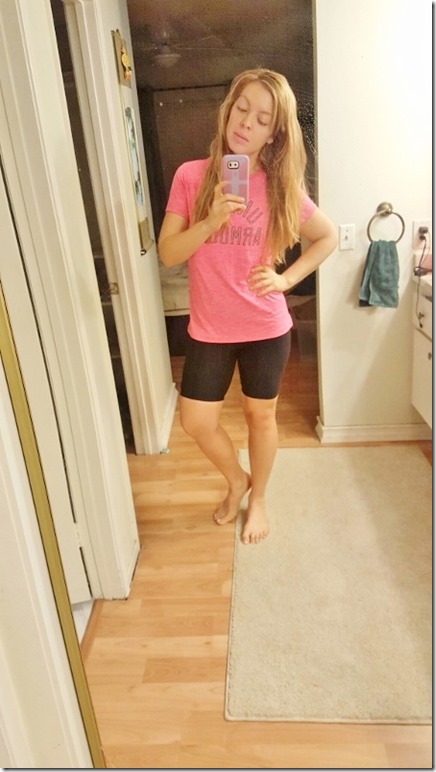 Pre-run I made a 8 second video on Instagram asking about your running buddies. Do you have one?
I have Vegas. He doesn't like to run though. He likes to sleep. Sleep Eat Repeat – that would be his blog.
Post-run I did 21 day fix barre legs workout while watching Dallas Cowboys Cheerleaders Making the Team. Is anyone else into this show?
I made a big salad for lunch with eggs, chopped veggies and cashews. It had a TON of onion. Okay, not a ton but maybe 2 pounds? I love onion and garlic and have read over and over about how those foods are good cancer fighting options. So, I figure I'm okay with stinking for the taste and health benefits. (These are the things I tell myself to justify smelling like a dirty napkin at an Italian restaurant.)
And a knock at my door this afternoon delivered a delicious snack!
Vega sent me a box of their new protein bars to try. There are two flavors – chocolate caramel and chocolate peanut butter.
Surprisingly the caramel one was better. I'm usually a chocolate/pb girl all the way!
I had to try both, you know – to be able to share my thoughts
They taste great and I love that they're covered in dark chocolate. These protein bars are chewy and crunchy at the same time – they have a chewy middle on a bed of crisp rice. Both are vegan and gluten free.
In other super random news… I got a nightlight!
Yes, a nightlight. But I can totally justify this too.
Reasons I need a nightlight:
1. I always have to pee in the middle of the night. (And am not a fan of stubbing my toe.)
2. I got a Himalayan Salt lamp and some say it has health benefits! Supposedly it cleanses and deodorizes the air and has other perks too! Boom.
3. I'm scared of the dark.
I'm pretty happy with it and totally okay with the fact that I just admitted I'm afraid of the dark.
Day 3 of Running Safety Week
So far we've talking about Checking Your Running Route and Finding a Running Buddy…
Stay Aware of Your Surroundings – Look and Listen
Today's safety tip is about being seen and listening. Answer these questions to yourself and think about what you did on your last run.
What did you wear on your last run? Was it bright and easy to see?
Could cars, cyclists and runners see you coming?
Do you tell others on the path 'hello' or 'good morning'?
No? You don't want to tell a stranger "hi!" when you're sweaty and out of breath?! Too bad.
Telling people 'hi' keeps YOU aware of what is going on around you AND tells people you are paying attention. You are not a victim. You see the people on the path. Don't just zone out and pass people without thinking about it. Stay present and aware.
Can you hear someone coming up from behind you?
Confession – The other day I was running on one of my favorite paths. I run here often and feel pretty safe. There are other runners and cyclists on the path, but sometimes I  go for over 10 minutes at a time before I see anyone else.
I was running along and another runner came from the other direction. He seemed pretty fast. That's all I observed. I kept running in the opposite direction. I only had about a half a mile left before I hit my turn-around point so I was thinking about that.
Out of nowhere the guy flew past me from behind. I didn't hear one single foot step! I didn't know anyone was running behind me until he was passing me. He had turned around after we passed by each other and was able to catch up and pass me before I realized. Thankfully he was just running and had no negative intentions. But I was alerted to something I'm doing wrong.
I was listening to a podcast and didn't have it that loud – but it was still too loud. Anything in your ear is too loud if you don't realize when someone is coming up from behind you.
So, I suggest a new rule – take one earplug out.
I actually thought about cutting one off to keep me honest, but realized I'd like to be able to switch them to balance out my hearing. I'm not saying don't listen to music or podcasts while running (although most runner safety tips suggest that!). But I am saying keep it low and keep one ear open to hear what is going on around you.
What did you wear on your run today (or yesterday)? Was it highly visible?
Do you run with earplugs? Can you take one out or lower it so that you can hear even the lightest footsteps?