November is Runner Safety Month! Check out this list of the BEST Running Gear for early morning or night runs when it's dark. Whether you're a new runner or experienced marathon runner – we all need to check in with our run routines and make sure we're making safe running a priority.
Please take a second to think about what you're wearing, doing, seeing, etc. while running and if you need a lil update to your running gear or schedule to be safer. – xoxo, Monica
Even if you don't technically run at night – during the winter the days are shorter and you may end up running around dusk or dawn. If you run outside – you need to make sure you're safe. Low light conditions make it hard to be seen by cars and cyclists.
Check out this round up of the Best Gear to Run Safe at night or dark conditions and pass it on to your running or walking buddies.
I'm breaking down the list into 3 levels. Depending on when and where you run, you can decide what level of nighttime running gear works for you. Safety Tip: Always err on the side of safety and wear more visible gear or lights if you're not sure.
BEST Safety Gear for Runners
Night or Low Light Running Levels:
Level 1 – Day time
Level 2 – Morning or Evening – Sun's out but not full sunlight
Level 3 – No Sunlight – Early morning or Late night
Remember – If you run around sunset – it will get DARKER as you run. So wear the gear for how dark it will be when you end your run.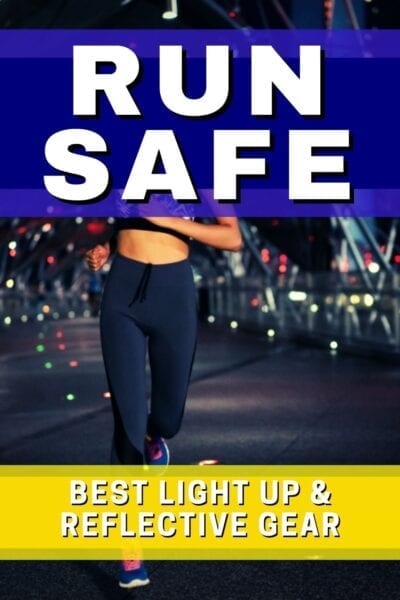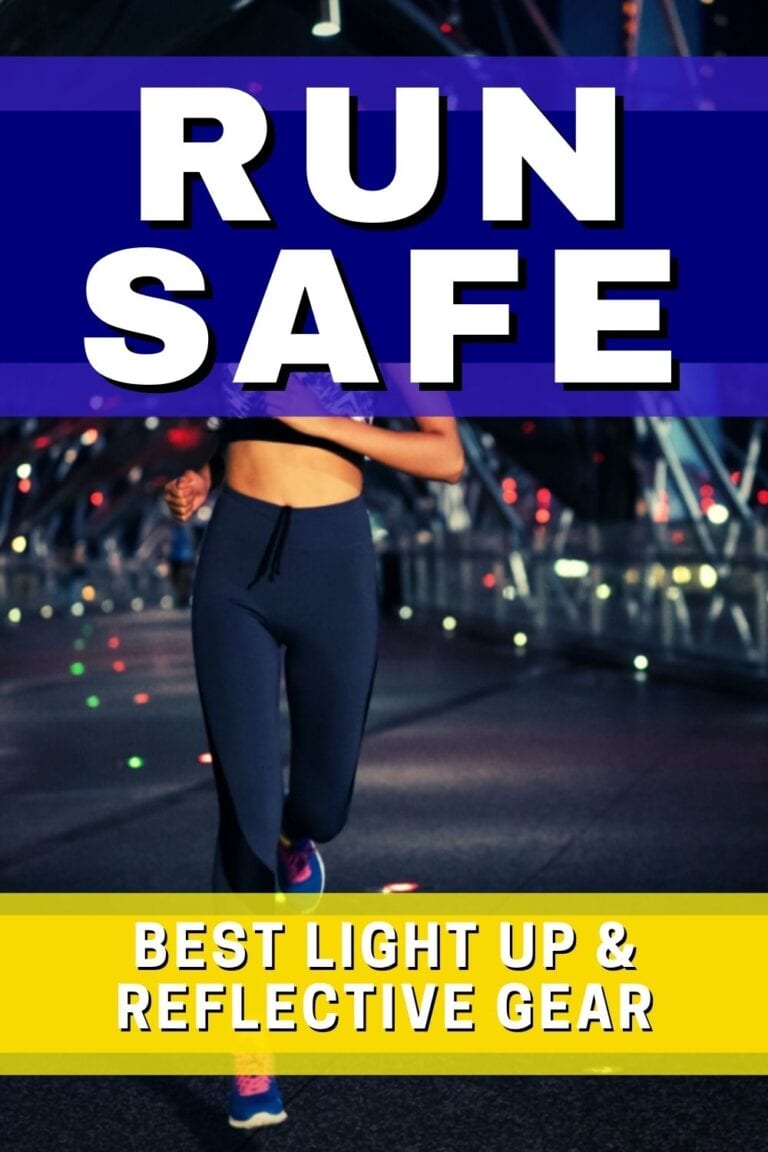 Best Gear for Running at Night
Level 1: Bright and Reflective Gear
Anytime you're running outside you should be visible to others. Wear brightly colored running gear and try to include something that has reflective features. A lot of running clothes – especially capris and leggings have some sort of reflective strip down the sides.
This is why it's better to wear tops and bottoms made specifically for running when you're outside. It obviously doesn't matter as much in the gym – unless there's a very aggressive fellow runner who jumps on the treadmill with you and swears they didn't see you until you feel their hot breath on your neck. (We'll talk about how to handle that another day.)
Anyway.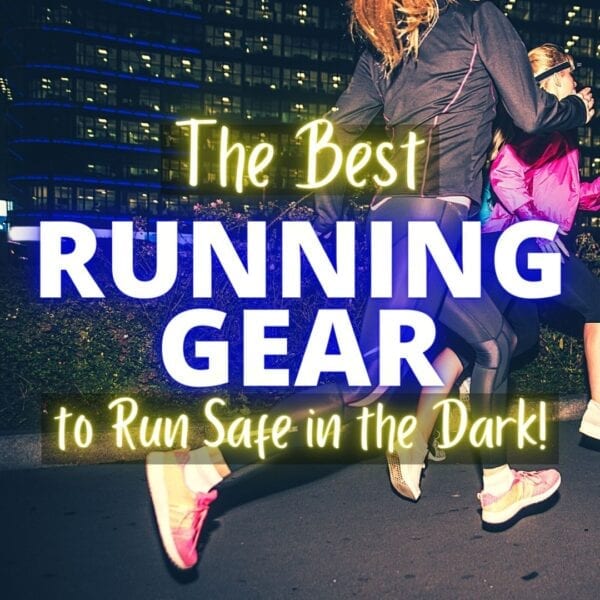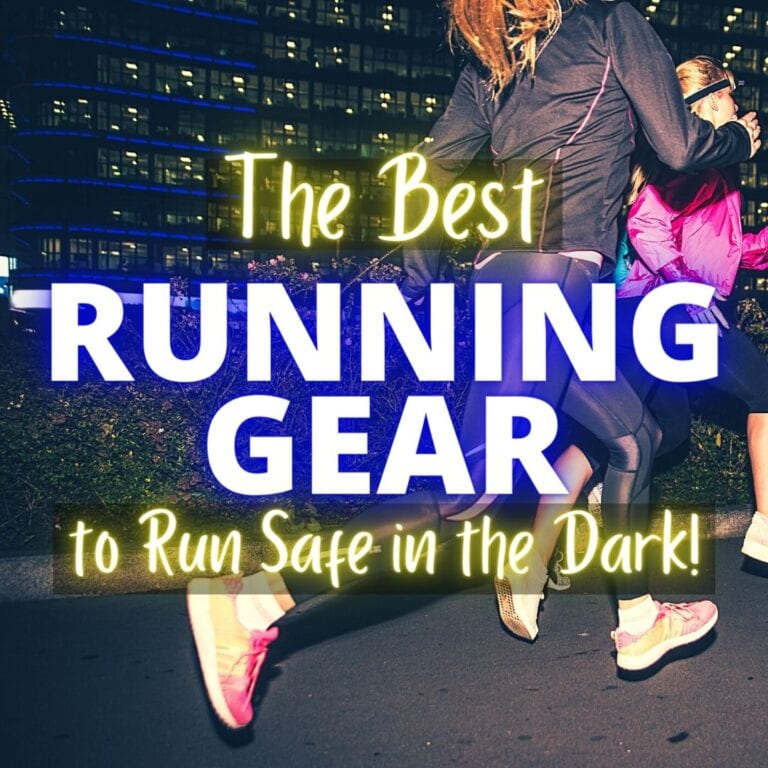 Runner Safety Gear Level 1 = bright colors and reflective gear. Don't wear camouflage or all dark colors.
Top Running Gear Picks for Daytime:
A lot of my favorites are sold out (which means they're awesome!) – but I  found a few that are available or a new version of my faves. I love the running leggings below and the Brooks Running jackets are amazing.
Aim for bright colored tops and hats. For running bottoms – look for ones that have a reflective strip or panel (if you're not into neon capris or pants – as those are great too).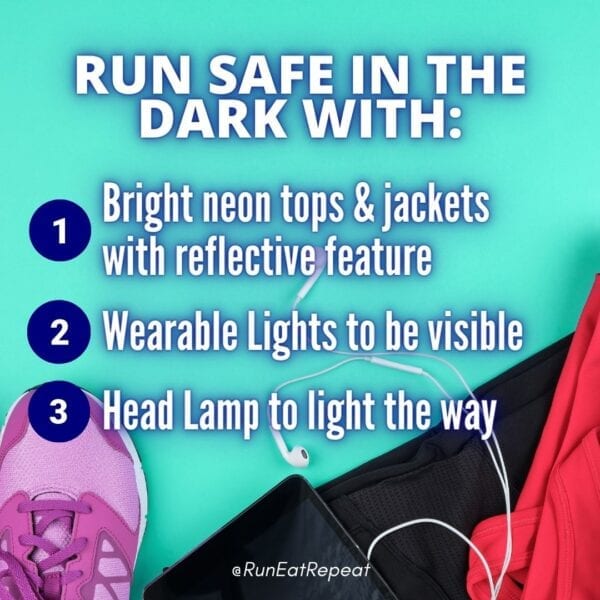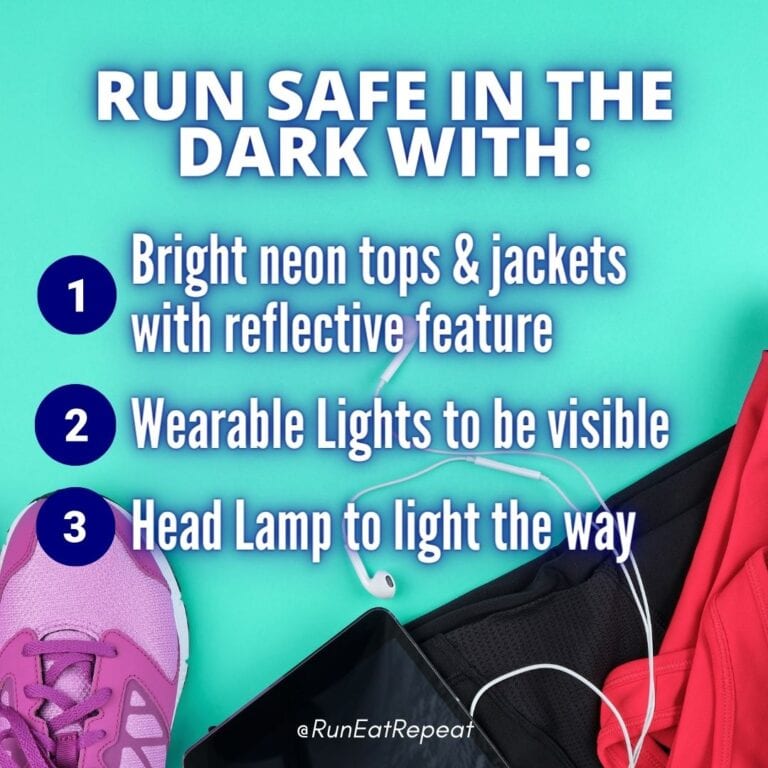 Level 2: Wearable lights so you're very visible to drivers, cyclists, other runners, etc. AND the gear from Level 1
If it's anytime other than full daylight you should be sure you're visible to vehicles, cyclists and others with wear able lights. There are so many options in this category – choose something that
a.) you'll actually wear…
b.) fits your budget…
c.) ensures if someone is 'zoning out' while cycling or driving – this will get their attention!
Wearable Lights and Visibility Gear for Runners can be anything from a small red light you clip on your clothes to a vest that lights up in the front and back. There are also a lot of different types of lights you can clip anywhere from your hat to your shoes.
Here are some of my favorite low cost lights for runners or walkers…
LED Safety Lights – I first got these to clip on to Diego's leash last year and realized how easy they were to wear for running too.
LED Running Light Reflective Vest 
LED Reflective Vest for Running or Cycling 
Level 3: Headlamp or Waist Light AND the gear from Level 1 & 2
All the gear above will help you run safe by being more visible. But if you're running in the dark you need the above AND you need to be able to see where you're going. Wear the bright reflective gear and a light PLUS a head lamp or waist light so you can watch your step on dark runs.
I just scored an LED headlamp from Costco that lights up the space ahead of you almost 220 degrees (per the package – I didn't measure this with a protractor or anything). It's currently $5.00 off at Costco in Southern California and priced a bit higher online.
It's the Duracell 550 Lumen 3-pack Headlamp and does a good job of lighting the sidewalk ahead of me when I'm walking Diego. I've also put it on him like a collar. But – it's a bit heavy since it's battery powered, so it bounces when you wear it to run. I suggest you check out rechargeable led headlights or wearable waist lights made specifically for running so it's lighter and less likely to bounce.
If you're running in the early morning or evening when the sun isn't around – get a headlight or headlamp to help you see where you're going and the people around you!
Headlamps and Headlights for Runners
Here is the headlamp available to buy on Amazon. It's a little heavy for running since it requires batteries. If you're going to wear a headlamp while running consider one that's rechargeable like the options below.
The Biolight Headband Light promises to be no bounce and has a front and back light.
This Headlamp Flashlight Rechargeable for Running looks similar to the one I just got from Costco. I mainly use them to walk Diego in the evening.
Since the time change – it's super dark outside by 6pm! So I either put the headlight on him or wear it sticking out of my waist pack to light the way. My main concern is being able to literally watch my step so I don't trip on a random bump in the sidewalk.
Chest Light for Running and Walking at night – another good option if you don't want to wear a headlamp. It has a red light in the back so you can be seen from behind too.
Question: What Running Gear Item do you use to stay visible & safe in low light?
PLUS it's PILE on the MILES Running Challenge Day 8 – What are you doing today? PILE on the MILES Virtual Running Challenge – chime in here or on today's Instagram post @RunEatRepeat with your run, rest day or random thoughts!
Keep Going with these:
Runner Safety Week – Look and Listen