I was considering hitting the gym when the clouds parted at 10am and I raced out the door to get a few miles in. This week has put a major damper in my training plan
Today I was able to do about 5.5 miles, but I had to walk around super muddy areas and debris. I didn't even take my Garmin because I knew that would be the case. One of the underpasses I run through was flooded and I had to go over the street. I've never seen anything like it and want to take some pictures asap.
When I got back home I celebrated Waffle Wednesday! PB and fake syrup, just like I like it.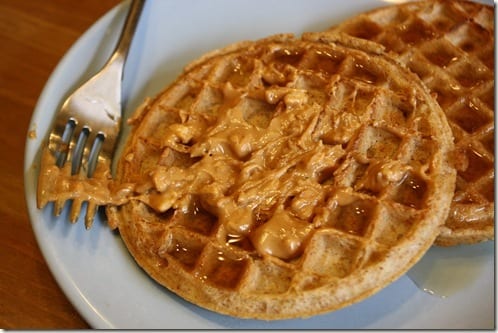 Plus a protein shake with: ice, chia seeds, frozen spinach, protein powder and water.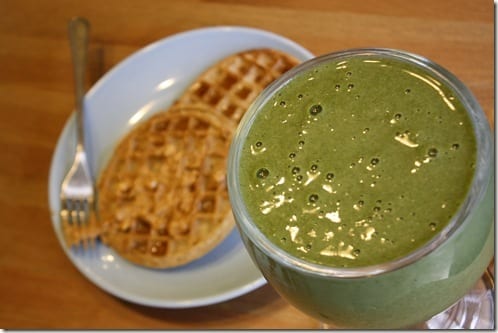 I normally don't pay attention to make-up ads. I was a "make-up girl" in high school and figured out what worked for me in terms of colors and brands and application. Well, I figured it out after a brief stint as a chola, but I digress.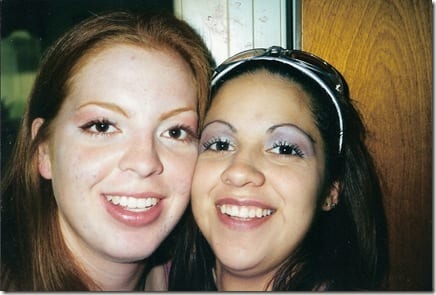 Anyways, the Covergirl commercials with Drew Barrymore caught my eye (over and over) and when I saw the Smoky Shadow Blast on sale yesterday I snagged it up.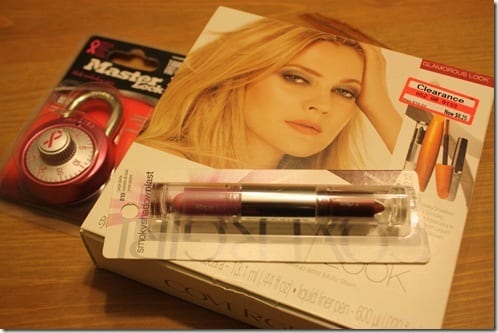 So today I tried the Smoky Shadow Blast in Purple Plume to review. I have tried cream shadows in the past and don't really like them, but I LOVE a smoky eye and wanted this to work for me.
Here is me without eye make-up:
I applied according the the brief package directions on the back – light color from the lid to the brow and underneath the eye if desired. Dark color on the lash line and in the crease.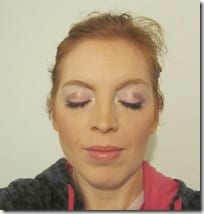 I made sure to follow directions, as I have a tried and true eye shadow application method, but I wanted to review the product exactly as it was intended.
Overall, I like the color and ease of application. But, it smeared easily and when I went to curl my eyelashes a lot of it came off on the curler. This is a great product if you don't have a ton of time in the morning and want to swipe on some color and go – but it might not last all day.
Tip: If you're going to use this put a base on your eyelid first so it stays longer.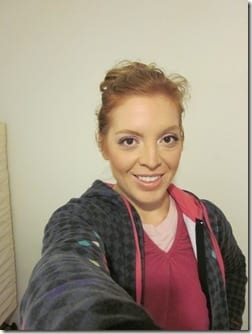 Pros:
It did "work" when applied as directed.
My mistakes were easy to correct since it is a cream.
It comes in fun colors like purple, green and blue.
Cons:
It wipes off too easy and can smear.
I doubt it would last a full work day or night out because it's a cream.
If your goal is a smoky eye, shadow might be more effective *if you know how to apply.
Question: Do you wear make-up?
Me: I'm super bad about it lately and only wear it for special occasions.