Hello! How's it going? Today I'm sharing some pictures from my phone and breaking it down by the numbers. These are in no particular order…
11 miles – I ran 11 miles today and then stretched for 10 minutes. Pace is a lil slow because I walked during a mid-run phone call.
7 feet – height I'm guesstimating of one guy walking on the path today. He was walking with two other people so I had them for reference. He was TALL!!
28th day of March aka 'Something on a Stick' day! Check out my instagram post here to Pick Your Fave Food on a Stick!
2 rice cakes and 2 avocados consumed for a snack yesterday. The extra avocado was camera shy.
50% faster*… percentage faster I run when I eat pasta. *These numbers have not been confirmed or tested.
3 feet high… height of the epic salad I had at my mom's yesterday.
5 – number of deviled eggs I ate. We were going to celebrate Easter early and ended up having to reschedule. I was super bummed because I was craving these and my mom made them because she's the best!!
3 – dogs we have since Roxy passed. Sad.
130 calories – the number of calories in this Kashi cookie.
??? – I have no idea how many calories are in this cookie and I don't want to know.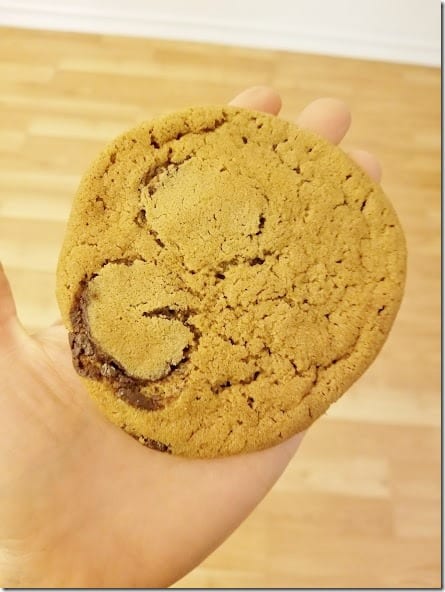 0 – the number of Fs Vegas gives about my smashed nail.
16 samples of Nothing Bundt Cake – well, I wanted that many but only had one. But they gave out coupons for free mini bundt cakes and I'm excited about that!!
15% off – discount on The Great Donut Run 5k when you use code: RER
The Great Donut Run / Walk 5K is May 20th in Irvine, CA
Get 15% off when you use discount code: RER
100 burpees – I did 100 burpees last week to see how it compares to running 5 miles. If I had to choose I'd go with running.
What's one of your numbers from today?