Hello! I ran the PCRF Reaching for the Cure half marathon this weekend! I'm sharing some thoughts on the race and I updated the Race Performance Evaluation Form. Use this form to evaluate how you did in your 5k, 10k, half marathon or full marathon (or any other distance!). Note your strengths. Learn from your mistakes. Keep going! Use this info to run faster, stronger and better next time!!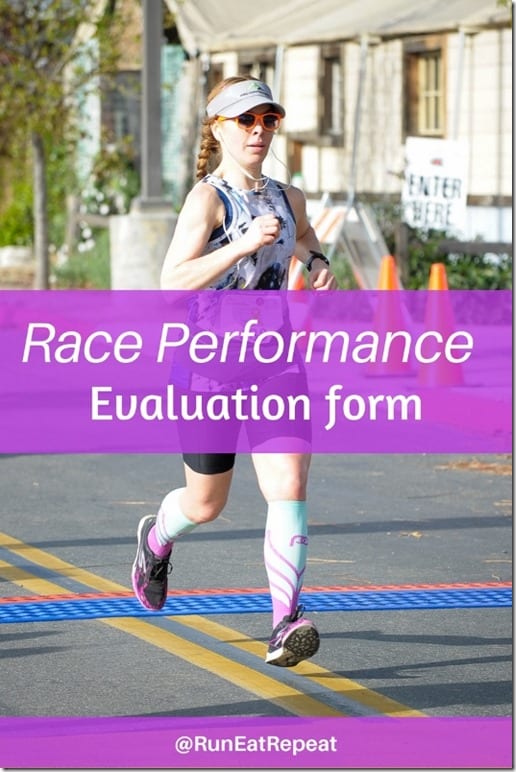 And now let's do a quick run down of the PCRF Half Marathon Race… (I did it in 13.1 points kinda like last year's recap. I'm in a major phase of needing to make everything bullet points or numbered lists…)
Half Marathon Recap and Form
1. Race day weather was perfect – cool and mild.
2. The best half or full marathons have same day packet pick-up. This is my favorite thing!
3. PCRF has a bike race Saturday and multiple races Sunday. It's very well organized and I got my bib and swag bag super fast and had plenty of time to hit the porta potties and check my bag. I usually don't do gear check but the swag included a hoodie I definitely wanted to keep so I check it!
4. I saw Natalia at the start and we lined up a little bit back. Since I couldn't really run fast out the gate I took a few pictures when we first started. Then, I almost rolled my ankle on a dip in the road. So I put my phone away and tried to focus on not falling (and running but mostly not falling).
Tip: One of the first races I PRd in the marathon I started with a friend who's slower than me. I hadn't seen him in a while and wanted to catch up so I ran the first mile a lot slower than I would have usually. And that's a  good thing because I go out way too fast!
I ended up running a really strong race even though my first mile was slow. It didn't ruin my time over all and probably helped me pace myself and prevented crashing.
5. A few parts of the course are super pretty! The race starts at Irvine Valley College and goes around a few neighborhoods then loops to a bike path before heading back to the school parking lot. Outside of that path it's a fairly quiet, flat course. There's a few over/under ?? which one is it… anyway – there's some hills going under streets and a bridge incline to get to the path but nothing super steep.
6. PCRF Half Marathon finish time: 01:46:37
Average pace: 8:13 minutes per mile
7. I updated the Race Performance Evaluation Form. Use this to evaluate how your did on the race ( it's not an evaluation of the actual race course/organization/overall).
Race Performance Evaluation Form
Overall: Happy that I felt a lot better than I did at the Tustin Hangar Half Marathon. I didn't really push myself enough though. I could have been faster.
Race Goal: I wanted to stay at goal pace which is around 8:10 per mile and didn't do that.
Did you hit goal? No. See above.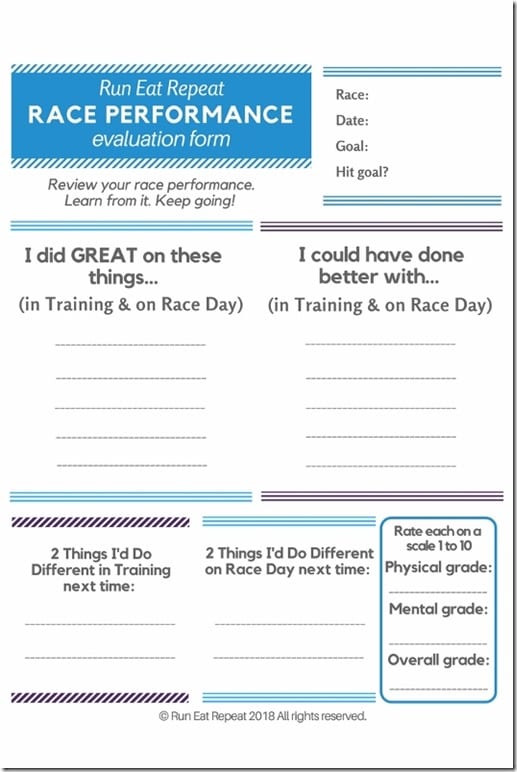 You can download the Race Performance Evaluation Form here.
8. After the race I met a few followers including Kendall who won FIRST place in the 10k!!!
9. And the Race Director for the Great Donut Run and I chatted a bit. I think she ran the Surf City 5K in the donut mascot costume!! She started to tell me that story and then people came up to register. [ Get a 15% discount on the Great Donut Run with code: RER ]
10. The post race party is really awesome! PCRF = Pediatric Cancer Research Foundation – it's a fundraiser for that organization. There are a lot of teams running in honor of someone impacted by cancer. If you want to donate check out the PCRF Kids website to support the cause.
11. And the post-race swag was awesome. There were samples from Nothing Bundt Cake and Urban Plates, Suja – I scored their kombucha which I hadn't tried yet!! And more – it was a great haul, especially because it seems race expo swag has been less and less lately (anyone else notice this?). I don't mind less swag – I have everything I need, but it was nice to get hooked up with all these treats.
12. The half marathon medal:
13. Yes. I can confirm – the cookie was so good!!
13.1 And I wanted to stick with foods in the shape of a circle to keep my diet balanced so I got pizza…
Runner Tools and Info:
– Pre-run I'm still drinking Spark in fruit punch and sometimes I take O2 Gold but I forgot this morning.
– Download the Race Evaluation Form here.
Question:
Fave round food?