Hi!! Run Camp is almost over!! By now we've hit most of the basics on getting on track to run faster, better and stronger. Go back over the previous posts if you have any questions or want a review. It only works if YOU do!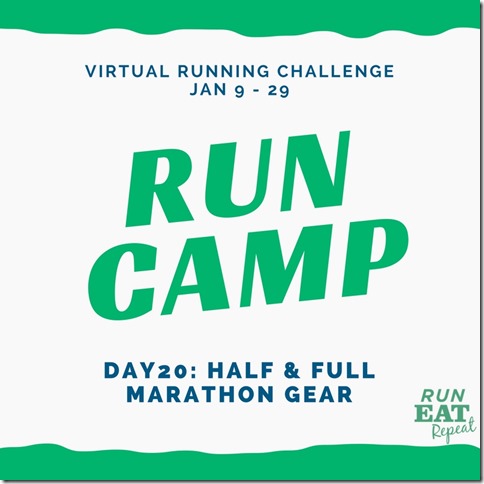 In the first two weeks of run camp we talked about running shoes and running clothes.
This final day covering running gear is about the extras. These are things you don't necessarily need to run, but they make running a lot easier if you have them to help!
The items on this list are most helpful for longer distance runners like those of you training for a  half or full marathon. But if you are having issues with hydration, fuel, tracking your time / distance or just want to make it a more pleasant running experience – check it out and stock up on things you need. These items can be pricey, but remember this is an investment in a hobby that keeps you healthy and happy!
Running Gear for Marathon and Half Marathon Training
These are all the 'extras' that aren't 1000% necessary to run a half marathon or full marathon – but they make it a lot easier.
1. Fuel belt or hand held water bottle.
I use the Stay Fit Running Belt and  Nathan Hand Held Water Bottle (I think you can get 25% off with code repeat at StayFit linked there)
2. GPS watch. There are tons of running watches with GPS capabilities out on the market.
I've used Timex, Tom-Tom, Garmin in the past.
3. Body Glide or Vaseline.
4. Sunblock and Chapstick with SPF. Don't forget your lips and ears when putting on sunblock!
5. Compression socks. I wear Pro Compression socks for long runs or for recovery after a long run.
6. Electrolyte drink. (I use Spark pre-run and during my run sometimes since I always have that on hand and run out of Rehydrate fast.)
7. Chews or gels for mid-run fuel. Buy these one at a time from a local running store at first so you can try out different flavors and brands to see what you prefer. Then, you can buy them by the box to save money.
8. Foam roller. Buy it. Use it. Even though most of us have a Love / Hate relationship with our foam rollers.
9. A lot of food. Buy extra. Suggestions include, but are not limited to: ice cream, chocolate chip cookies, popcorn, pickles, tuna sub, pizza, churros, chocolate Chex cereal, Pad Thai, french fries, tortillas, sharp cheddar cheese, Snickers ice cream bars…
Question: What is your #1 FAVORITE piece of running gear?
What is on your running gear wish list?