Hello!!! How's it going?
I'm just over here running and eating and stuff. No big.
But you know what is a big deal?
Running Shoes.
Seriously getting a new pair is like Christmas Morning. Except instead of it being Jesus' birthday it feels like yours.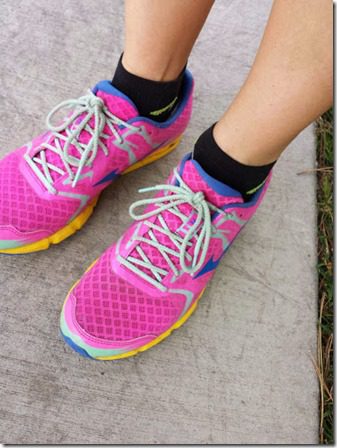 My point is getting new shoes is awesome and ProCompression is giving away a pair of YOUR CHOICE of kicks to one RER reader plus a pair of marathon socks!
But there's a catch – you have to either use my awesome discount code to buy a pair of compression socks OR send in a postcard (no purchase necessary) to enter.
You guys know normally I have you just leave a comment on a post with something dumb like, "What color are your pants today?!" to enter giveaways. But, I dig new running shoes AND ProCompression socks so I'm presenting this offer.
If you have been reading RER for more than 2 minutes you already know I am a huge fan of PC's marathon socks.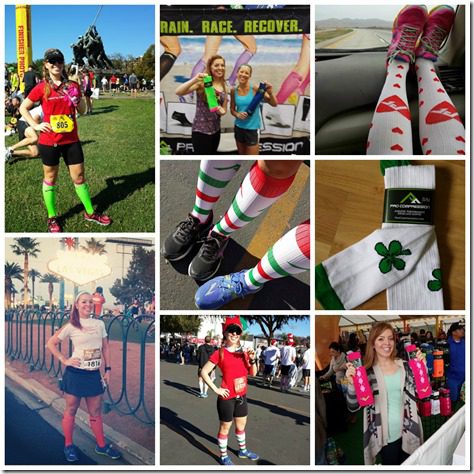 I'd share this discount either way. But, they offered to do a giveaway too so I was like, "Boom. Heck Yeah!"
FYI: I personally wear the Marathon Socks, not sleeves. I really dig them for long distance races AND recovery after long runs and races. I also like the short socks because they're super light and don't slip or get 'eaten' by your shoe. But do YOU and choose what works for your life/running/preference/dog/training.
Big Tip: Make sure you take them if you are traveling (or just driving far) for a race. It's easy to get all stiff and sore from sitting and traveling after a race. Compression socks help with blood flow and recovery. So even if wearing compression during a race isn't your thing you can put 'em on after.
I'm not a scientist or a Scientologist but my understanding is it helps with blood flow. There are some major veins and arteries that go down your lower leg and into your foot. The compression keeps blood from pooling in one spot. But don't quote me (especially if I'm cussing).
Running Shoes and ProCompreesion Socks Giveaway
Giveaway: A pair of running shoes up to $150 in value and a pair of marathon socks!
Use code RER for 40% off AND Free shipping at ProCompression.com. When you use that you're automatically entered to the giveaway.
Two ways to enter:
Purchase any product from PRO Compression using promo code RER (40% off Marathon Socks & Marathon Calf Sleeves, with free domestic shipping)
Send 4 x 6 postcard by US Mail with the following information:
Your full name
Your complete address
Valid email address (if you do not have an email address, print "no email address")
Valid telephone number
The words "Shoes Promotion"
Mail postcard entry to: PRO Compression, 5205 Avenida Encinas, Suite F, Carlsbad, CA 92008
A maximum of two (2) total entries (purchase, or mail-in postcard) will be accepted per person, with no more than one entry by method. All entries become the exclusive property of Sponsor and will not be acknowledged or returned. All entries, including mail-in entries, must be received before April 11, 2014.
Question: Do you use compression socks during or after a workout?
I do both.