I'm answering your questions from the @RunEatRepeat Instagram story box! We're covering running topics like how to prevent your watch from slipping when you're sweaty to puppy house training to Old Navy workout gear. If you have a question for me – leave it in the IG story box or email [email protected]
You can watch the video below OR watch it on Instagram – it's saved in my highlights under Feb Q&A.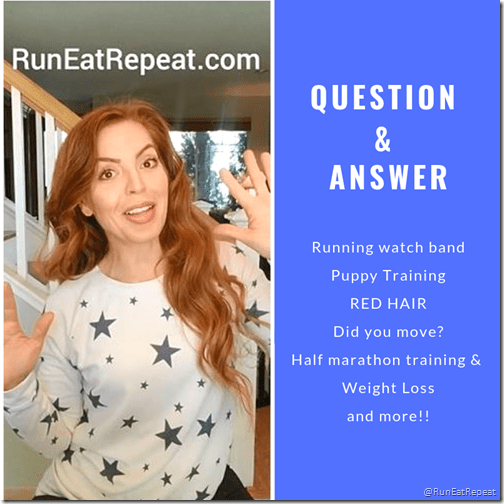 Run Eat Repeat Questions and Answers:
I sweat so much my watch slides up and down my wrist a ton! Any fixes?
RER: I had to get a replacement band for an old running watch. It was fabric and velcro – I think something similar would work great for this purpose. I have this Garmin Forerunner 235 Running Watch.
Is your hair color 100% natural? I'm totally jealous.
RER: Yes. I was born with red hair and I think it's gotten more red as I grew up. I had highlights in the past but right now this is just my hair.
Check out my favorite hair products here.
When is the RunBet going to start? I'm ready.
RER: I'm shooting for March.
How do you manage long hair with all the sweat? I'm ready to chop mine off!
Any puppy house training tips?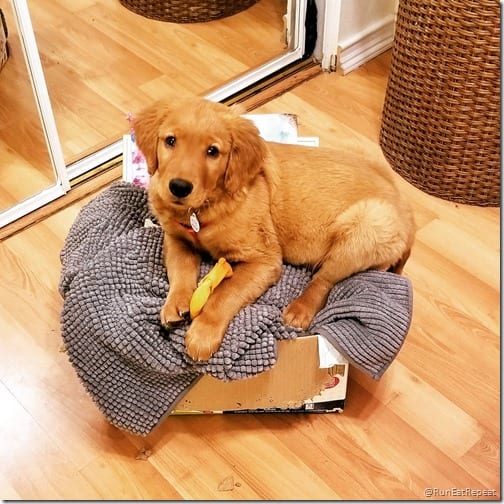 Do you run on a treadmill?
RER: I used to run on a treadmill 5 days a week for a year!
Do you ever buy Old Navy workout gear? Thoughts? I love the prices!
RER: I have a favorite pair of running shorts from Old Navy, but outside of that I haven't gotten new gear there in a long time.
What's your favorite brand of non-running clothes?
I miss your podcast episodes! When will they be back?
If you haven't checked out the Run Eat Repeat podcast yet – I'm asking you to at least listen to the most recent episodes (the first ones are rough).
You can listen for free on most podcast apps… Apple Podcasts, Stitcher, Spotify and more. Just get the app and search Run Eat Repeat.
When you 'Subscribe' to the podcast it saves it to your list so you get new episodes when they come out automatically (so you don't have to look it up every time).
Let me know if you have any questions.
Did you move?
Any tips on nutrition during half marathon training while also trying to lose weight?
Dating life?
Have you ever been to Oregon?
RER: No. But it's on the list!
Who do you want for president?
RER: I think this is the perfect time to announce my candidacy for the President of the US of A. Boom.
Best candy bar?
And that's it! If you have a question for me… ask!
Leave it in the Instagram Story question box, leave a voicemail message or email [email protected]