Wow. Every minute of this weekend was packed with amazing people, fun events and running running running! Friday feels like ages ago – but I really wanted to share because it was AWESOME.
Running with Bart Yasso
Friday morning was my first full day in Bethlehem and we had a bright and early wake up call for a shake out run with Bart Yasso.
We did about 3 miles around the area near the steel stacks, which was a preview of the race course.
It was absolutely GORGEOUS. Fall is my favorite season and I think I'd love to live somewhere that gets a 'real' leaves changing color, crisp mornings, apple picking, sweater season Fall.
Just like this…
Yasso grew up in Bethlehem and his family contributed about 125 years of work (combined) at the steel factory. So not only were we running with a legend – no one knows this area better.
I ran along side him for a little while and asked him the most important question anyone doing the infamous Yasso 800s would want to know – "how do I conquer your 800s?!"
He said most people do them too quickly. Then, they can't do them all. If you can't make it to the end you have to keep working on it. A lot of people can only do 6 or so at first, but you can build up to it.
Side note: One of my favorite picture of the weekend has to be David Tratner trying to do my signature 'Run Eat Repeat' pose!
We also had a fun little "Skirt Olympics" where we had to run across the patio, put on a skirt, run back put on compression socks and run back! It was fun and super funny! (Note to self  – don't pack your hole-y socks on trips because you may have to play games where you take your shoes off and embarrass yourself.)
After our run we had breakfast in the Arts Quest building.
Then, Golden Harper co-founder of Altra gave us a lesson on running form. It was all information that I know from learning about Chi Running (from Coach Steve) but he also had a few new exercises and drills to help with form. And I loved them! **I'm going to share the running form info in a separate post about form soon.
Reach for the moon!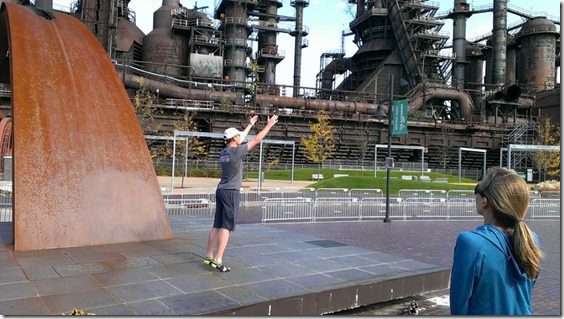 The next session was presented by ProForm featuring their new yoga equipment. They gave us a foldable yoga mat, block, workout band and foam roller in a super cute bag. (SEE BELOW – I already have a lot of this stuff so I'm going to give it away to you!)
Stuft Mama working her new foam roller.
The company goal with this gear was to make it cute, but affordable so the price point is reasonable for everyone.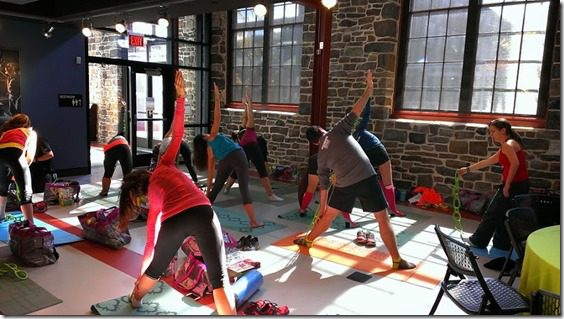 After the run clinic we had a lunch featuring recipes from the new Runner's World Cook Book.
This was the impressive menu –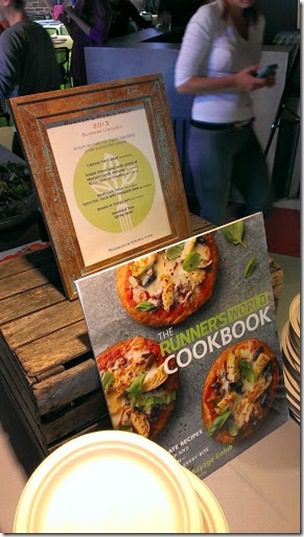 I'd say my favorite was the mushroom tacos. The mushrooms were seasoned so well I went back for more. They get this Mexican's stamp of approval!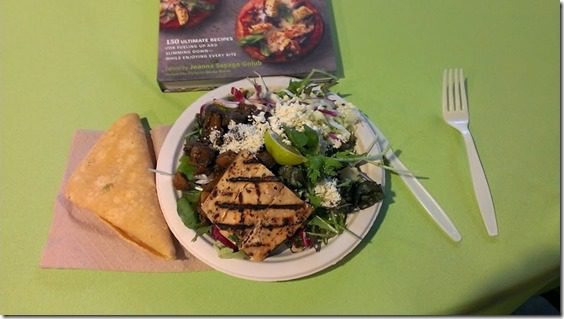 Plus dessert!
I met the editor of the book  Joanna Sayago Golub is also the food editor for the magazine. I asked her what is the most popular recipe RW has published. She said Deena Kastor's pizza recipe from a few years back (that is in the book) is probably in the top ten. Um, I'm totally trying that soon!
As we wrapped up lunch Olympic Gold Medalist Summer Sanders, who was running the half marathon, came to talk with us. She just walked right in and started talking to people without a fancy introduction. Sanders was very down-to-earth and friendly (I saw her after the half too).
She told us the story about going to the Olympic trials when she was 15. (She just missed it and really believes it was for the best.) And talked about how she was addicted to that nervous feeling before a swim meet – now running gives her that feeling.
After all that fun we headed to the race expo for our bibs and bags.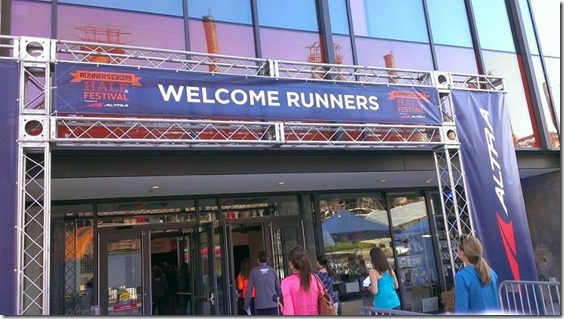 The expo was one of the ways you can see that this race was put on by runners for runners! There weren't a ton of vendors, but all the ones that were there are reputable, relevant organizations.
The group also stopped at the iFit booth to check out their amazing Boston Marathon treadmill. The company organized a contest for us bloggers and I actually won one of the treadmills they were giving away!
My phone died at this point though so I don't have a lot of pics of the expo. It actually died every day at some point, which was really frustrating (and the reason I don't have video of the end of the 10k or half marathon). But, I already ordered a new one that is on it's way – hopefully it will get here before I leave town again this weekend!
After the expo reader Katie spotted me waiting on the street corner for my van. Since my phone was dead Tina took this pic for us. Katie did the hat trick too! How'd it go?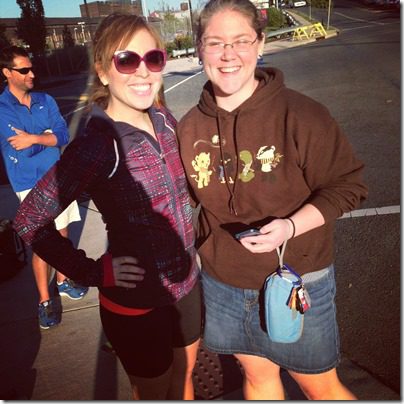 Spirit of the Marathon II
From the expo we headed back to the hotel for dinner and a movie.  I heard Spirit of the Marathon II was going to be shown on Friday night and I signed up before hand. Then, I convinced SR, Janae and Linda to come with me. We ended packed up food and jammed on it to get there just in time.
I am so so glad we went! The movie was great.
Here is my full super not in depth review of Spirit of the Marathon II = I loved it.
However…. I didn't think it was as good as the first one, but I really loved the first one.
This movie told the story of a handful of runners doing the Rome Marathon (part I focused on runners at the Chicago Marathon). I liked that it told some very heart wrenching stories from the runners (like Cliff Scott's story who I met at the 10K).
But, I wasn't as inspired as I was after part I. I think I liked part I better because the stories spoke to me – a runner training and getting sidelined due to injury, a slower but super likeable older male runner and of course… Deena Kastor. Love love love. But you know I do want to do the Rome Marathon now.
                 After the movie we called it a night because we had the 5k / 10k in the morning.
   Giveaway!
Runner's World and ProForm really hooked me up with great stuff on this trip! I LOVE it! But I already have a foam roller, yoga block and gym bag – so I want to pass it on to you! (I unwrapped the yoga block to use in the session, but that's it – it's still new.) I will send you this stuff plus a few extras!!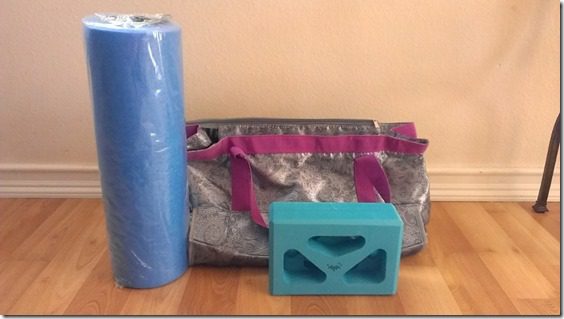 Leave a comment on this post answering the question below to enter!
Question: What color is your current gym bag?
Contest open to anywhere I can ship it from the USA (so residents of Mars are out). Closes 10/22 at 8pm PST.
Disclaimer: I was invited to these race weekend events by Runner's World. All opinions are my own.