Saturday morning I ran the Runner's World 5k and 10k aka "Five and Dime" in Bethlehem, PA.
Sunday morning I ran the half marathon. Put it all together and those three races form the "Hat Trick" Challenge.
Here is my 5k/10k recap.
I made a short video of Saturday's races too!
And this is my half marathon recap…
After the 5k and 10k on Saturday I was feeling tired, so I wasn't sure what kind of goal to set for the half marathon. Plus, I ran a little full marathon in Long Beach last weekend.
Oh, and I have to run a full marathon next weekend. Not too smart. I guess I have my own "hat trick sandwich" going on!
#NoBig
Except it is a BIG deal and my legs were feeling tired, but the show must go on…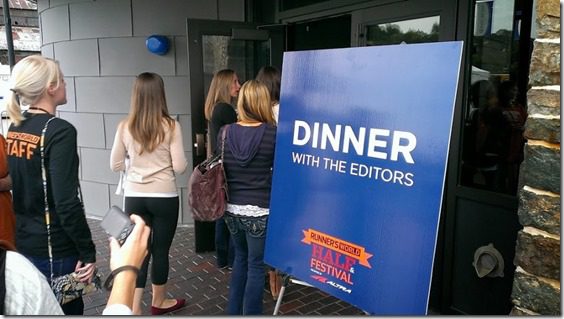 Saturday night I attended dinner with the editors where I pitched them my idea for a new column in Runner's World called "Run Eat Repeat" about the best places to run and eat across the world. I don't think they were biting, but the offer is on the table. And I know a certain girl that would be perfect to write it…
(hint hint David Willey)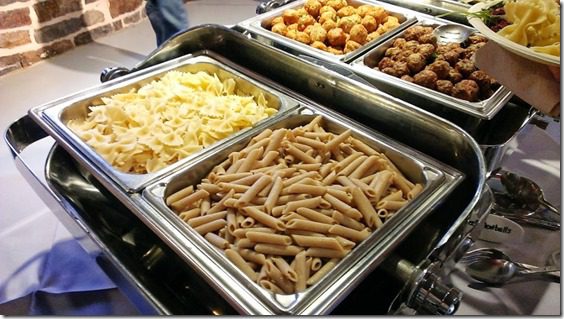 We had an amazing dinner to carb-load for the half marathon featuring more recipes from the RW cookbook.
The menu included Long Run cupcakes with a special secret ingredient… beans! That makes them super healthy, right?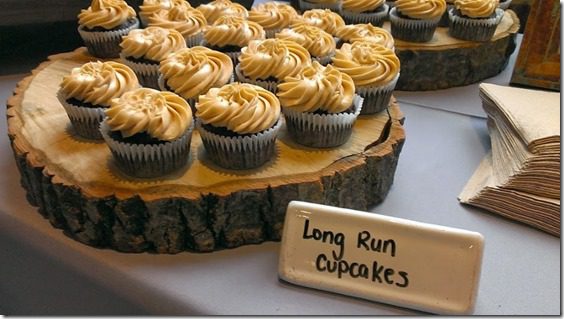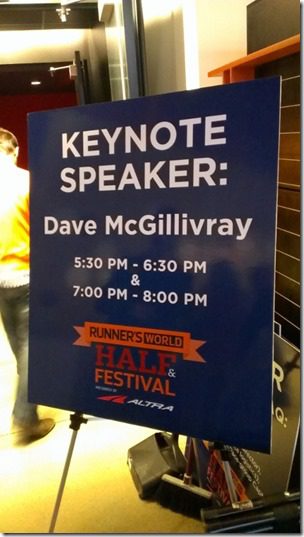 After dinner we attended the keynote address by Dave McGillivray, race director for the Boston Marathon. McGillivray shared his running story and how that journey impacted who he is today. It was the most inspirational talk I've ever heard because it wasn't just about him – he used all his accomplishments to illustrate how we can do it too.
I loved his thoughts on "My Game My Rules". Given where I grew up I have always had to define my own rules and carve my own way. It was so motivating to have that reminder!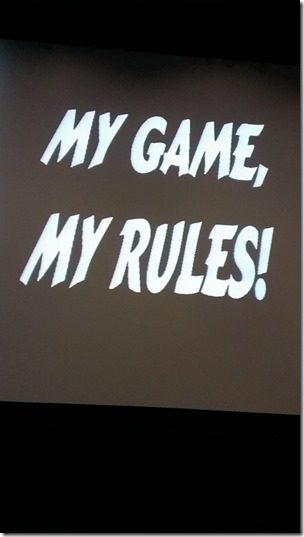 Then, Tina and I headed back to the hotel to start a prank war with SR and Janae get to sleep early for the race.
Sunday morning ready to go!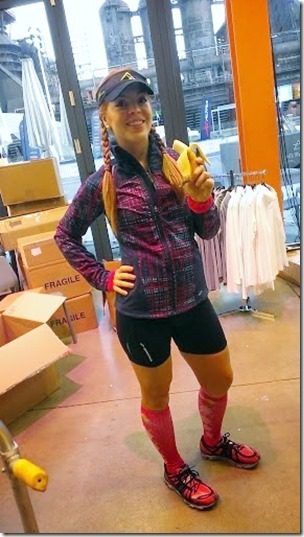 or maybe not…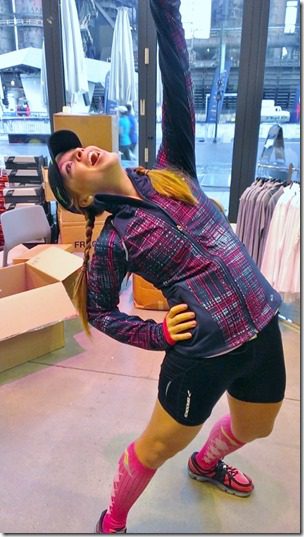 We reluctantly left the warmth of the Arts Quest building to check our gear bags and head to the start. I hit the restrooms before heading to the line and barely made it in time! I tried to sneak my way up a bit to the appropriate corral area but it wasn't happening.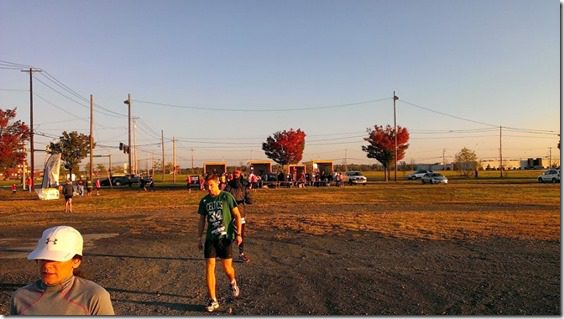 Brittany saw me at the starting line and got a 'before' pic of me!
 The race: The starting line music and energy was great! The race started on time and was very well organized. There were plenty of bathrooms at the start and aid stations on the course. Also, the weather was perfect running weather.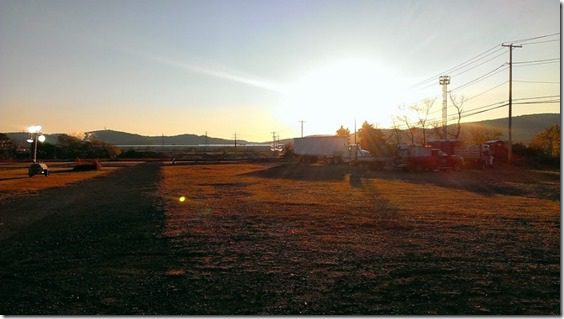 The course: Hilly. Very hilly to me. But again, gorgeous. I am a bad runner because I never check the course elevation before showing up to a race so I always find myself surprised by hard courses (and by 'surprised' I mean pissed at myself for signing up for a hilly race when I'm gravity challenged).
Okay, it wasn't that bad, but I ran 9 miles the day before (5k + 10k) so I was doing the hills on tired legs.
Fortunately, I distracted myself by bumping Brittney's new jam, looking at the historic homes and imagining which I'd like to live in and taking mental pictures of the beauty. Plus – for every uphill there is an equal downhill and I LOVED that! Toward the end of the half you run across the Fahy Bridge and the view is breathtaking.
The finish line is right in between the Steel Stacks and Arts Quest building. The crowds are lined up cheering loudly on each side of it so the sound is powerful and pumps you up for the last stretch!
Overall: I would run it again in a heartbeat. I have run over 14 races this year and I really appreciate a well organized, fun race! Between our group schedule and the time change I wasn't able to attend any of the day time seminars, but Runner's World had a whole line up of info sessions on everything from 'How to Get Faster' to 'Running with your Dog'.
Also, I loved the area and wish I would have had time to explore the historic landmarks more. We ran by the Museum of Industrial History and I'd love to check that out next time. Fun fact from the program: Bethlehem, PA is dubbed "Christmas City, USA" and is home to the oldest book store in the US opened in 1745. (For perspective, the city I live in was founded in 1991.)
I finished the half in 1: 47:33
Some of the running bloggers after the race: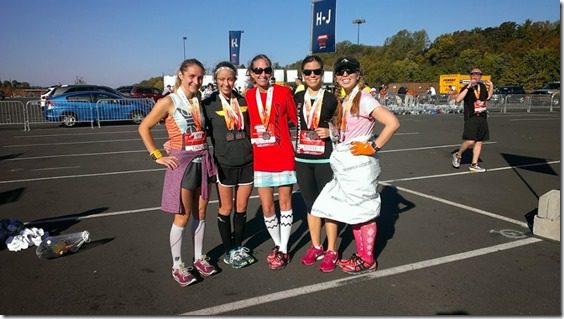 (Jocelyn, Susan, Linda, Heather and RER)
And I met reader Lisa who came up to me after the race.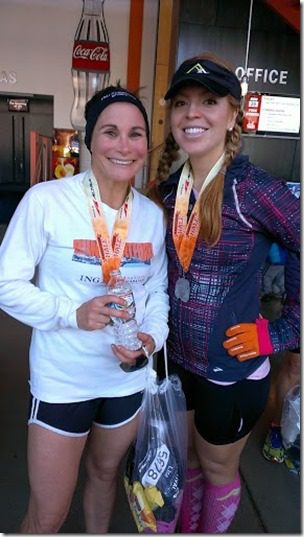 I met so many readers this weekend – thank you all for coming up and saying hello. I really appreciate it since most of the time I feel like I'm talking to a computer (and Vegas, but he doesn't listen).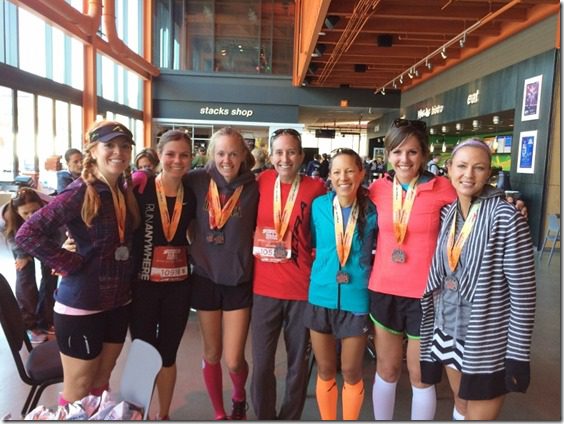 Sadly, that ended our amazing weekend and we piled into a van headed to the airport.
But after 3 races in one weekend a victory lap was in order. The driver kindly made a fro-yo stop for us!
Running and Fro-yo = a good time.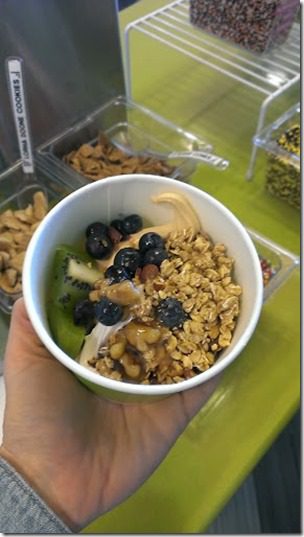 Question: What is your must have fro-yo topping?
For me it's granola. Can't get enough.
Disclaimer: I was invited to the race by Runner's World. All opinions and fro-yo are mine all mine.