Last race of 2012 done and done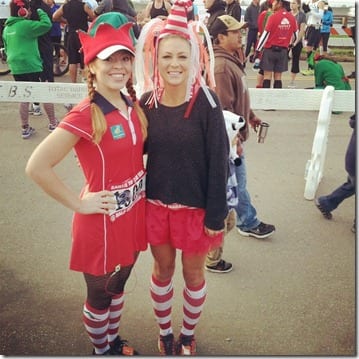 This morning I ran the Santa to the Sea Half Marathon in Oxnard. Oxnard is about 2 hours north of Orange County so I cooked up a plan weeks ago to talk Skinny Runner into coming with me. Added bonus: She drove! Thank goodness she has a SmartCar so the gas was only $.03 or something.
The 2 hour drive meant a 4am wake-up call though. That's not horrible, but I have been fighting off a sore throat since I got back from Vegas on Monday. I woke up feeling less than 100%, but the show race must go on.
Drive drive drive.
We got to the parking area right on schedule and jumped outta the car to grab our costume accessories and get on the shuttle. (I pieced together my outfit last night at the Goodwill.)
The course is point to point (starts in one location and finished in another), but there was a long line of buses waiting for the runners to fill 'em up! We were on in minutes.
We had some time to kill at the start so we killed our cameras…
(Image source: Skinnyrunner.com)
The Race: The course is completely flat except for one short overpass at mile 6. Loved it! Even though it's a smaller race the cheering support was great! A lot of people came out and it was really appreciated.
I had a good race, started out too fast, but didn't completely die. I ran 10 miles yesterday and was wearing a dress and stockings so I wasn't expecting a PR. I'm here for a good time, not a long time
Half Marathon time – 1:48:46 pace – 8:17
Skinny Runner was done in 90 minutes and looped back around to be my personal race photographer! This saves about $226.00 for one 8×10.
(image source: www.skinnyrunner.com)
What the heck was I wearing?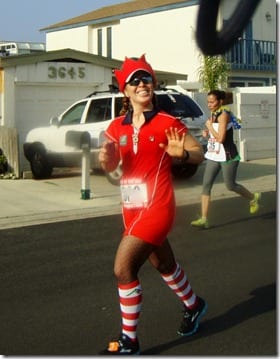 SR told me she was going to dress up like a candy cane so I figured I would just be a hungry girl chasing her, but I knew a.) no one would get it and b.) I would never really catch her so I should just bring my own candy.
So, I went to the Goodwill and ended up as Santa's Helper.
Not Santa's Little Helper: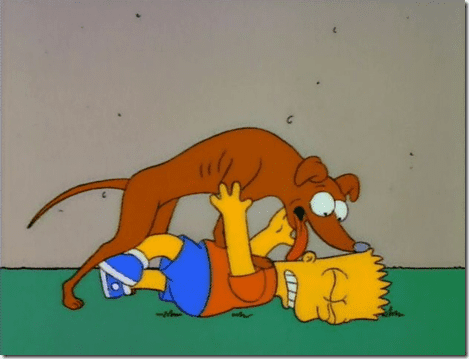 (image source)
Costume situation: I went to the GoodWill last night with an open mind. I didn't have much time and figured I would 'make it work'. I saw the hat on the floor under a display… mine now. And then spotted the dress and nylons. I was going to put a belt with it, but it lifted it up too much.
I have never run in a dress or tights before, but it was okay. The dress was a bit much considering I'll never wear it again, but I got a lot of compliments on it so I think it was worth it in the end. Total costume was under $14.00.
Add those amazing holiday socks ProCompression sent me (which I will wear everyday until Jan 5th) and Santa's Helper is ho ho ho ready to go! 
On the way home we stopped at Whole Foods and attacked the place.
Final Thoughts: I had a blast! The course was flat (hello, love.) and it was a smaller race with solid support. I would definitely do this race again.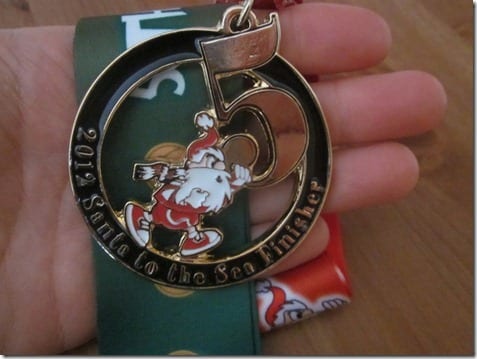 Post Run Thoughts: My throat feels like it's swelling up so I'm taking some Ibuprofen and a cookie I got at the finish line. A cookie a day keeps the doctor away. Or something.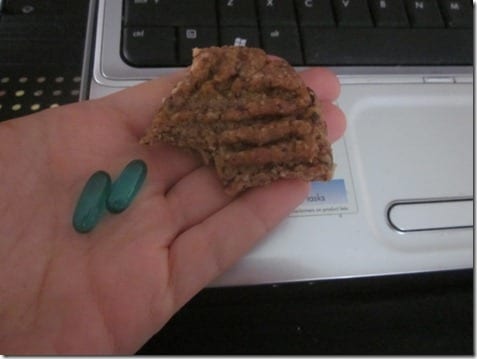 Question: Did you run this weekend? Where? Have you ever dressed up for a race?