This sign totally saved my life today!
Don't you love the quote: "Have Fun, Live Life, Eat Right"!
As I was walking around the Atlanta airport during my layover I saw this sign and wanted to take a picture of it. So, I went to get my camera and that's when I realized –
I left my camera on the plane!!!!
It had already been at least a half an hour since got there and was wandering around. But, I somehow managed to find the gate where my flight arrived and a flight attendant let me go back on the plane to check if it was still there. And it was!
I had a small heart attack, but nothing a weekend in Vegas can't solve 😉
Breakfast:
I brought yogurt and cereal for breakfast on the first flight, but decided to get steel cut oats from Pot Belly instead. I ate it with my banged up banana.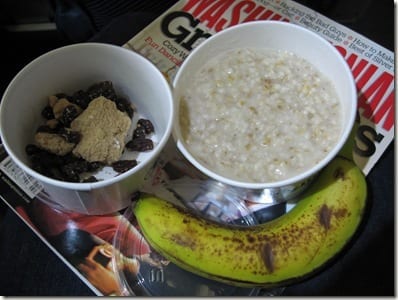 My seat neighbor thought it was weird I was taking a picture of my food and I told her about the blog (Hi Joanne!). It turns out she and her husband are trying to be healthier this year and we had a lot to chat about! The flight was over before we knew it.
I walked around the Atlanta airport for about 40 minutes before stopping to dig into lunch. I am exhausted already and really need to take a nap on my next flight.
Lunch:
I grabbed a DD iced coffee to go with  my packed lunch: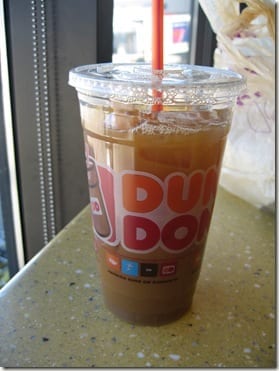 I really should be more embarrassed about this because I really am the grossest traveler. I packed the leftover brussel sprouts from last night as part of my lunch and you could smell them when I opened up my backpack on the place.
To my credit, I did actually eat them in the food court – not in a confined space.
With my brussels, I had PB&J, yogurt and trail mix with cereal, raisins and cashews.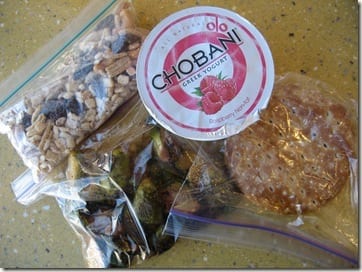 I've decided to allow non-sugar cereals at least until I get back home because it's a healthy breakfast or snack choice on the go.
**Added bonus: My mom credits Kashi Go Lean with one of the main reasons she lost weight after she had Matt. She used to eat if for breakfast and also as a snack in a homemade trail mix. For some reason we both have gotten away from eating it and are talking about going back.**
Boo! I just realized I forgot my peeled orange in the fridge at home. Ben, go at it.
Now I have a little bit more time to hang out before I'm off to Vegas! I need a nap.