Hello! I went to Shiftcon, an Eco Wellness Blogger Conference, this weekend. I was asked to speak on a panel about Instagram, which is my favorite social media app right now so I was all about it! The conference was in New Orleans and I made it a pretty quick out and back trip because I've been traveling so much lately.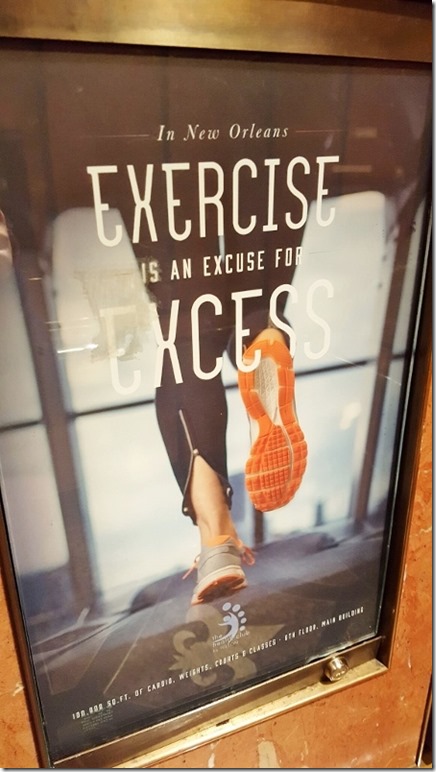 I am on the 24 day challenge right now so I didn't hit up Café Du Monde for beignets or slam Hurricanes while I was in NOLA. But, trust me when I say that the last time I was in New Orleans I probably drank and ate enough to cancel out a few trips. (See: me singing Miley Cyrus karaoke and crashing private parties for free shots).
Anyway. This trip I woke up bright and early on Saturday for yoga. The conference offered yoga led by Jamie from Sweat Pink.
That's Leah Segedie and Jamie at 6:30am on Saturday in NOLA. They are the best and were super pumped and wide awake to start the day.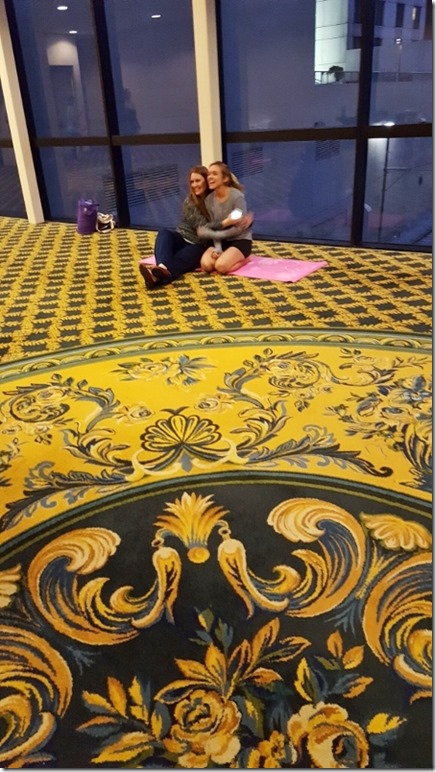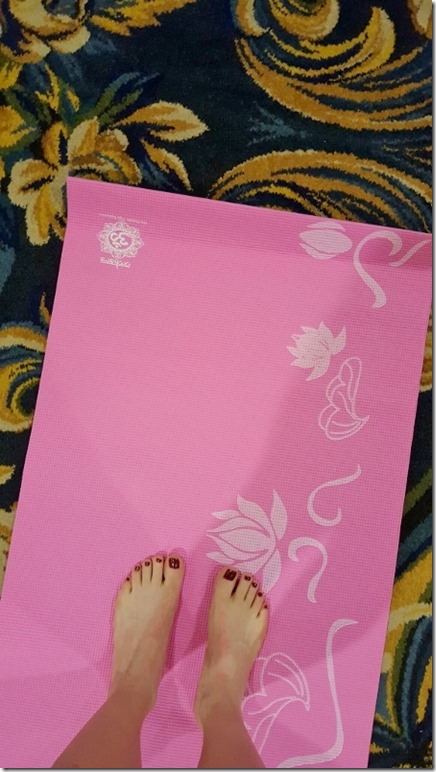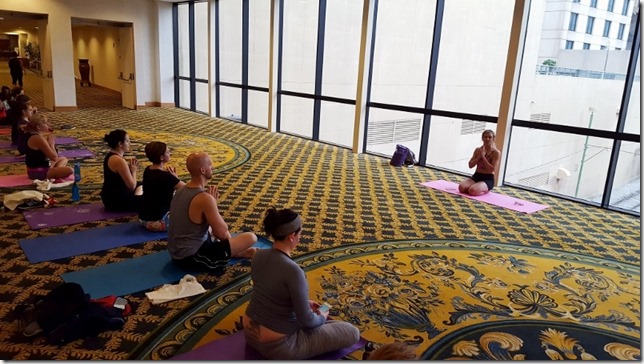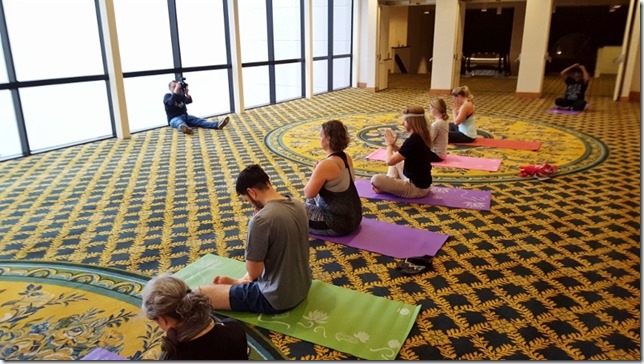 I always need more yoga in my life so I was happy to change up my running schedule to make this work.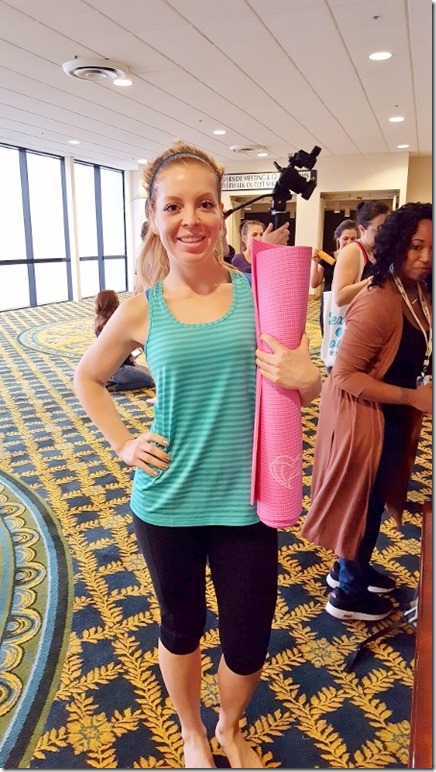 Post-yoga I rushed to my room to get ready and back down to the conference for breakfast. Almost everything served at the conference was healthy, organic, non-gmo and in line with green living values.
There was 'regular' bacon and turkey bacon. I'm not a 'real' bacon person (I know this is weird, I feel like everyone on the interwebs is in love with bacon) so I opted for the non-pig option. This is actually the BEST turkey bacon I've ever had! I wonder if they cooked it in butter or did something different from how I do it at home?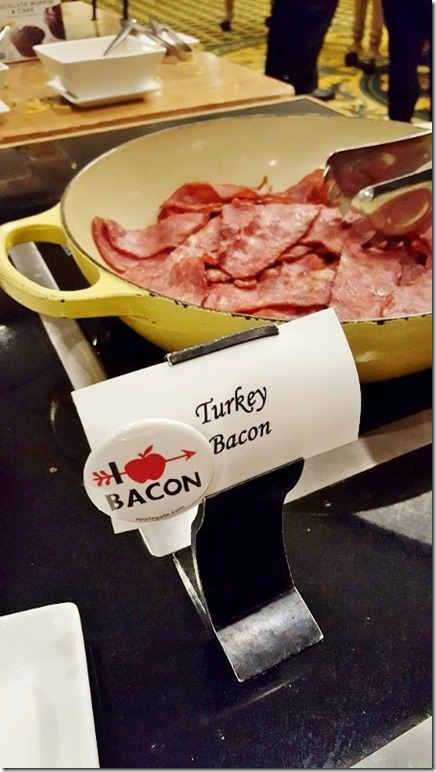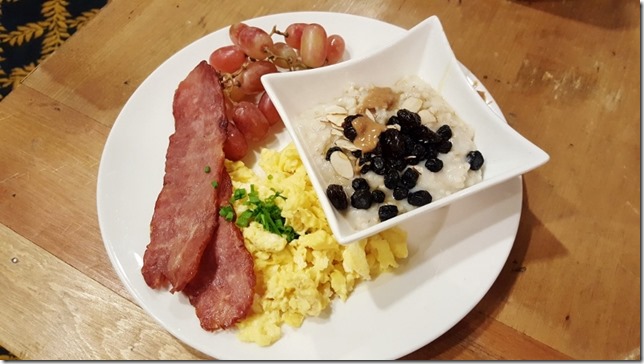 I spoke on a panel Saturday morning called "Stories Not Selfies: Instagram for Influencers". The panel included Jamie King Fit and Carissa from Creative Green Living.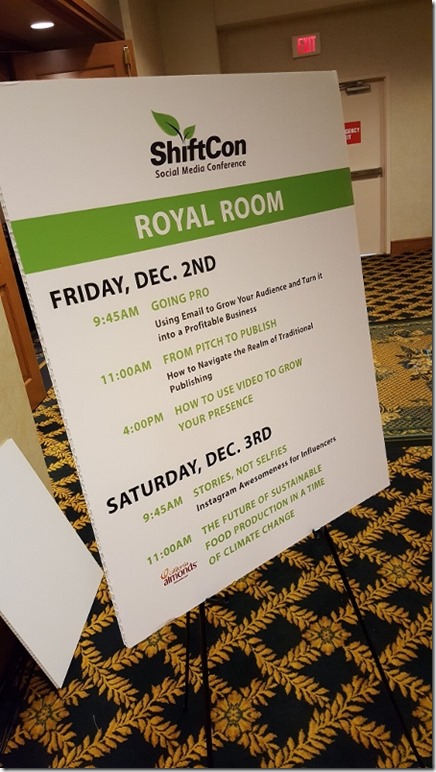 The session had a full room! This made me happy because it's always hard to know if anyone cares and/or is interested in the topics you're covering at a conference.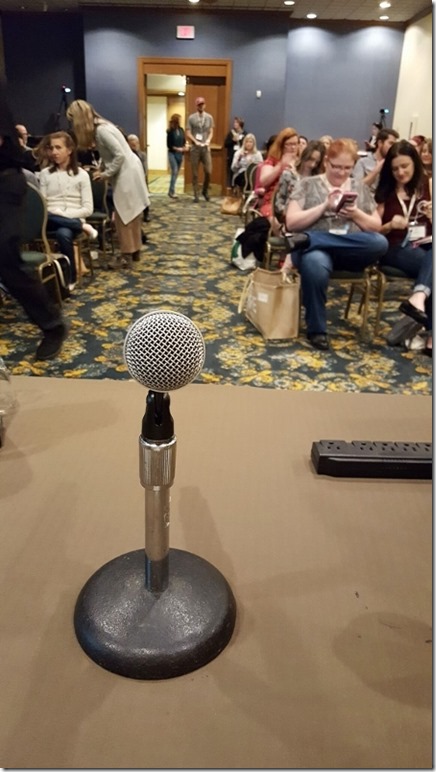 We had a whole presentation and hot topics about Instagram to cover but ended up taking a lot of questions. This was great because it was very conversational and hopefully means attendees got their most important questions answered.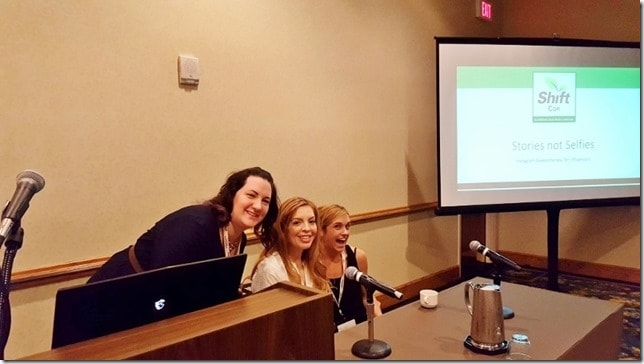 Instagram Tips from the session:
1. Remember it's a visual medium – keep your pictures clear and pleasant to look at.
– Carissa tries to keep the colors on her images complimentary. So when you look at her IG page as a whole it's pretty. (She is a lot more artistic than me though, I am not on that level.)
2. Use hashtags that make sense for your target audience and followers. Interact with others using those hashtags.
– Keep a list of the hashtags in your notes and edit as necessary before pasting into the comments or body of your IG update.
3. Use tools to help you update and share. I don't have experience with photo editing apps or software, but Jamie and I agreed that the IG filters  and photo editing adjustments are pretty great now.
– There are  apps like CoSchedule that can help you organize updates on all your social media  accounts for later.
4. Keep going and have fun with it.
– Don't obsess over your followers or numbers. If you want to grow your account – update it with things that make you happy, have fun with it, stay positive and keep going. Your account is probably growing everyday! That is awesome! It might not double in followers overnight, but it is getting more and more all the time. Focus on your successes and keep sharing.
In other news… The swag at Shiftcon was on another level.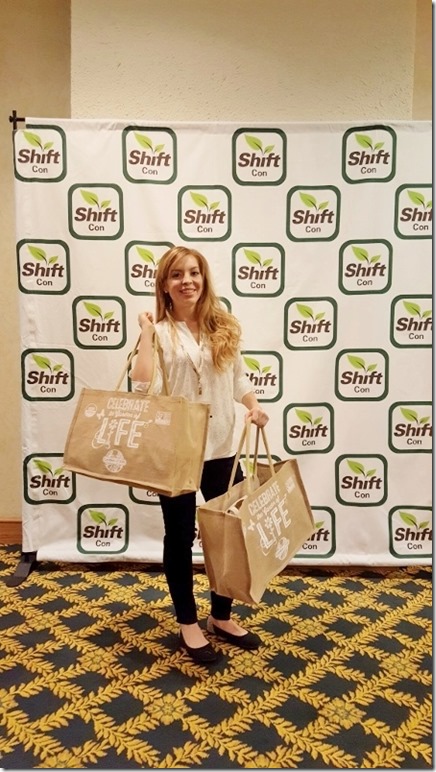 I snacked on this Navitas Naturals bar at the airport and went through some of the other loot! It was great.
And this is probably my favorite thing from the conference… Fortify your Life by Teiraona Low Dog, M.D.
This was a lil surprise because I have already read and heard so many lectures and podcasts on food, health, vitamins and all things diet and fitness. My health coach certification covered everything from chia seeds to the Atkins Diet to dry brushing to veganism to the importance of sleep. And I am still soaking up all the info I can.
I'm still very interested in info on supplements and want to keep learning to be able to help people interested in healthy changes. I opened this book on the plane and was immediately sucked in. Dr. Low Dog is just very reasonable with her viewpoints. I appreciate that! Supplements are just your seatbelt – but you still need a good car and you need to pay attention and drive safe. It all works together. Anyway. I just started the book but so far I'm digging it.
Question: What is your favorite social media outlet?