Sunday morning as I drove to the half marathon in Riverside I kept switching the radio station trying to find some good music to pump me up before the race. That's hard to do at 5am on a Sunday! For some reason radio stations fill their airtime with infomercials or other randomness at that hour.
But, I stopped on a country station that was playing fun Christmas music and thought, "This would be a good song to run to – especially for a holiday race!" And so this Christmas Running Playlist was born!
Check it out and add it to your running or workout playlist. Or just play some of the videos and dance around to burn off some calories (and some stress).
Christmas Workout Playlist
"Christmas Wrapping," Glee – (Christmas Wrapping on YouTube)
"My Only Wish This Year" Britney Spears – (My Only Wish music video)
"Last Christmas," Wham! – (Last Christmas music video)
"8 Days of Christmas," Destiny's Child – (8 Days of Christmas music video)
"Rockin' Around the Christmas Tree," Brenda Lee
"All I Want for Christmas Is You," Mariah Carey – (All I Want for Christmas music video)
"Feliz Navidad" Jose Feliciano – (Feliz Navidad on YouTube)
"Run Run Rudolph," Kelly Clarkson – (Run Run Rudolph on YouTube)
"Santa Claus is Coming to Town" Jackson Five – (Santa Claus is Coming to Town YouTube)
"Drummer Boy," Justin Bieber feat. Busta Rhymes – (Drummer Boy on YouTube)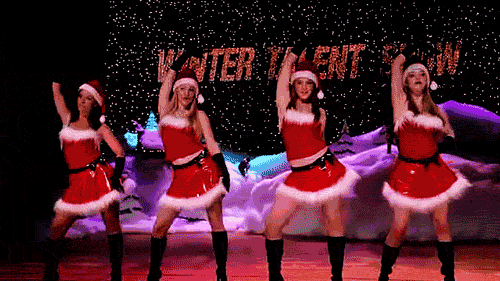 This mix is perfect to get in the holiday spirit and it can add an extra bit of fun to a holiday race. Are you running one this year?
I'm getting into the spirit by trying to force Vegas into wearing a Santa hat. He is probably going to tell Santa I deserve to be on the naughty list. I say it's totally worth it to get a good cat picture. Fill up my stocking with coal in exchange for all the funny cat photos!!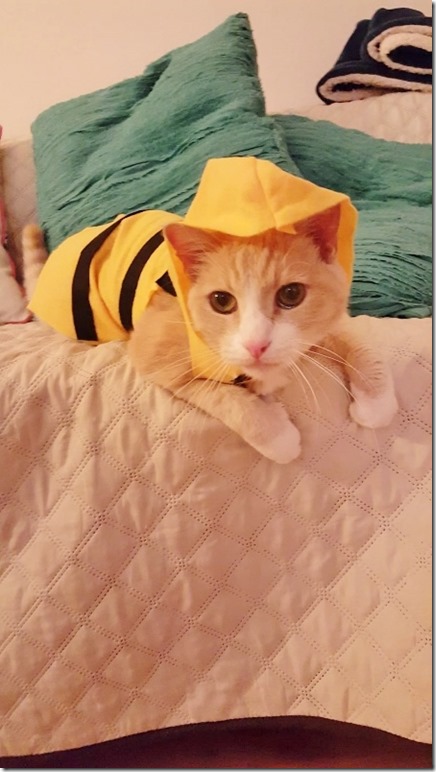 I'm also enjoying a holiday inspired protein pancakes….
I made Peppermint Protein Pancakes this morning. The lil addition of some candy cane on top really made this stack awesome.
Peppermint Protein Pancakes Recipe
Ingredients:
1 packet vanilla protein powder
1/2 cup egg whites
1 dash salt & baking soda
2-6 drops of peppermint extract (rain drops – this stuff is strong)
1 packet sweetener (sugar, stevia, etc)
optional toppings: crushed up candy cane, yogurt
Directions: Mix all ingredients. Cook on hot skillet sprayed well with non-stick spray.
*Don't flip until first side is set.
Top with crushed candy cane, greek yogurt or whipped cream and any of your favorites.
Next up I want to try it with chocolate protein powder (this one used the vanilla protein powder but I'm sure either would work)!
That is going to be like peppermint bark pancakes, right? So good!
Question: On a scale of 1 to 10 how festive are you today?
1 = Grinch
10 = Cindy Lu Who