Half Marathon #7 for the year is done!
And this means my big goal of 13 half marathons races in 2013 is complete! Does this mean I can retire to Costa Rica early?!
This morning I ran the Shoreline Half Marathon in Ventura, CA. It's north of LA so I stayed at my mom's to buy me an extra hour of sleep.
It takes about 2 hours to get there from my mom's but packet pick up was at 7am / race start 8am. Since that isn't very early by race standards I was cool with the commute.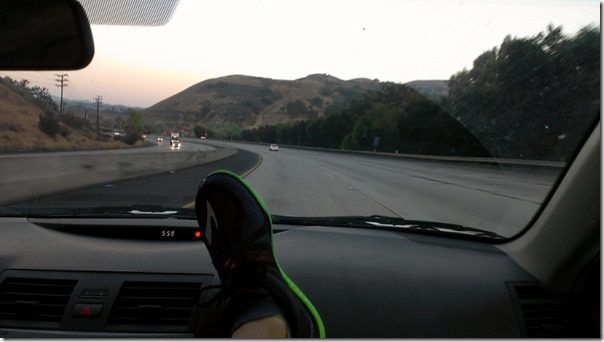 Shoreline Half Marathon Recap
We made great time getting there and packet pick up was a breeze. I love when races let you get your bib number on race day! Otherwise I would have had to either drive up and back for 4 hours yesterday or get a hotel room.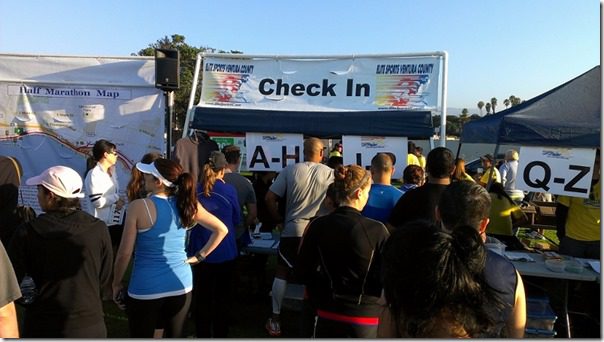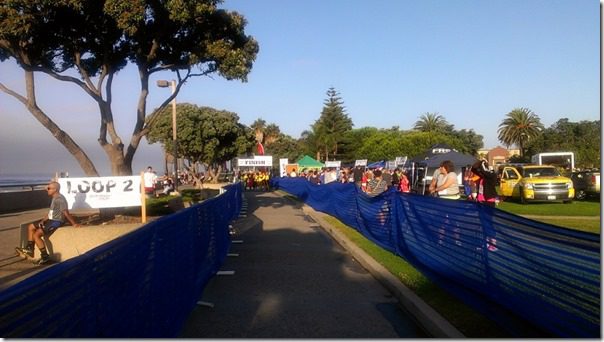 The Start/Finish was right on the sidewalk on the beach. This was just a few yards from the start, had to do it…
Parking – The race start was right across from the Ventura County Fair so there was plenty of parking. There was a sign that said $5.00, but no one was there to collect it when we got there or left.
Course – The course was basically two loops near the beach. It was FLAT except for one hill (that you have to do twice). There were about 500 half marathoners so the course thinned out fairly quickly – this is good because some of the course is narrow, but it wasn't a problem.
The only small issue was after the first loop half marathoners go past the finish for one mini-loop before repeating the OG loop. Well, two guys in front of me started to turn back to the OG loop and I was about to follow them when someone yelled at us and we corrected it right away.
I am a fan of any flat course, it doesn't have to be scenic – but this is both!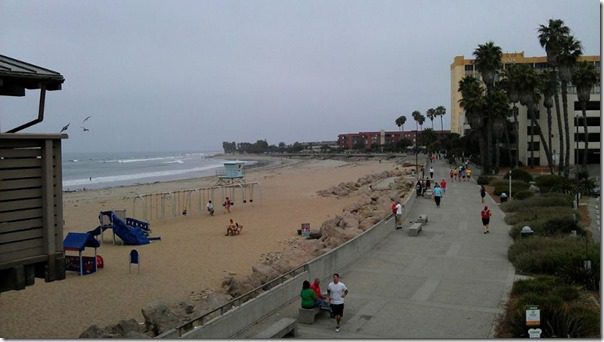 Note: This is the course on the race website. It is much flatter than this reflects.
Aide stations – I brought my handheld water bottle because it's summer and that's what I felt like doing. So, I only grabbed one cup of water during the race. But there were about 5 stations and you passed most of them twice.
Overall – I would recommend this race. Everything about it was a breeze – getting there, parking, packet and the ocean breeze
After the race I took an ice bath in the Pacific Ocean. For anyone who isn't aware, the Pacific in the US is FREEZING.
I didn't realize I was being filmed… Don't mind me, I'm just praying to survive the cold.
Post Race EATS
A quick search of TV Foods Maps on the magic phone uncovered a Diners, Drive-ins and Dives place just miles from the race!
Pete's Breakfast House in Ventura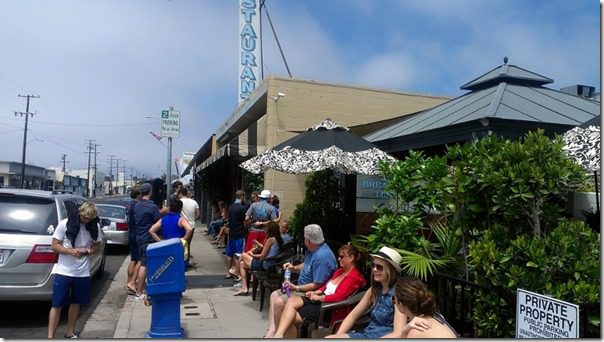 There was a line out the door, but the wait really wasn't that long. Plus there was free coffee while you wait and music.
I ordered the Frittata Omelet – but it's not a frittata as much as an open faced omelet. It comes with potatoes or fruit, but they let me get half and half. Score!
You also get toast or a biscuit. If you listen to nothing else from me hear me on this – ALWAYS get the biscuit. I mean, how can you go wrong with butter and flour?
See? Guy Fieri was here.
Overall: The food was great and the service was amazing too! Everyone was super nice, helpful and attentive.
Diner's Drive-ins and Dives episode from Pete's
Now I'm hanging at my mom's house on the patio swing.
See ya tomorrow with a fun giveaway!
Question: What was the BEST thing you ate this weekend?
Anyone else race? How'd it go?
Disclaimer: The race organization provided me with a bib in exchange for a social media mention. All opinions are my own. Consult your doctor before running or eating or repeating.