A few weeks ago I attended the IDEA Conference in Los Angeles. It's a conference for fitness professionals and I attended sessions about new exercises, modification and nutrition.
That experience left me inspired and excited to share with the class you. One of the sessions was "Perfecting Performance Fueling – Pre and Post Workout". In the session the RD talked about sprouting raw nuts and seeds. This makes them easier to digest and make it easier for your body to absorb the nutrients from them.
For more on soaking nuts check out The Nourishing Gourmet's post on it.
Since I have tiny-heartitis I only LOVE 16 things in this world and Sriracha and cashews are two of those things. So, while the RD was talking about creamy cashew sauce as dessert I was dreaming up this…
Spicy Cashew Sauce Recipe
It is super easy, healthy and you'll feel all hippy-like because it's raw, and gluten free. So make this and you'll live 'til you're 126 and then when all your friends who don't eat raw-gluten free are dead you can be smug but it won't bug anyone because they're in Heaven.
Ingredients:
1 cup raw cashews

salt & pepper

minced garlic (I used 3/4 Tb.)

1-2 Tb. Sriracha

water
Soak your nuts overnight in enough water to cover them and a dash of salt. Don't soak much longer than overnight as cashews tend to get weird.
Drain/dump the soaking water and place cashews, 1 Tb Sriracha, garlic and 2 Tb water in blender. (*This is my new Blendtec- thoughts coming soon.)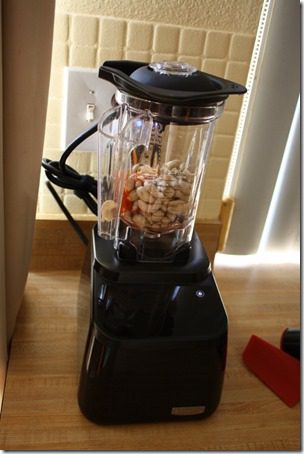 Start with 1 Tb of Sriracha and 2 Tb water. Add more to reach desired spice and consistency. I used 2 Tb. of Sriracha, but my peep thought that was too hot. I wanted half of the batch thick for dip and then I added a little more water for a sauce. Add salt and pepper to taste.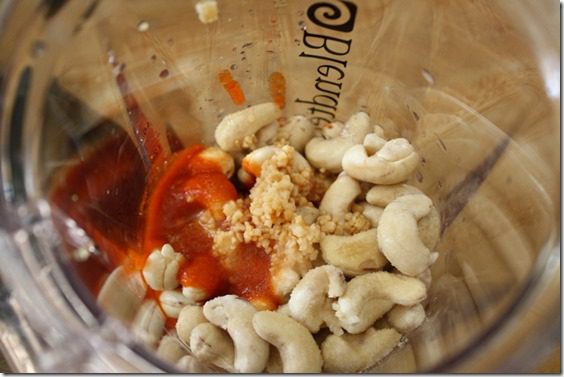 Dip your quesadilla, veggies, fingers in it and enjoy!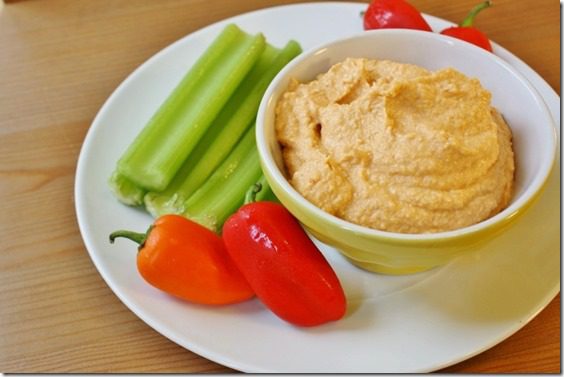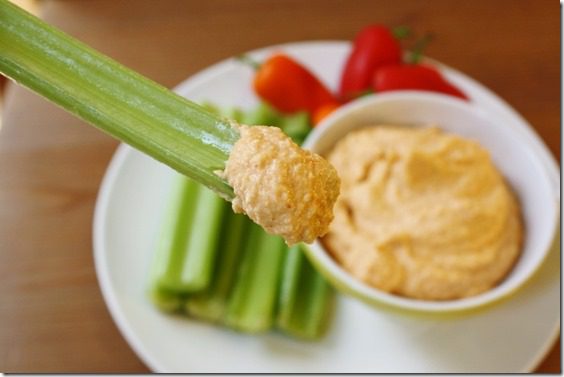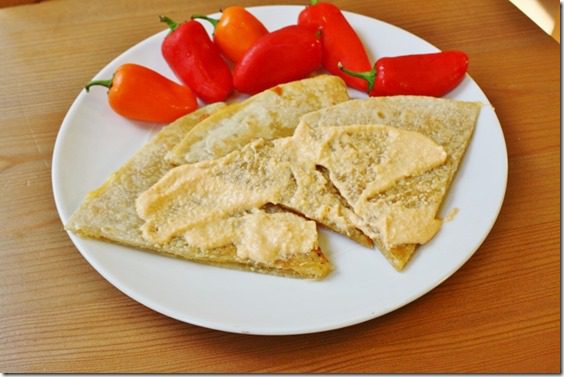 Seriously, I've been putting it on everything. I chopped up some baked chicken and tossed it in a big dollop of the cashew sauce for a Spicy Cashew Chicken. Garnish with a few extra cashews and Tito's your uncle.
Now put some sauce on your burrito bay-bee and enjoy!
Question: Spicy, Medium or Mild?