Hello! How's it going? Is it HOT where you are? It's HOT here – in 2 ways… 1.) the weather and B.) with Sriracha on everything.
I went on a tour of the Sriracha factory on Friday!! No, this wasn't for a blog event… Recently I heard you can take a tour at the Sriracha headquarters! And I already knew it was fairly close to my parents' house so I was all about it. I looked it up and asked my little brother to come with me.
The Sriracha Factory is located in Irwindale, CA. (Your local Monican is from Pico Rivera, CA.)
Reason #102 why California is the BEST: The Sriracha Factory.
You can find out more about Sriracha Factory Tours here.
Sriracha Factory Tour Notes:
1. It's a free tour offered most weekdays. You must make reservations in advance.
2. The tour is about 30 to 45 minutes long and takes you inside the huge factory.
3. The company moved to this new state-of-the-art facility in 2010.
4. They make the Sriracha bottles here too!
5. The tour starts in a welcome room covered in Sriracha memorabilia. They play videos about Sriracha on a loop in the room while you wait for everyone to arrive.
6. The creator of Sriracha, David Tran is over 70 years old and still works full time at the company.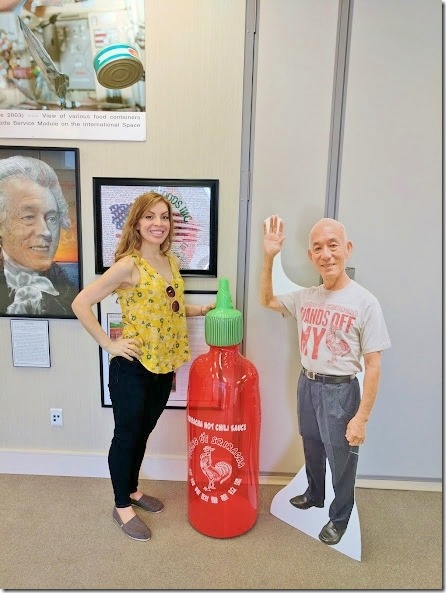 7. The tour leaders pass out hair nets and take you to Sriracha-mobiles to go inside the factory. You have to wear a hair net over your facial hair if you have any too. I'm glad I shaved my beard that morning!
8. I don't know this guy who is perfectly smiling at the camera, but I appreciate his enthusiasm!
9. Everyone on the tour boards the Sriracha-mobile and the tour guide drives you into the warehouse section of the factory.
Fun fact: They make all these blue barrels that hold the sauce on site too.
10. The warehouse section of the factory is HUGE and mostly lit with skylights! They only turn on lights in there if it's really necessary.
11. Sriracha makes 3 kinds of hot sauce:
Sriracha, Chili Garlic and Sambal Oelek
Each sauce starts with a base of chili – salt, vinegar and 2 preservatives added.
That's what is in these barrels.
12. We saw the Sriracha bottles being made and filled.
13. Yes, you can take pictures and video.
14. It smells very garlic-y and slightly like chili in the factory. It's not a very strong odor and doesn't burn your eyes, nose or throat to smell.
BUT – it is not chili grinding season right now. The tour guides said the smell is a little stronger during that 3 month time period. Even then, it's not super offensive.
I'm noting this because there was a big new story a while back that local residents claimed the factory smelled very strong and it was unbearable. This is a little odd because the factory has been there since 2010 and was in Rosemead (a near-by city) for years before that.
I toured the Sabra factory twice in the past and would say the smells were a little similar – a mild, warm garlic smell. I liked it!
I do want to go back during chili grinding season to see that happen and sniff it out.
15. The tour is fairly short and sweet. At the end you can check out the Rooster Room, basically the gift shop.
Everyone who takes the tour gets a free small bottle of one of their three sauces. I picked the chili garlic and Matt picked the mini Sriracha bottle. Then, we went kinda crazy buying up all the Sriracha stuff!
16. I got a Sriracha tank , Sriracha to go key-chain, Sriracha ketchup and Sriracha salsa…
17. Overall it was fun! But I don't think I'd recommend for someone to check out unless you were a HUGE Sriracha fan or lived pretty close by. It's short and sweet and there's no other real points of interest nearby so if you're just traveling to Los Angeles or Anaheim for other reasons I wouldn't automatically add this to the list of things to do.
18. After the tour I went back to my parents' house and ate ice cream because it's summer and that's what you do. The end.
More information on the Sriracha Factory Tour is available here.
This wasn't a blog related invite, media trip or sponsored post… I'm just a girl who loves the Rooster Sauce.
Question: What is your favorite hot sauce or condiment?
Me: Sriracha!
Don't Miss It!
Get the latest sales, podcasts, recipes and more straight to your email!