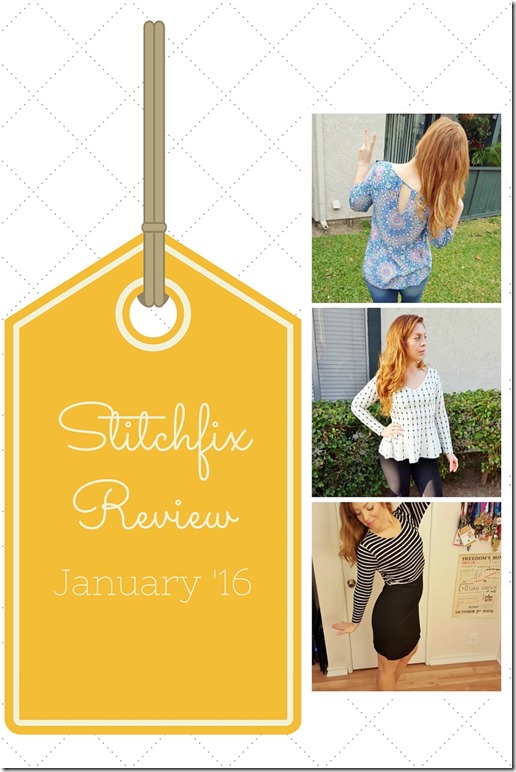 Hello! I received another StitchFix Fashion delivery last week and am here to share my thoughts on the new clothes. I really loved my last 'fix so I was excited to rip open this box and see what I got…
1. Sandri Peplum Pullover Sweater – I am not a fan of peplum cut tops because it hides my waist. I'm fairly wide in the shoulders and hips so having a flowy sweater or shirt that hits me right on my hips makes me look bigger. That said, I was surprised that I liked how this sweater looked! But, it seemed a little small in the arms so I sent back.
(similar sweater // similar peplum sweater)
2. Marquex Dress – I feel like I am the one person on earth that isn't all about wearing black. I know it's slimming, but I am bad about accessorizing so I prefer wearing colorful clothes. This is super cute and simple, but just not me. It's also very flattering – I almost decided to keep it after looking at the pictures.
3. Siena Cropped Pant – These are cute, but I don't really wear pants. Ha! I mean, I don't wear cropped pants unless they're running capris because I feel like it cuts me off and makes me look weird.
4. Duxall Keyhole Back Top – This top is a nice breath of fresh air in the middle of the winter. Okay, so yeah winter in southern California is a relative term, but I appreciate the colors. This top is the slightest bit too big and was falling off my shoulder, so I sent it back. I love the key hole back and California casual style though.
5. Zinna Faux Suede Dress – Love. Out of all the clothes I got from this Stitchfix haul I liked this dress the most! It might be one of my all time favorites from the service actually. The color, size and style are all on point.
(Similar dress // Similar II)
Sign up for your own StitchFix delivery here. They offer maternity fashion clothes now too!
Question: What color are you wearing today?