I'm trying my first cleanse right now!! And you're either thinking "Cool, which one?! OR "Ugh, I don't believe in cleanses."
I feel like I have seen so many cleanses online and have considered doing one for the longest time. But I have always been hesitant for a few reasons… I like to eat, a lot of them are full of sugar, I do think our bodies are pretty efficient at self cleaning, and did I mention I like to eat?
But I've heard a lot about the Chef V cleanse  that sounded better than any other…
the green juice is blended to get more of the good stuff in the drink
it comes with a protein drink
the juice is NOT a ton of fruit juice and sugar
it also comes with a soup to have at the end of the day
they deliver it straight to my door
Also, I have really wanted to try a cleanse because I don't' feel right saying "I don't believe in cleanses" if I've never tried one. Since I'm doing the Health Coaching certification I know a lot of my future clients are going to ask me about cleanses. I want to have first hand knowledge on this topic. I really think this is a good one if you're going to try one.
AND… this is for ME and my body. My thyroid is still sluggish despite being on medication and taking holistic supplements. After a lot of research and debate I need to change up my diet and this is like a 'fresh start' for me. It's almost a ceremonial way for me to start a new chapter of taking care of my body with better food.
So today was my first day on the Chef V Cleanse – there are 3 day, 5 day and 7 day options. I'm trying the 3 day, but since I've never even done a 1 day cleanse I'm not sure if I'll be able to stick to it the whole time. I tried to set myself up for success by cleaning out my kitchen of any crappy foods though!
First things first, I went for a short run this morning. You shouldn't do any intense exercise while on a cleanse so I kept it very light.
First green juice of the day… I was a little scared it wasn't going to be good since I knew it wasn't packed with sugar, but it is delicious! It's actually very refreshing.
I had the first protein drink of the day on the way to acupuncture. This was really good too. All cleanses come with a shaker cup that came in handy all day.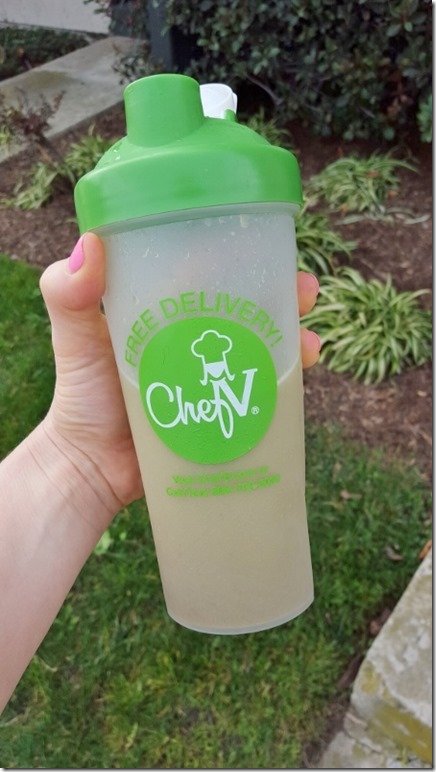 (There are more juices and tons of water happening throughout the day too.)
I was pleasantly surprised by the soup too. It has sweet potatoes and is very good!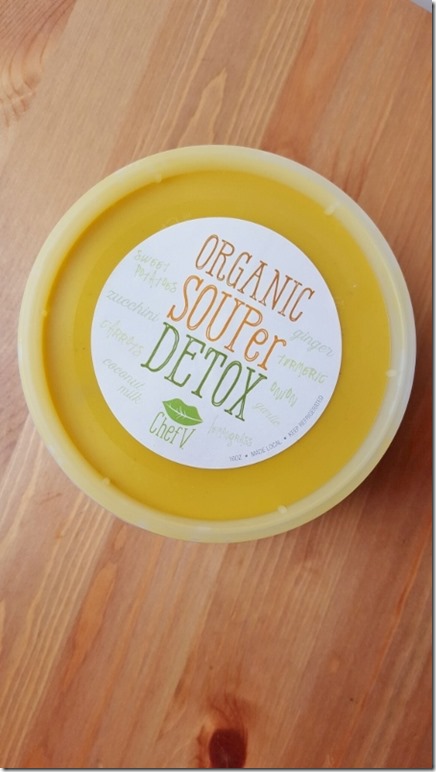 And now I'm sipping a green juice and chatting with you nice people. I will admit that I want a treat right now. If I had something in my house I'd probably eat it so it's good I cleaned out the junk!
The nice people at Chef V have offered to give RER readers a 55% discount off any of the cleanses! That is better than any discount or coupon I've ever seen from them.
Discount Code: Check out more info on the Chef V Cleanse here and use code RER for 55% off!!
I'll follow up with my thoughts after the cleanse. Let me know if you have any questions!
Question: Have you ever done a cleanse? Would you?