I bought a new container of protein powder last week and have been dreaming up recipes with it ever since. Some of them, okay MOST of them flop.
But this afternoon I threw this Clean Eating Crepe Recipe together and it was good!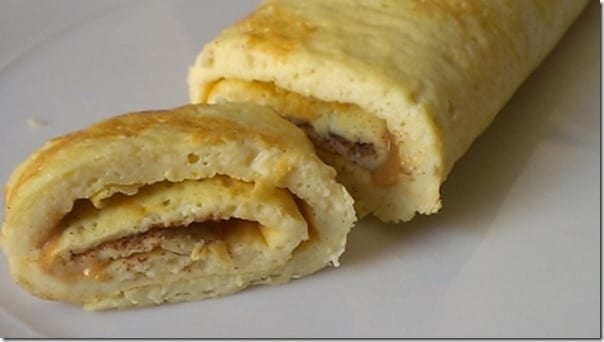 Protein Crepe Stuffed with PB and Cinnamon Recipe
For the Crepe: 1 scoop protein powder ( I used Muscle Milk Banana Whey), 1/4 cup egg whites, 1 Tb almond milk.
Filling: 1 heaping TB Peanut Butter, 1 TB maple syrup, cinnamon. Mix.
Directions: Mix crepe ingredients. Heat pan and spray with non-stick. Cook crepe. Flip carefully as it's thin.
When it's done place on a plate and spread with the Cinnamon PB filling. I added more cinnamon because I love it.
Roll it up. Eat.
Enjoy.