I brought Asian Chicken salad for the party yesterday and took the rest home for today's lunch. Yeah, you can do that without it being rude when it's a family party
I know my food's not pretty, but my new clearance aisle polka dot placemat makes me very happy.
A chocolate Vitatop with PB made my day. Made it. Outside of that it was all cleaning and washing clothes.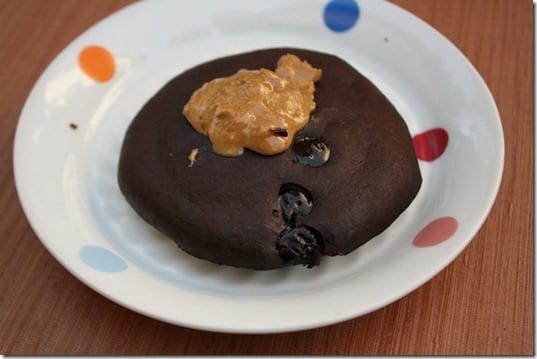 This dinner is random for me – a hotdog! Trader Joes was sampling their nitrate free chicken hotdogs yesterday and I grabbed a pack.
Okay, the bun is what sold me. I'm a carbs girl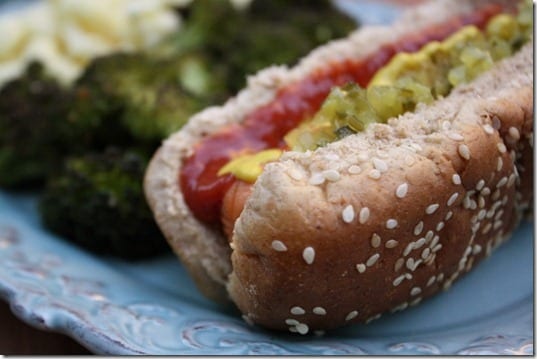 www.nataliedee.com
I've only "officially" started eating chicken again since January (it was one of my unofficial New Year's Resolutions to try and get more protein in my diet). I don't know if this whole thing will stay past 2011, but I'm enjoying it for now. It still feels weird sometimes though – mostly when someone who knew me as vegetarian finds out I'm not. I feel like I was a part of a club that I ditched or something? Just weird for me.
Tomorrow is my first day of marathon training (more on that tomorrow). So, this is my first Sunday Set Up with this new training plan
Sunday Set Up for 6/19/2011
Exercise: Just do it.
Food: Just don't.
Actually, my exercise plan will be coming with my marathon training stuff tomorrow.
Food: No snacking between 4 and 7pm. Being hungry for dinner is a revelation for me. This doesn't go against Intuitive Eating, rather this is me trying to pay attention to my hunger signals by giving them a chance to exist for once.
See ya tomorrow!