The sun was shining bright for my last day in California!!! It was an absolutely gorgeous day and Ben and I were totally basking in the sun. My mom and I took the dogs for two walks 🙂 I've been in Maryland so long and only wearing two pairs of pants that I forgot girls are supposed to shave their legs!
When we came back from our second walk my mom and I found Ben in the backyard in his trunks making orange juice! He was literally fresh squeezing juice from the oranges from our trees. You can't get any fresher than that!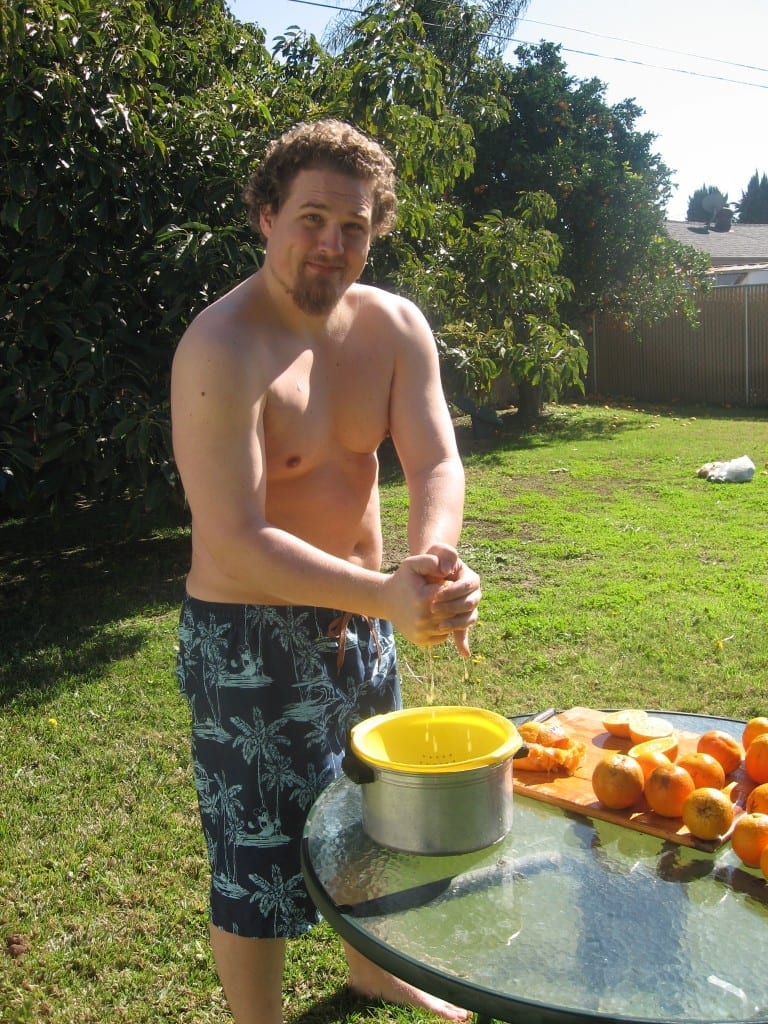 He made a ton of it!
Good thing we also had a lot of vodka to make a lot of screwdrivers!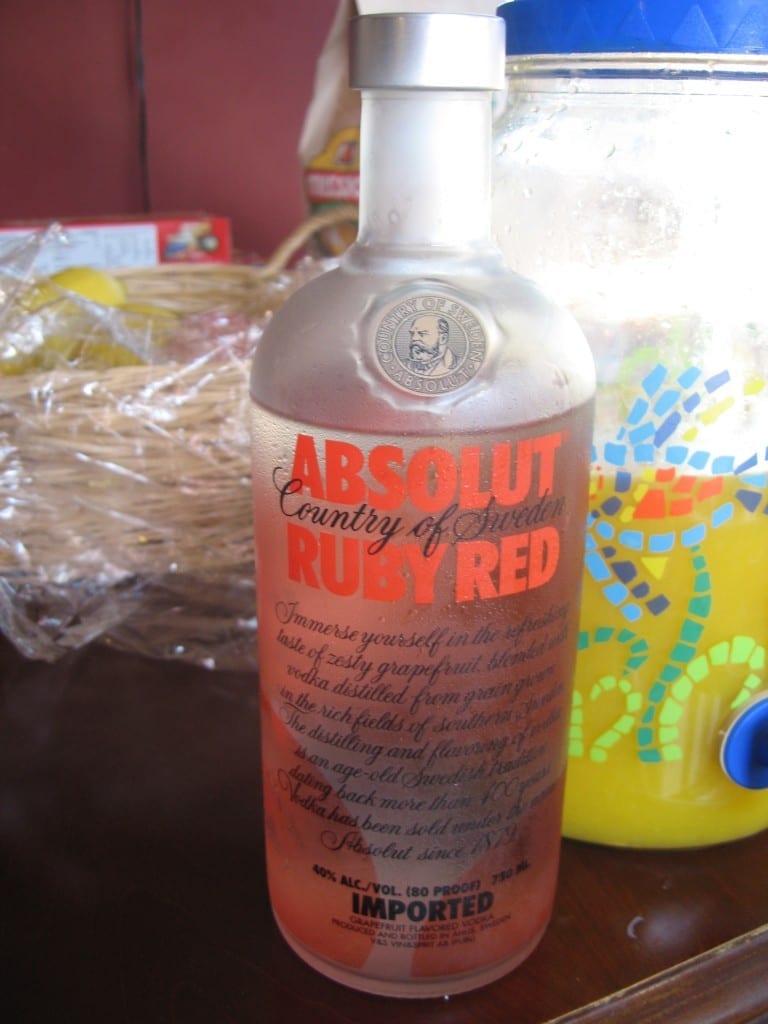 Lunch was many bites of salad and guacamole with chips. I didn't take pictures because I was cooking and rushing around. Please forgive.
For the Superbowl Party I made an Asian Salad with: cole slaw, green onions, mushrooms, ramen noodles and chickpeas. I made my own dressing with soy sauce, PB, rice vinegar, maple syrup, orange juice and red peppers to taste. It is amazing!
One secret to healthy eating at a party are to bring a salad with beans – this way you are guanteed to eat some veggies and protien in case they are not vegetarian options at the party. *Note: This healthy eating tip only works if you don't show up at the party and proceed to eat your weight in chips and chocolate chip cookies. Guilty as charged 🙁
Guacamole! We also brought a ton of freshly made organic guacamole – courtesy of the tree in my mom's backyard. I ate a ton of it after we made it. Note to self: Guacamole is better in CA 🙂
Here is my plate from the party. Plus some other bites of Ben's food.
And my guilty add-ons: Chocolate Covered Pretzels
and chocolate chip cookies.
I made carrot cake cup cakes because my mom's birthday is the 14th (Valentine's Day!) and we won't be here to celebrate. I had to test one of course and they rocked!
This was obviously a very indulgent cheat day, and I'm going to get back on track with less treats tomorrow. Just wanted to say that I am aware.
I am typing this post while watching the Super Bowl and counting down the minutes until we have to catch our flight. I have a hard time sleeping on air planes, so I think it's going to be a rough night. We're getting into the airport around 9am tomorrow morning. Our flight is going to be super packed since most flights were canceled this weekend.
I'll probably eat another snack at some point since I'm going to be up so late. I will note it and try not to make it too bad!
Wish me luck and I'll see you tomorrow!