When I checked my Marathon Training Plan this morning and saw "8 Miles" I was not excited. Just didn't have the energy, you know?
So I made a deal with la diabla myself – I'd only do 6 miles, but with 4 at tempo. Deal.
6 miles (4 tempo) – 51:59 Average Pace 8:40
Mile 1: 9:07
Mile 2:8:28
Mile 3: 8:37 (hill in there)
Mile 4: 8:12 (downhill next two)
Mile 5: 8:15

Mile 6: 9:19 (walk break in cool down)
I actually took a shower before eating today. How fancy 
I think it's important to have pancakes during the work week. It just makes it go by faster. I made super quick batch of oat brancakes.
Ingredients: 1/2 cup egg beaters, 1/2 cup oat bran, 1 Tb. chia seeds (helps thicken) dash – salt, baking powder and soda, stevia packet and cinnamon. Mix together.  Cook. Note: Oil pan well or they will not flip easy and fall apart.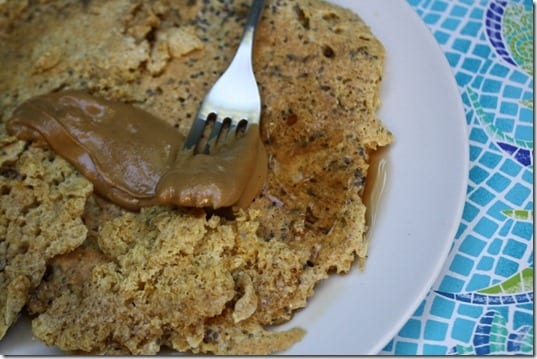 Top with at least 2 Tablespoons of Sunflower Seed Butter. Preferably more.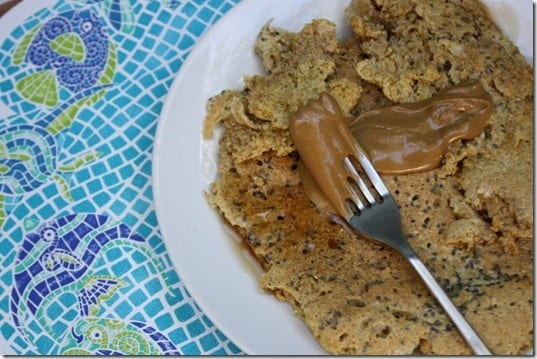 Eat with iced coffee and a smile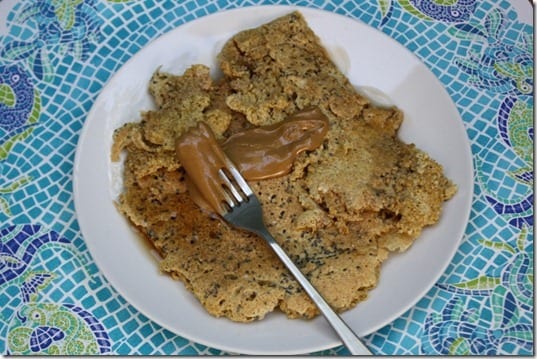 Question: Do you have time to cook breakfast or is just "grab and go"?
Tomorrow I have a 7am client and I'll grab a bar as I race out the door 5 minutes late. But on days I don't start until after 9am I like to cook something.