Hello! How's it going? It's going HOT, right!? Summer running is in full swing! I love it. And I hope you love it too. But even if you don't – you'll love it more with the right running gear.
Today I'm sharing information on my favorite running shorts.
Every day I get questions on Instagram and Facebook asking "What running shorts are those?!" … OR … "Where did you get those running shorts – they look like the perfect length!?"
I feel like I talk about them all the time! But the questions keep coming AND it was recently brought to my attention that my previous post about the best running shorts suggests Moving Comfort shorts – but they are no longer being made. Boo!
So here are a few options you can order via Amazon or other runner gear companies or find in your local running store or big retailers (Walmart and JC Penny carry some).
Let me know your favorite running shorts in the comments in case another runner prefers your go-to gear!
How to Avoid Thigh Chafing
Step 1 to combat chafing is to have the best gear possible. Try to prevent any chafing issues before they even start. Once chafing starts it's hard to stop the irritation. The best thing you can do is wear gear that fits correctly.
Choose running clothes that don't expose areas of skin that might rub together –> thighs and arms rubbing against your body are common culprits.
Make sure it fits correctly and isn't too tight or too loose.
Step 2 to avoid chafing is to use Vaseline or Body Glide to keep your skin from rubbing and getting irritated. Sometimes there are just certain body parts that are going to get chafed from repetitive motion and sweat. If you can't prevent the rubbing – ease it with something like body glide, vaseline, deodorant (I saw someone do this at Ragnar) so the area doesn't get raw.
Step 3 is to run with your legs super far apart like you have a watermelon in between them. This might slow you down. And your running buddies might be too embarrassed to run with you. And you have to be careful about injuries since you won't be running with a good stride… okay, never mind. Just try the first two ways to avoid chafing.
I really love long running shorts and think they're the key to avoiding thigh chafing. I aim for shorts that are 6 to 8 inches long. But everyone's different so figure out how long you like them and shop accordingly! There are some companies that offer 5″ length – depending on how you're shaped that might work. I need them to be at least 6″ long.
Also – some companies have a certain short length in the description but they feel longer or shorter depending on the cut / style and how they sit on your hips and butt. If I'm deciding between two pairs I'll go with the longer ones.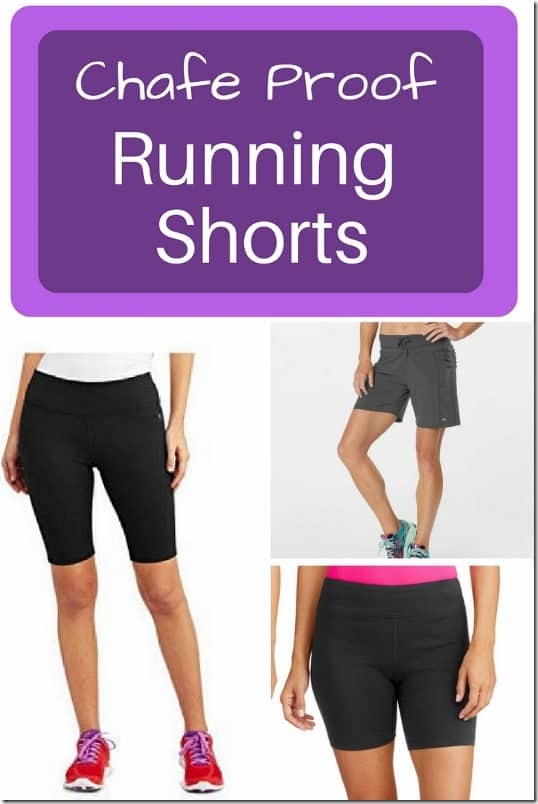 1. Road Runner Sports 8" shorts or 6″ shorts.
These are available at Road Runner Sports or online. They have tight options and loose ones that meet my length requirements. I usually stick with the tight / compression style.
I like the Recharge Compression 8″ shorts 
The Recharge Compression 6″ shorts are good too (again it depends on your body and needs)
They also have loose cut 7″ Gear Inspiration Shorts if you don't like to wear tight shorts to run.
They also have loose (not compression / tight) shorts that are 7" but I haven't worn those.
You can check out their other gear here: Road Runner Sports online store  or you can get them in person at their locations around Southern California.
Plus – Road Runner Sports has a VIP option where you can join the VIP club for a fee and get lower prices on gear throughout the year. These are $35.99 for VIP members and $39.99 for general.
2. Brooks 7" Running Shorts
Brooks has compression shorts & non-form fitting shorts that are long and help prevent thigh rub and chafing. The older versions of their shorts used to have a thin strip around the leg hole that helped keep it in place. I don't think they have that anymore but if your shorts are long enough you won't need it.
Women's 7″ Greenlight Shorts – compression style running shorts
Women's 7" Chaser Shorts – loose style running shorts
3. Danskin Now Running Shorts 
<- These are no longer available. Updated 7.18
Danksin Now makes 9" Running Shorts if you want something a little longer. Depending on your height and size – these can be perfect or a little long. I thought they were great at first. But when I started wearing the 7" shorts  and alternated back to these I felt like these were a little long.
Danskin also offers a lot of plus sized workout gear. Their running shorts don't seem as thick or made from the same compression fabric as the other options on this list. That's good if you don't want a lot of fabric. But it's no bueno if you like to feel like your clothes are holding you in.
4. Xersion running shorts from JC Penney
I found these by accident. I was walking through JC Penney to get to the mall and spotted running shorts that are exactly like the ones I wear. So I bought a pair to try and loved them. I went back for a few more pairs! They're only available in store or online through JC Penney.
These are the Xersion Essential Bike Shorts.
Also – let me give you some tips for other running shorts. This list has my favorite running shorts but there are a lot of options – they key is to make sure you know what you want and need in terms of style, cut, size, length, compression, etc.
Tips:
Figure out what length you need to prevent thigh chafing.
Check the quality of the fabric – some brands offer long shorts but the fabric is really thin so it won't last long, you might feel more self-conscious and/or it's not flattering. Compression and quality fabric is important to help it stand the test of hundred of miles.
When you find a pair you love – stick with it.
Assess if the shorts will fit all over – don't just focus on length. And get the right fit for your body. I know I've been hesitant to wear tight clothes in the past because it would highlight body parts I wanted to hide – but if running gear doesn't fit properly it tends to move around on your body and cause chafing.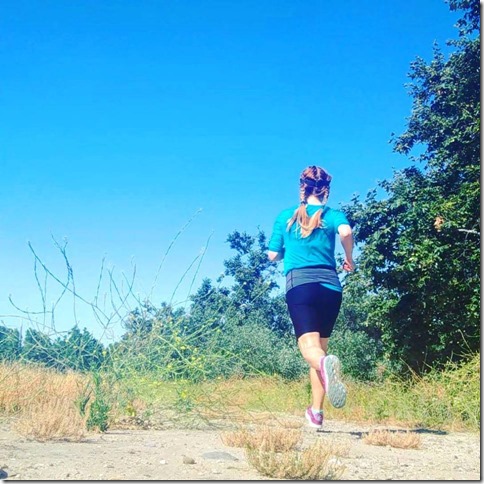 Bonus Round! When I was researching non-running options for chafe prevention I found these Anti-Chafing Thigh Bands. I think they're a really good idea! These are not for running – just to wear under skirts and dresses. This is a good option if you currently wear shorts or something under your skirt for this reason.
Question: What are your favorite shorts / capris / pants to wear for running? 
Discounts & Deals Alerts
Subscribe to get updates on new discounts, coupon codes and deals from Run Eat Repeat.com