Ben and I have been watching a lot of Diners, Drive-ins and Dives. It's our new obsession. We were going to hit up a local dive, but it turns out they are only open for breakfast. Boo.
So, we went with Plan B – finding a super awesome local burger place. We decided to hit up The Counter for "custom built burgers".
I've known about The Counter for a while, but I'm not a big burger person so I brushed it under the rug. Until today. My friend Terence has urged me to take Ben here for over a year. But most of the time when we go out to eat I am craving something specific. Today I was "go with the flow" so we finally hit it up!
The great thing about The Counter is it is a "build your own burger" place. They have great toppings – 12 different kinds of cheese, about 74 different sauces and the topping choices include Fried Egg,Guacamole, Hardboiled Egg and Spicy Pepperchinis
I decided to get a Veggie burger in a bowl. Their veggie burgers are house made and full of rice, beans and mushrooms. It was good!
Ben got a vanilla shake. The other day when we went out I learned that vanilla is his favorite shake flavor – didn't know that! I think it's fun when I learn something new about that guy I live with married.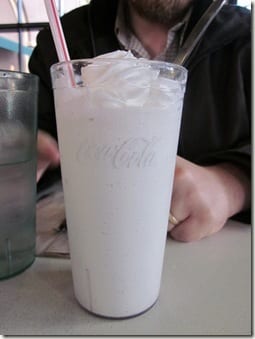 We got the "Combo Plate of Happiness" to share. I don't think that's the official name, just my personal opinion. It has Sweet Potato Fries, Onion Straws, Shoe string Fries and Fried Pickle chips.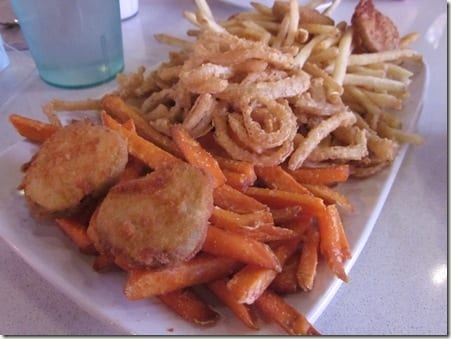 And it comes with four sauces on the side – some fancy garlic Ranch, BBQ, Sweet Asian and a Horseradish Mayo.
I asked for the Blue Cheese on the side and they totally hooked me up. My dressing choice was the Chipotle Aoli. One of the things I have to say is ALL of the sauces at The Counter are really good. We tried 6 different kinds between the fries, dressing and Ben's sauce. I liked them all.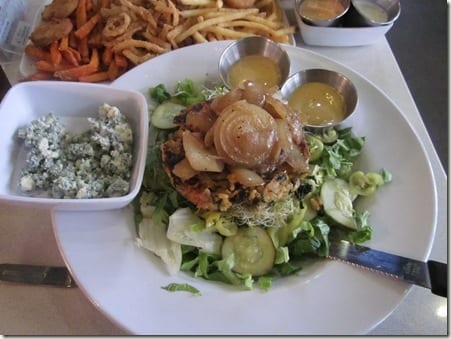 The veggie burger was really good too! I am all about veggie burgers when you can see what's in them. Tasty town.
This Burger place is all over SoCal so if you want to visit you can find a location near you here. They're also in Ireland – random.
I would definitely recommend it, if nothing else – for the onion straws alone. Yes, they were better than the sweet potato fries!