I am having a hungry day. I realized this early and decided to have a healthy, protein filled snack mid-morning – turkey roll ups with hummus. But, that didn't do much. So, I polished off this bag of mango and called it a day (wouldn't get this stuff again).
I had a meeting at noon so I packed my lunch to eat on the way. It was an egg salad sandwich, carrots, apple and a bar for later.
I planned on eating after the meeting up that didn't happen. It was good while it lasted
So, what's this meeting all about?
I got another part time job. My hours at the gym have changed and it's mostly evenings lately. So, this gave me some free time for extra work. I will be working in the recruiting field again (what I did to put myself through college).
Regarding RER – I will maintain my current, mediocre level of blogging for all of you who need something to read on your breaks from work and/or school as I'll be working from home 96% of the time. This is good because I'd hate to be more than 5 feet away from my kitchen for any length of time (sarcasm).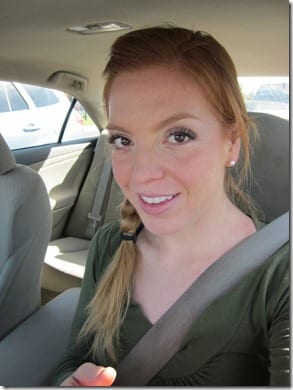 Anyways, my hungry day continued when I got home and before I made a yummy snack I chopped up a BIG salad to help fill my belly. But, instead of reaching for "my" fork (the smaller one I always use) I grabbed a BIG one.
Last week at the Dole Healthy Lifestyle Blog Summit we discussed a study that claims diners who used BIGGER forks ate less. That goes against the theory many of us had that small forks and spoons make you eat less automatically. *This study was based on restaurant diners not at home, so there's that.
You read more here – Restaurant Diners who use Big forks eat less
Thoughts? Do you use a small or big utensil to eat?