Hello! How are you? We woke up to tragic news coming from Orlando, FL – I'm talking about the mass shooting at the club. It is horrible and my prayers go out to everyone affected. We watched a lot of the coverage and talked about it at Ben's fam's house. So sad, I don't even know what to say or how to transition away from it, but I just wanted to acknowledge it and send love and healing thoughts that way.
As soon as I woke up one of the dogs, Rufus, was up and ready to go out for a pee break. He is so good, but super afraid of thunder – which is extremely unfortunate for a Florida dog. We have tried a thunder coat, but it doesn't really help.
This morning I did a short run to shake out and then we did our Sunday morning tradition – a walk to get coffee.
Since I'm in Florida this week we walked to Dunkin Donuts. There's not one that close to where I live in California so this is a treat.
I spotted two turtles this morning too!! Hola tortugas!! I speak to random animals in Spanish. It's my thing.
Today is all about drinks. First iced coffee and then a new to me flavor or La Croix. They have so many different kinds now!
It's so refreshing. This Kiwi Sandia might be my new favorite.
But outside of sparkling water, champagne is my super extra favorite. And drinking it near the ocean is just the best thing ever.
I had lunch at a cute lil Wine Bistro on the water with friends.  It was perfection. This is the off season here so it's pretty quiet at restaurants and at the beach.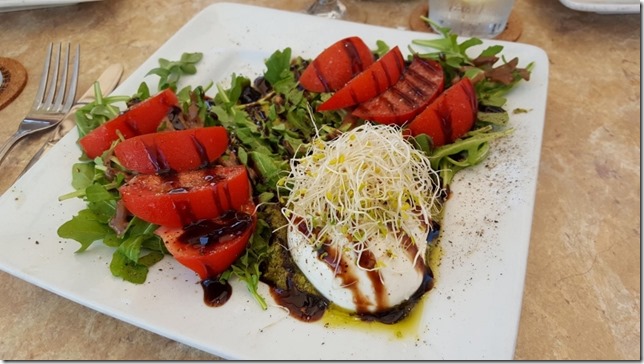 It was a bitter sweet lil lunch because I was headed out right after. This visit went by way too fast! But it was time to head back to the west coast before I turned into a puddle of sweat forever.
I packed snacks, but decided to get some food for the cross-country flight.
Question: What was the last thing you drank?