Hello and welcome to a new day 🙂 After thinking about my last few days I realize I was taking IE for granted and I need to make an effort to get back on the healthy train.  Not everyone has to make such a big effort, but not everyone has to get 8 hours of sleep to avoid binging. Everyone is different.
Here are three healthy things I did for myself today…
1.) Got up and did Jillian's 30 Day Shred Level 1. Then, made a healthy  breakfast to-go that doesn't require me to drive with my knees. A green protien smoothie with prowder (protien powder), spinach, almond milk, ice, chia seeds.
And cereals with raisins and cashews on the side…
2.) After my morning class I had one hour before I had to be at work. I decided to get a flu shot and a juice instead of blogging, hence the tardy post. It was twice as nice because I was craving a juice and crossed off "flu shot" from my To Do list. 
The juice made me feel great (as always)! But I already feel my left arm getting sore from the shot. That old lady really stuck it to me. That, or the combination of Jillian and a shot in the arm killed my muscle.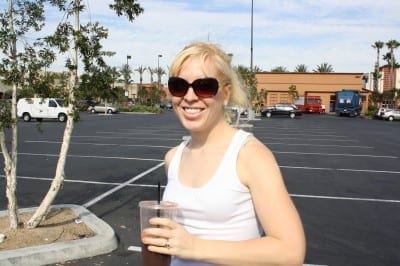 3.) I packed my lunch last night to relieve some pressure off my busy morning. In the mix – a can of salmon, mayo and relish. I put the salmon salad on a bed of spinach, onions and tomatoes.
When I was at Whole Foods waiting for my juice, I also grabbed a whole grain granola roll to go with it. This thing is full of grains, seeds and nuts.
It has raisins too! I couldn't resist a bite 🙂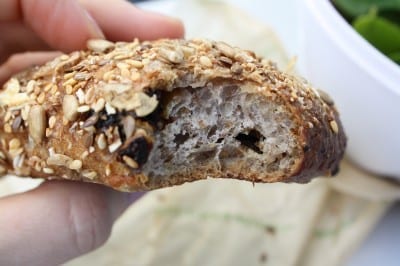 3 1/2. Sorry you guys missed out on the rant. I still feel the same way, so I'll probably address it very soon. I just wrote very stream of conciousness and thought I should write about it when I was less tired and moody 🙂
Question: What healthy things did you do for yourself today?
Write them even if it's something you do everyday. We forget to give ourselves credit because we're so used to being healthy, but you still deserve credit!