Hello peeps 🙂 Hope you all had a good day! It's Wednesday night, which means the weekend is peeking around the corner. Hang in there! (That speech was more for me than for you.)
I don't think my frozen meal, salad and apple lunch was enough food because I was hungry an hour later. I managed to postpone my snack until 3pm (between class and lab),  but left class super hungry three hours later.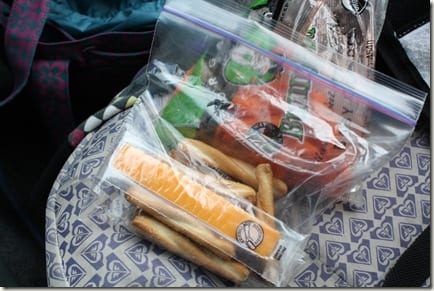 I rushed home and dug into Ben's powdered donuts -which I bought him, so I take full responsibility for that indiscretion. And I made a quick dinner so I could get some real food fast – sweet potato and leftover roasted chickpeas and sprouts.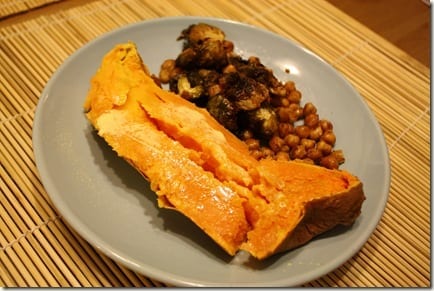 After dinner I recreated my amazing "It's Green, but it tastes like Chocolate Peanut Butter" Smoothie. Even Ben loves this one.
Chocolate Peanut Butter Smoothie
1/4c peanut flour
packet instant hot cocoa
ice
cup almond milk (add more if it's too thick)
spinach
1/3tsp xanthan gum
Then, prepare to be amazed.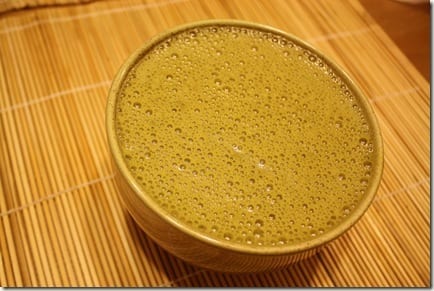 Intuitive Eating stuff – After going over some old notes from sessions with my RD, I think I've gotten away from the thing that was preventing overnight eating/binging (a very destructive habit I've had for a very long time). I recently mentioned you should
"eat breakfast like a king, lunch like a prince and dinner like a pauper".
That is similar to something Evelyn suggested to me a while back. She said I need to either a.) eat bigger breakfasts and lunches or b.) have a big afternoon snack (like a small meal).
I was doing that for a while and everything was going smoothly, but I think I lost track of that effort and my breakfast and lunches are leaving me for want. And trust me, that want gets satisfied when I get home at 6:45pm to an empty house and a full kitchen.
Anyways, I'm going to make sure to eat a breakfast and lunch a little higher in calories and see if that gets me back to a good place with night time eating. I was doing well for long enough that I think this plan works with me. I really don't have the time for mini-meals, so that is not an option. My schedule really only gives me time for 3 main meals and one snack.
*Side note – I've received several requests to blog about Intuitive Eating more. I hadn't addressed it for a while because I was doing very well with it and felt good 🙂
I was observing what was working and what wasn't without writing about it. But since I'm having a hard time and have been asked to address it, here it is.
If this part of RER bothers you, feel free to ignore it. I totally understand 🙂 I know it can be boring or "weird" if you don't "get it" or don't have similar issues.
*Updated to add: deleted rant right here.