Hello! I missed you!
Did you even notice I was gone?
No??
I could have been kidnapped!! Someone should have called the police!
Actually – I'd rather you call a really great podcast reporter to follow my tracks… telling my story in a very dramatic way… but instead of ending the show with a cliffhanger – find me!
K. Thanks.
I've been busy working on Run Eat Repeat behind the scenes and have some exciting things to share…
A. I have YEARS of training updates, race recaps, gear reviews and recipes here! But somewhere along the way as I updated the page and redesigned things the categories got messed up.
So I'm working to get it reorganized and easier to navigate.
I know a lot of you are stopping by on your phone and I want to make sure it's easy to read via mobile.
B. I have an amazing challenge coming up and have been working hard to get it ready!!!
The Run Faster 5 Day Challenge starts July 29th!!
Do you want to run faster?
Do you have a running goal?
Do you want to run stronger and feel more confident?
You'll learn:
How to set goals that help you run faster
How to get to know your body to identify effort
How to get started with speed workouts
Running hacks that can help you get faster
The tools you need to train better
AND you get all that info in the Run Faster workbook with pdf worksheets and a running log.
I'll share a video going over that day's lesson & do a Q&A session daily.
The challenge is open to runners of all levels – anywhere in the world.
Register Here – Run Faster 5 Day Challenge
Let me know if you have any questions – DM @RunEatRepeat on Instagram
Okay… now here are some other random life updates!
1- 4th of July…
I had a fun 4th of July with my family. This is the only picture I took from the day…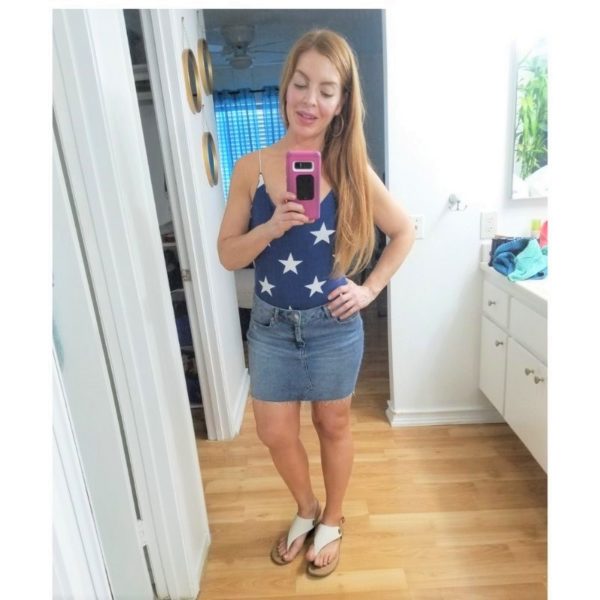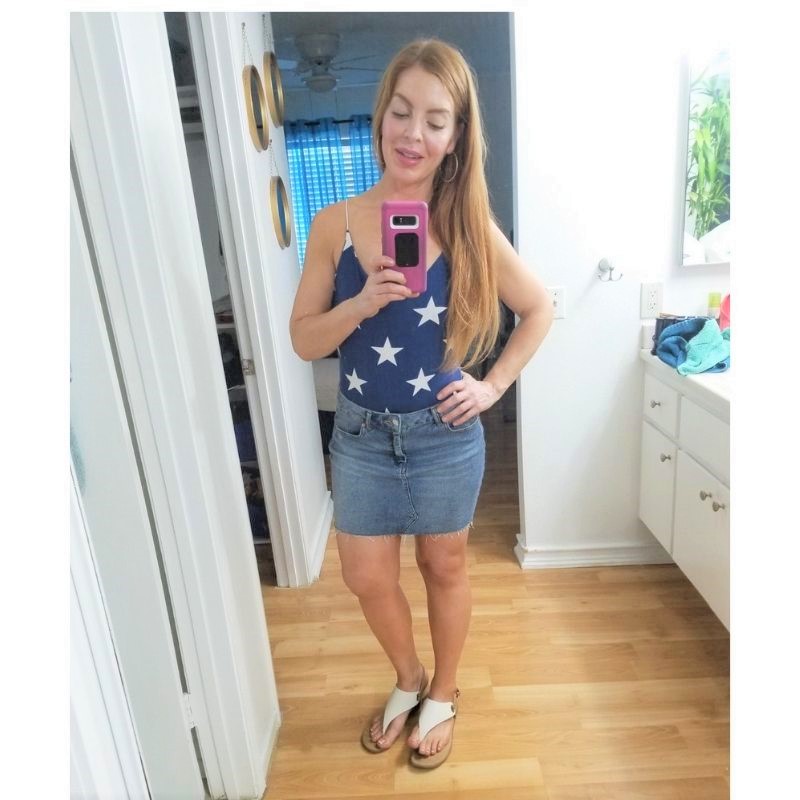 2. Diego had an accident!
A friend asked me to be his plus one to a rehearsal dinner and wedding last weekend.
I left Diego at his house during the dinner – he also has a Golden Retriever, Tucker. They're best buds!
When we got back to his house after dinner I noticed something happened to Diego's eye.
Next thing ya know we're at the Animal Emergency Room!!
We thought he punctured it or something horrible. Luckily it was 'just' a scratched cornea. The doctor cleaned it out, put solution in it and then checked it with a black light.
I was very scared at first!! But as soon as the doctor said it was probably a scratched cornea I relaxed a bit because…
the exact same thing happened to me a few months ago.
AND it was at the same location with the same doggo!!
Tucker accidentally scratched me in the eye and I mentioned it on my IG stories. Then, a lot of you messaged me to be safe and get it checked out.
So yeah… how random is that??! Now I have to put drops in Diego's eye 3 times a day, but he's going to be A-okay!
WARNING – I'm going to post a picture below of Diego's eye. It's a little bit gross if you're squeamish. But I don't think it's that bad.
I'm sharing this because I know someone might desperately be searching for more info as their friend drives them to the Animal Emergency Room in the middle of the night and needs more info asap.
Our pets can't tell us what's wrong! So err on the side of caution and get them help.
This was at the emergency room. When I first saw him – his eye was super swollen and red inside. I could not see his pupil / eyeball / whatever you call it in dogs. THERE WAS NO EYEBALL.
But he didn't seem to be in any pain. <- That's noteworthy because if I didn't really take a good look at his face I might not have noticed at first. Or it could have happened hours before and didn't hurt any more?
His energy was normal, he greeted us like normal and wagged his tail. But there was very obvious trauma to his eye.
I took this pic right after we got home from the pet emergency room. He already seemed to be doing better!
Also… I drank a la la la lot at the wedding. I needed it after the eventful night before!
This is the only pic I took at the wedding. And it's the only time I've put on makeup in 500 years so I'm posting it without my friend's face because I don't want Diego to get jealous.
3. EARTHQUAKE!
I felt the earthquake last week!!! AHHHHHHHHHHHHHHHH!!!!
But really I was on the phone and just thought I was dizzy at first. Then, I realized it was an earthquake and just kinda stood there trying to figure out if it was going to be 'the big one'.
Nope.
4. Podcast!
There's a new podcast episode up Friday! Please check it out on your podcast app!
On your iPhone = it's just the Podcast app. [Or you can download Stitcher or another one]
On your Android = I use Stitcher… you can also use Spotify
5. Five day challenge!
Now sign up for the Run Faster 5 Day Challenge!
And tag @RunEatRepeat so I know ya did!!