I am either utterly obsessed or completely uninterested with everything in my life. This is evident by my full on obsession with  running, watermelon, eating, blogging about eating and running… you get it. As I was going over my favorite things from the week I realized they are not just my favorites right now I am OBSESSED with them 1000%. Sometimes it will just be a phase and I'll get over it in a few weeks or something, but sometimes it takes over my life (see: writing about running and eating is my full time job).
So, I can't predict how long these new favorites will last but they are strong!
1. My new favorite drink from Starbucks = iced venti Americano with sf caramel syrup double blended. I have thought about it everyday since I got it on Wednesday. Luckily I work from home so I don't pass by a 'bucks on the way to work because if I did I'd get it twice a day.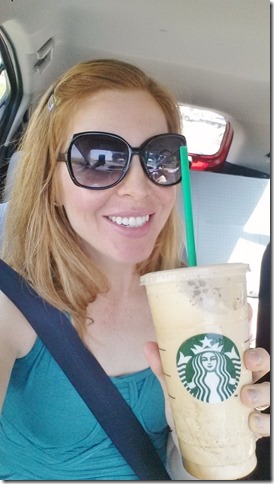 Fun fact: I worked at Starbucks for two years in college and didn't like coffee at the time so I didn't really drink it. The pastries on the other hand…
2. In past obsessions news… I used to get a Jamba Juice after every single long run. I was so in love with Jamby my bf at the time got me a "Powered by Jamba Juice" license plate holder. Ha! I still love it but don't go as often as I used to.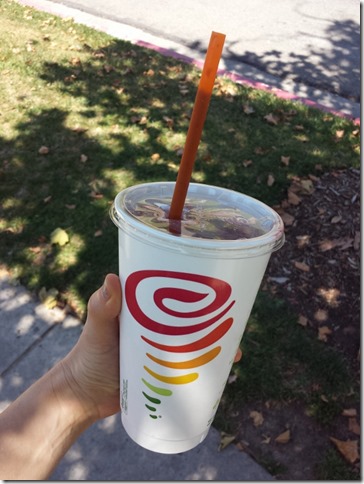 3. This sunblock that actually smells nice! I am super stressed about the sun – I got way too much sun in Florida even though I was really trying to be 'good' about slathering on the sunblock. Anyway. I put on sunblock, but wish it didn't feel so greasy and smell clinical. Well, this sunblock is a great option AND I found it on Manager's Special at Ralph's! Boom.
4. This Pumpkin Spice gum that I scored at the 99 cent store. Yes, I'm sure the 99 has it because no one wanted it in season. But it reminds me of Popcorn Jelly Bellies = the only jelly bean I like!!
5. These Van's Waffles in Ancient Grain. They are so good. Trust me.
6. Being home and no longer eaten by bugs at all times. Yes, California has tons of people and the cost of living is high and we are in a serious drought… but there aren't really bugs compared to more wet, swampy locations. Read: I was being eaten alive by bugs in Florida and my legs are covered in little scabs and it's gross and sad. I think they like me because I taste like watermelon.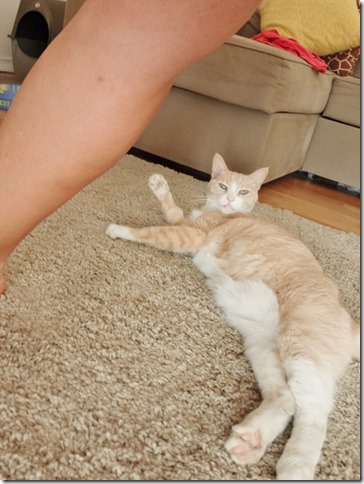 7. These new and super colorful ProCompression Marathon Socks! LOVE.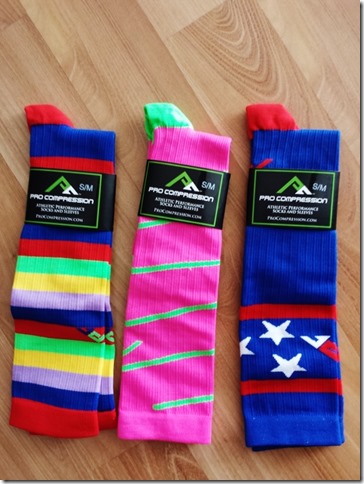 8. Doing things with my "bear hands"…
Get it?
Ben and I have this long standing joke about doing things with our bear hands so I picked these up to be the ultimate joke champion. It's actually really hard to do things with your bear hands!
There are also bear hands oven mitts I'm thinking about getting.
9. Married at First Sight. I am OBSESSED with this show. Normally when I watch TV I multi-task and check email or clean or something – but I have to stop everything and watch this reality show so I don't miss one tiny thing. It's very odd.
10. My latest post on Women's Running….
Finding YOUR Motivational Mantra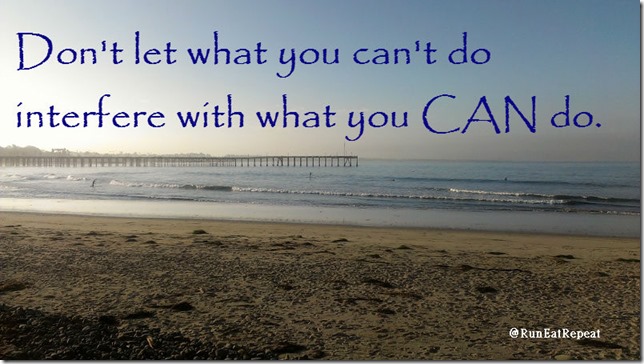 Question: What are you OBSESSED with right now?