This morning I woke up dreading the run I was supposed to do – 1 mile repeats. I've been avoiding these at all costs.
I have a ton of great excuses I've thought up too… "it's 202 degrees… I don't have a flat 1 mile stretch I can do them… My body is strictly opposed to going fast…"
But, I feel like I'm getting slower lately – partly because I haven't been racing or training hard – so I knew I should at least do a few 800s.
As expected, my legs felt tired and I was not speedy at all. I ran 1 mile out to my usual .5 mile stretch and did one 800. Then, I gave myself a minute of rest and did another one.
You are not going to believe what happened on my second 800…
I almost died! And not because I ran so super sonic fast that my body couldn't handle it: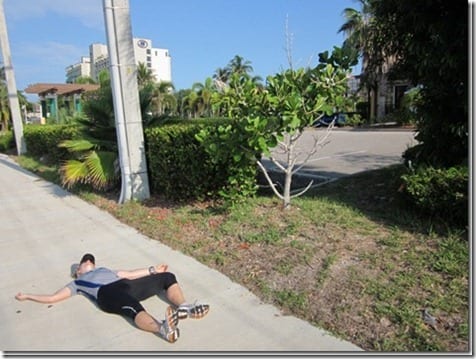 As I was running a lady was standing on the path right in my way looking at something. We smiled at each other and I ran past her. I thought maybe she was talking to another lady who was in her backyard right there filling up a bird feeder.
I ran past them and the houses that were on my left. Suddenly something hit me on the head and bounced off toward my right.
What the hell?!
Did the bird feeder lady just throw something at me?! Is shit about to go down?!
I glance over my right shoulder where the object is flying off and it's a freaking duck. A DUCK FLEW INTO MY HEAD ON MY RUN.
Truth be told, I screamed, "AHHHH?!?!" When I realized it was a duck, mostly because I figured it pooped on me during the hit and run.
The lady in her backyard made a funny shocked noise and started laughing.
I laughed and kept running. Stupid bird.
Now for the rest of my life I will look at every duck suspiciously wondering if they were the asshole that ran into my head.
Although, I do kinda love that I have a weird running story to tell now. It will grow into a tale where I almost got killed by a rabid duck and end with,
"And that's the day I started to hate ducks. The end."