Hello from the sky above!
No, I'm not in Heaven (wish me luck that I get someday though) but I am flying home to California. I've been in Florida since the 23rd and am really ready to get back!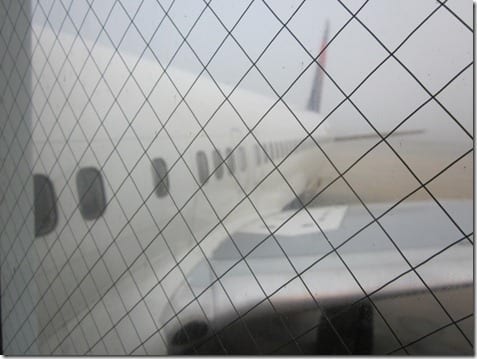 Yesterday Ben was sick so I went shopping with his mom to Walmart (don't tell my dad). Seriously. Yep, this is what we do for fun up in here.
Can I give a little "Bravo!" to Santa for making a small effort to encourage girls with a healthy role model with this toy. I still have issues with it having "Mommy" in the name, but it's a small step.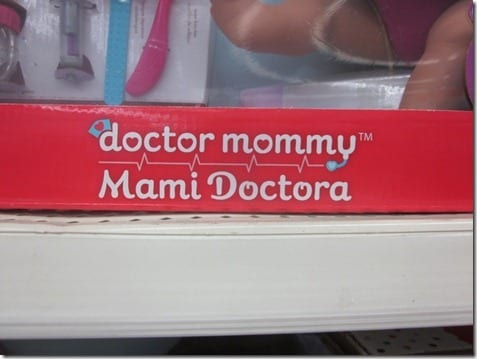 Last night's dinner was Chinese take-out – my favorite after Thai food. I was a happy camper all the way.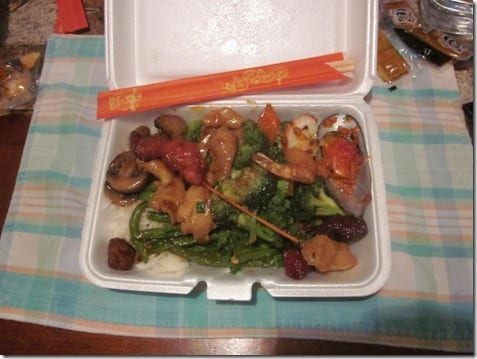 Then, we headed to Jon's and enjoyed a beverage or two.
My wake up call this morning was 5am to catch an 8am flight out of Sarasota. I wasn't hungry that early but packed a cup of egg whites to eat later. I really need to get back to clean eating after 2 whole weeks of daily treats and sugar sugar sugar.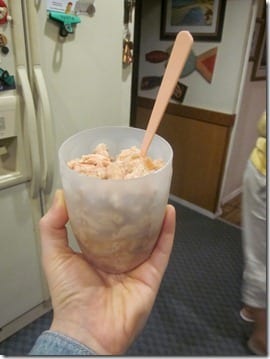 The Sarasota airport was dead, I got my eggs through security and got a pat down in no time. Thankyouverymuch.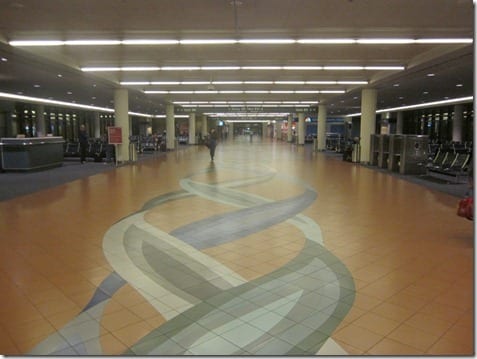 My flight to Atlanta was quick and sleepy. And I lied when I said yesterday's DD was my last for a long time… I had time to grab a large iced coffee with skim before boarding round 2.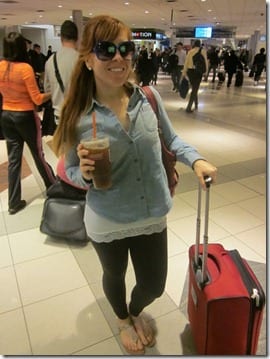 I also grabbed a salad for later and have SNAKES on a Plane! I mean snacks… almonds and cranberries.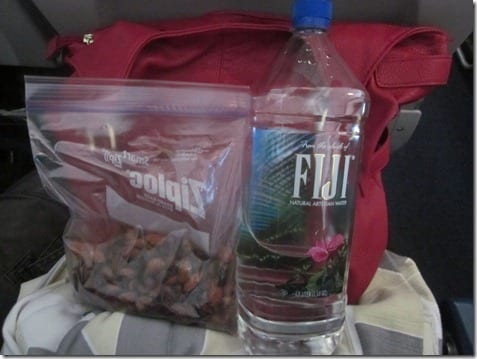 This flight from Atlanta to LAX is on a super BIG plane! When I was a kid my mom took my brother and I to Washington DC and New York a few times. I remember the planes being huge like this – with 2 aisles. It's been a long time since I've flown in a plane this big and I fly fairly often!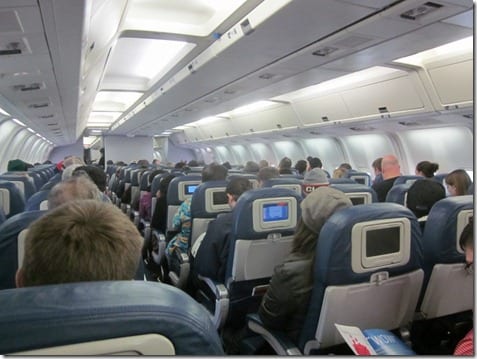 Since this was a vacation and all I brought a lot of reading materials to enjoy  by the pool. I read "Wheat Belly" last week after multiple people recommended it to me.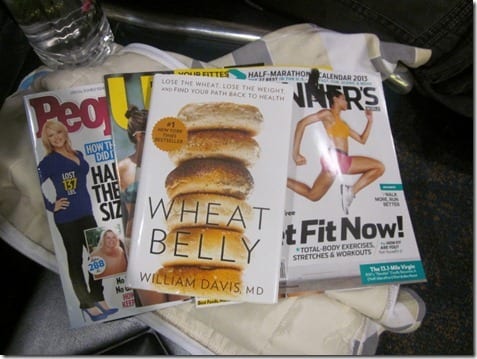 Wheat Belly is written by a doctor who treated 2,000+ patients with his theory that wheat is what is making them sick/diabetic/overweight/other. Dr. Davis claims eliminating wheat from some people's diets can help eliminate health issues and weight problems. My first reaction to this is, "No sht, denying yourself a huge chunk of the foods you currently eat means you're going to lose weight. Shocker."
But, he does reference a lot of studies when making his case so I read it with an open mind. He wrote a lot about people with celiac and diabetes, but thinks the eliminating wheat is good for other groups of people too. I was getting on board until he started talking more and more about it being a way to lose weight (I consider eliminating wheat equal to a whole food group which isn't moderation). And he also says, "don't eat wheat, but don't eat wheat free" which eventually is clear he means to eat meat, veggies and low carb.
Overall: I thought it was interesting to learn more about how wheat bread spikes your blood sugar more than white sugar. I do think you should only go "all or nothing" with something like this when you have a legit allergy, but my holistic nutritionist has theories about wheat and thyroid so I'm going to keep researching the cause. She did say that wheat affecting thyroid isn't something you could test for like a wheat allergy, but is shows itself through other symptoms. This book doesn't reference anything regarding the relationship between thyroid and wheat.
I'm a skeptic, but I'm going to keep researching / doing trial and error to figure out what works for me. I have cut back significantly on soy products (on the suggestion of my holistic nutritionist) and definitely feel a difference in my energy level! We're all different, please take care of your body and your needs in whichever way works for you.
Question: What did you do this weekend?
What's your favorite kind of take out?