Hello! I am super excited to share my thoughts on this new wine delivery service – Weekly Tasting. It's wine tasting you can do at home! But unlike how I usually 'wine taste' at home (read: um, just taste wine as I drink it) Weekly Tasting walks you through each wine with a video from a sommelier.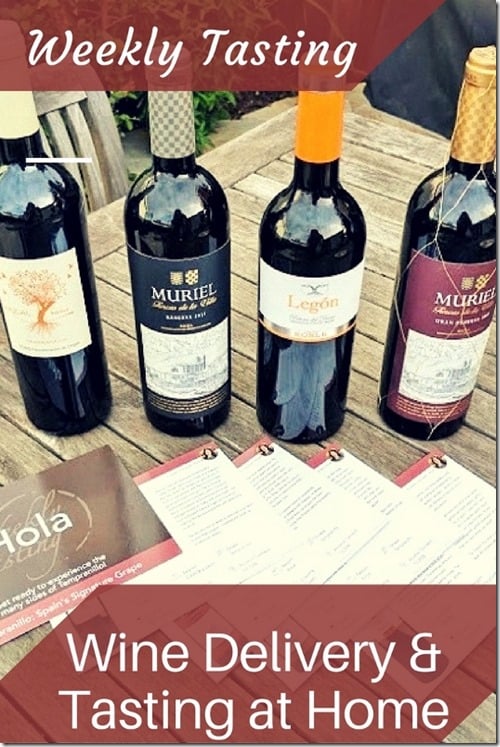 Each Weekly Tasting has a theme – wines to enjoy with take-out food, wines from a specific area…
My box was wines from Spain. I love that the little card said "Hola!". I thought it was a special message because I'm Mexican, but then realized it went with the Spanish wines.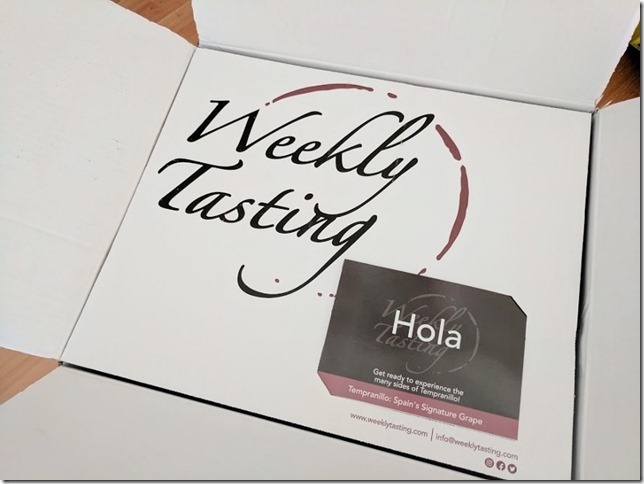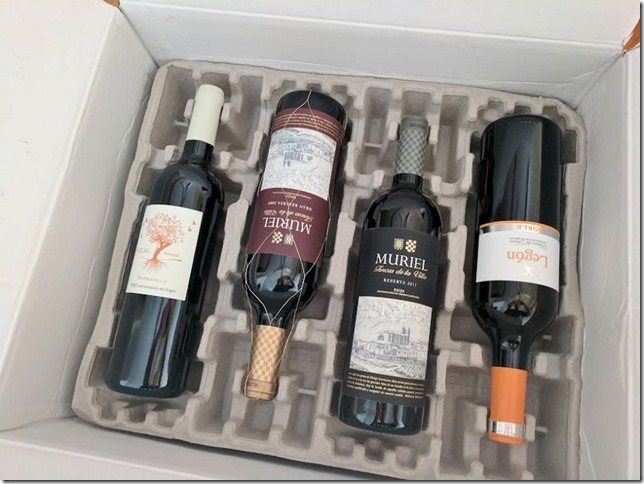 Each Weekly Tasting comes with 4 wines and cards that describe each wine. On the back of each card there is a food pairing recipe suggestion. That is perfect! I feel like a big part of getting to know more about wine is learning what food they should be paired with.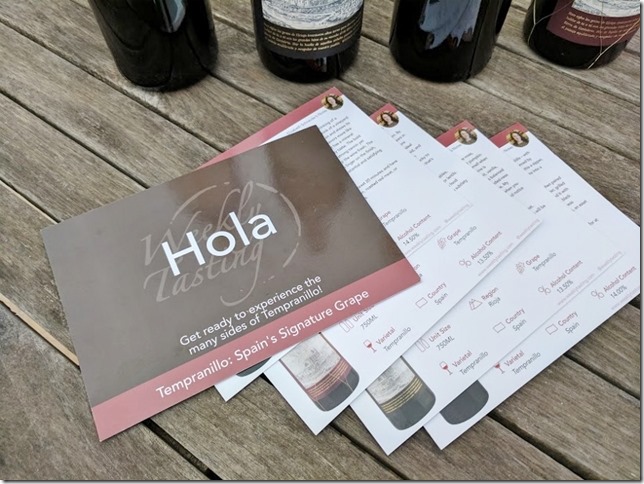 I had already planned on making a cheese plate to do this tasting so I was happy to see one of the wine information cards suggested enjoying it with a sheep's milk cheese plate.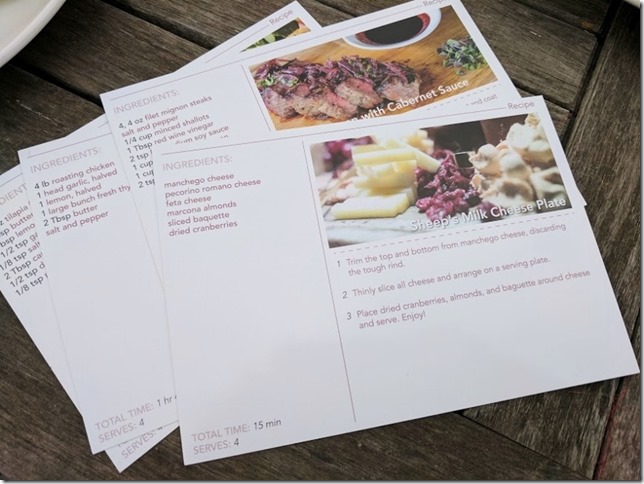 Here's the spread with my new friend Mr. Gnome. He is well traveled and enjoys fine wine…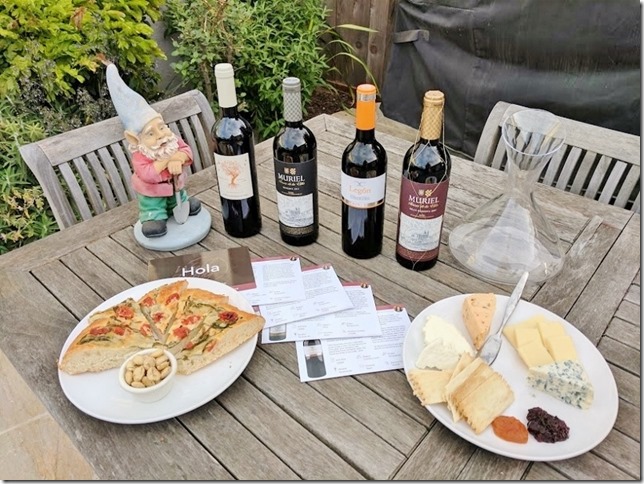 Bonus tip: The Rosemary Marcona Almonds from Trader Joes are amazing. Get them. Share them. Eat them all.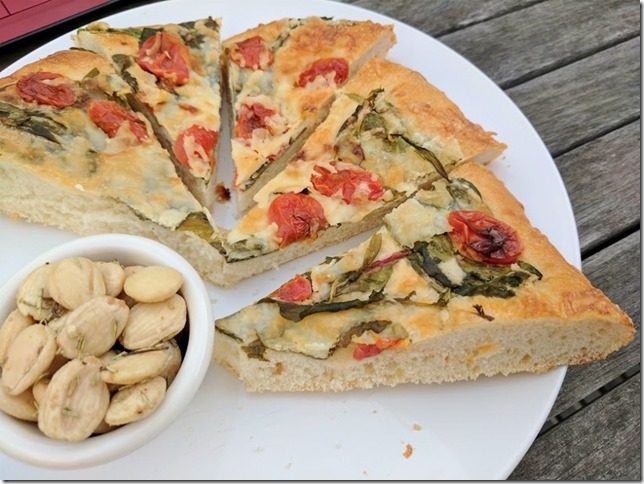 Now for the moment I was waiting for… let's wine taste!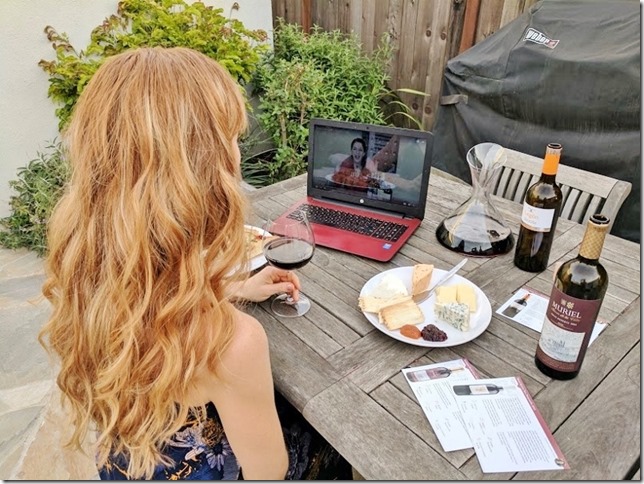 Now for the fun part… tasting the wine!
I like wine, but I have been super intimidated to ask a lot of questions about wine at fancy restaurants or even at the store when an employee offers help. I'm super interested in learning about wine but don't know where to start. So, this was a perfect situation for me because I watched the video, tasted the wine and was able to kind of 're-taste' and process the expert's thoughts along with my own.
With in-person tastings I feel like I just nod and smile even if I don't taste 'notes of peach with an oaky finish…". Um, yeah! Totally. I totally taste that too.
I liked that there are food pairing suggestions too. This makes it easy to plan a wine tasting party or girl's night. You could even ask 3 friends to come over and ask each one to make one of the dishes (or similar) and you'll provide the wine. Boom!
I was afraid that I wouldn't like this wine tasting because all of the wines were red wines. I don't like red wine! Well, the reality is – I don't know anything about red wine and have avoided it because it's risky to just pick a random bottle at the store. I went into this experience thinking I wouldn't like the wine but could at least learn about red wines and taste the differences.
It's kind of funny – I got so caught up in watching the video and was curious about the tasting process… I drank the entire glass before I even realized and thought, "Hey I drank it, I liked it!" Ha!
Elizabeth Schneider is a Sommelier and has spent over 10 years in the wine industry; she also hosts the Wine for Normal People podcast. Elizabeth is cute and obviously passionate and super educated on wine – but more than that she just seemed to like it so it made it more fun.
Does this make me a wine-ologist?
Overall: Four wine glasses up.
Want some wine?
Me too. Order Weekly Tasting and invite me over please!
Weekly Tasting Wine Delivery GIVEAWAY
Weekly Tasting is giving away a $300 Amazon gift card for one lucky reader!
Enter to sign up for the giveaway and learn more about the newest way to experience wine below. Use the Rafflecopter box to enter the giveaway here:
a Rafflecopter giveaway
*Must be 21+ to enter and in U.S. Not applicable to entrants in MA, UT, TX, IL, or AZ.
Question: Do you drink wine? What's your favorite kind?
Don't drink wine? What's your favorite beverage??
Thank you for reading and supporting RunEatRepeat. This post is sponsored by Weekly Tasting. All opinions are my own.