I forgot my iced coffee cup at work last night so after my morning shift I had to buy a refill at Coffee Bean. Darn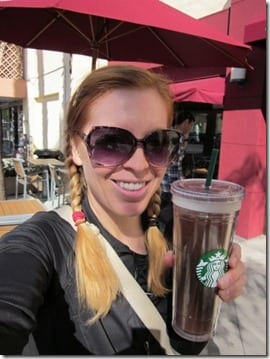 After a short morning shift I came home for lunch, then got to working on my new part time job. The transition of an extra hat to wear has been hectic, but I'm hoping it will soon be smooth sailing
I have been craving a bean and cheese burrito (hope I'm not low on iron) and finally made one for lunch. (I also had a kiwi on the way home from work.)
Lunch left me wanting something sweet so I made a dessert of PB and chocolate chips on a sandwich thin. Lucky Charms is wrong – THIS is magically delicious!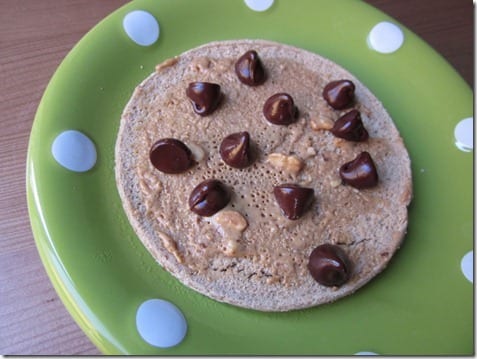 I recently heard this quote and Ben and I have been discussing it on and off for a few weeks:
"You can have ANYTHING you want, but you can't have EVERYTHING."
The original context was regarding work and kids and money, but it really applies to all aspects of life. Part of me doesn't want to believe we can't have everything. I want everything! I want a good job that I love, pays well, has flexible hours and lets me attend blog conferences and races. I also want a big house in an great neighborhood and kids and to be happy and fulfilled and…
Basically, I want it all.  I was raised to believe I could have it all. I was told I should dream BIG and reach for the stars!
Now that I'm an adult and live in the real world I realize I have to prioritize what I want. I can have anything, but not necessarily everything. And I can still be happy.
It seems disappointing to come to terms with the fact that I'll never be a backup dancer for Britney Spears or the next Katie Couric. But, I have an awesome life. And I can continue to have an awesome life and live out some of my dreams if I figure out which ones I want to pursue.
It makes me feel defeated to think I can't have everything. But, it empowers me to think I can have anything. Yes, I'll have to work for it but that makes it more rewarding too.
What does this have to do with RER?
Today I realized "I can have anything, but I can't have everything" applies to my weight loss struggles too. I can have an extra piece of chocolate cake OR I can have my jeans fit looser,  but I can't have both.
What do you want:
A.) More dessert
B.) The scale to go down
C.) All of the above (Dream world option – does not apply in real life)
There is no right or wrong answer on this test, just the answer that would make me happier. It's my life, my choice. I just need to decide.
Question: What do you think? Can we have Everything? Or Anything?