I ran a marathon yesterday.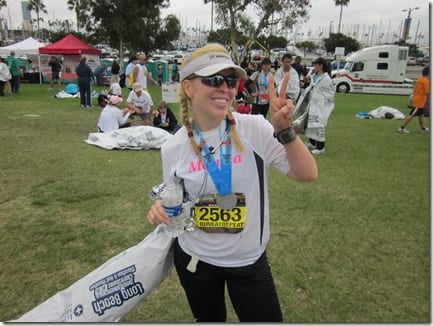 I know you might already be aware, but I just needed to say that out loud. Or rather, write it on my blog.
I woke up today feeling sore, which is obviously expected. My knees and quads hurt when I go from sitting to standing or vice versa. And I'm pretty sure at least one of my toe nails is a goner.
Now it is Zero Week – the week after a marathon. I have read that you should take it easy one day for every mile of the race and Hal Higdon's Zero week plan says the same thing.
I am going to follow along on his Zero Week plan to some degree:
Monday: "No running today! No exercise of any kind! Take it easy."
Tuesday: No Running. I wish I would have scheduled a massage for this day, but that's a no go.
Wednesday: "No running! And don't substitute cross-training in a mistaken belief that it will help you maintain fitness. You may be able to swim or cycle more easily than run because you'll be using somewhat different muscles, but you still need rest-rest-rest to allow all your muscles to recover. Starting to train too soon can delay that recovery. You earned this period of rest. Take it!"
Thursday: "Okay, you're cleared to run again, but don't overdo it. The Thursday workout for Novice runners the week before the marathon (Week 18 in my program) was 2 miles of gentle jogging. That sounds about right for Zero Week too. Intermediate and advanced runners might do a bit more, but see how your body feels."
Friday: "The best cross-training discipline for a recovering marathoner is simple walking. Don't underestimate the value of this activity. Go at most 2-3 miles."
Saturday: 6 miles
I have two races coming up in November, one in December and I'm not sure from there. I need to write up a training program for those with recovery and new goals in mind.My next half marathon is in 27 days, so I want to make sure to give myself enough rest, while preparing for that race too. That will be coming soon.
This morning I made a big plate of pancakes for breakfast. Thrown in the blender: egg beaters, oat bran, baking soda, pumpkin pie spice, pumpkin, chia seeds, stevia, vanilla. Cooked with sliced banana.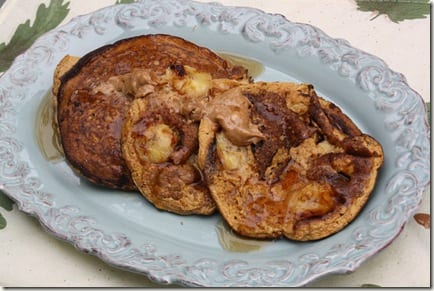 These were some of the best pancakes I've ever made. Ben was already at work to I ate them in silence at the table  completely savoring every bite. It really was a Happy Meal.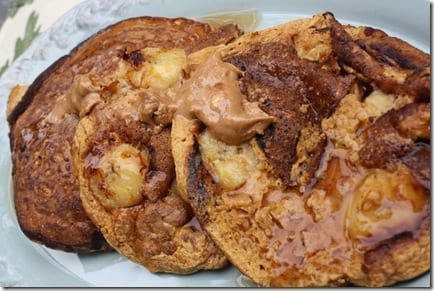 Question of the day: How many toe nails will I end up losing? Thoughts?