The All State 13.1 LA Half Marathon starts right on the boardwalk in Venice Beach. Parking was easy breezy. I parked in one of the two lots the directions said for $5 = deal of the day! (Parking for the RnR LA was $25!!!)
That parking lot is about 1 mile from the start, but you get to walk along Venice Beach when it's quiet and calm (a rarity) so it was nice. Plus, this is when I met my new friend Marty and he kept me company along the way.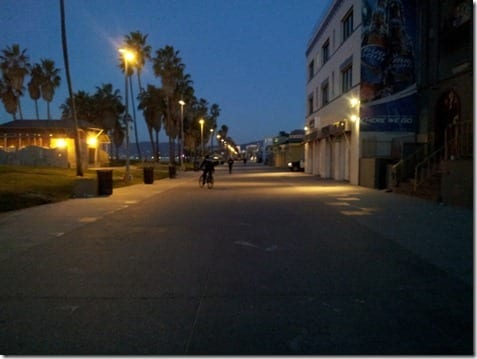 There were beach bathrooms along the walk and porta potties at the start. Check and check.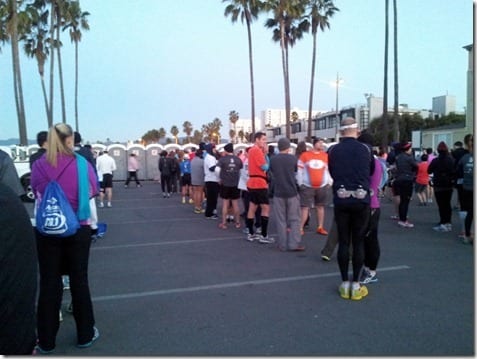 There were pacers at the start, but no formal corrals. Runners were encouraged to line up with their pace group but I'm not sure how well that happened. Luckily, it wasn't that big of a race so the crowd thinned out after about half a mile.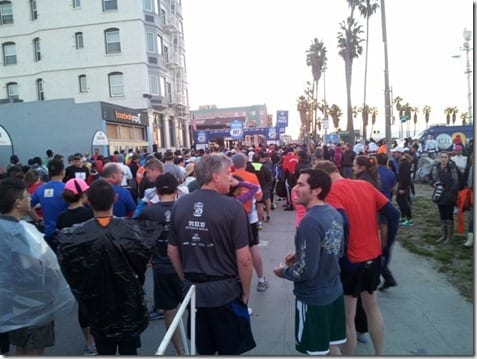 The course was FLAT and pretty. We ran along the beach path for a while before turning inland. Then you go back out to the beach path. There was one spot where the path was covered in sand but only for a few feet.
The only downside was there is a water treatment plant you pass on the way out around mile 7 I think and have to pass it again on the way back. Let's just say it's unpleasant. Plug your nose and enjoy the gorgeous views!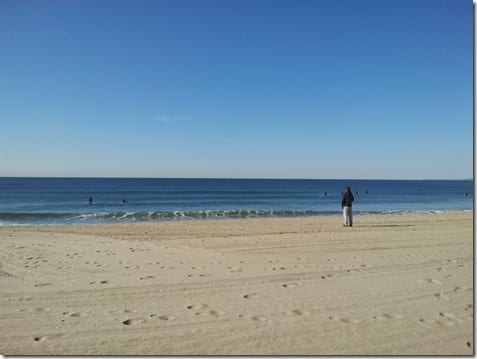 You get your medal at the finish…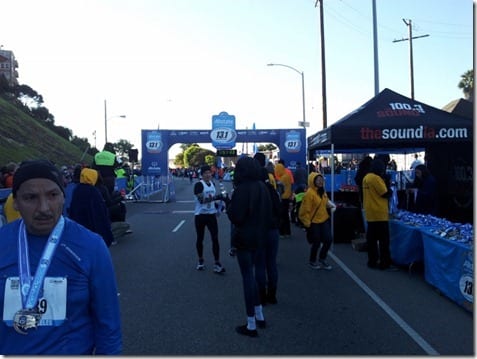 But then are directed toward the "expo" for the beer garden and food.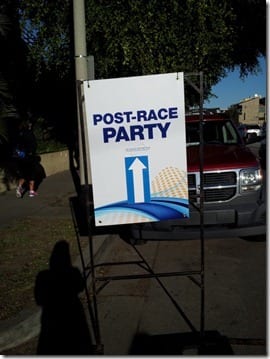 It was a beautiful day, but a little chilly. I didn't hang out long here because I was too cold. It's a point to point course so from here there are buses to take you back to the start. There was no wait when I got on the buses, it was filled fast and we were on our way. Easy breezy again.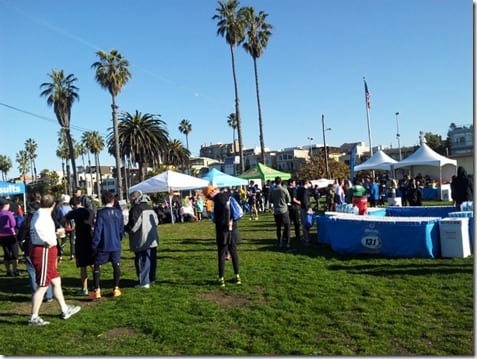 The finisher's medals are nice and the little "13.1" spins around.
There is no "expo" for the race, just packet pick up at a Road Runner Sports location.
I was in and out in 5 minutes and was able to donate 2 pairs of used running shoes to Sole Mates.
Overall: The Los Angeles 13.1 Half was a well organized, solid race. The thing that would bring me back is the mostly flat course and easy parking. I would do this one again.
My time for #1 of 13 in 2013… 1:47:35
*I'm going to add a Page at the top of RER for my 13 13.1 in 2013. Stay tuned!!!
If you ran the race feel free to chime in or link up your review in the comments!
In other, more awesome news…
RER Reader Kym ran the Walt Disney Marathon this weekend! Here she is with her  mom (Chris), and younger sister (Brooke) at the finish line. She blogs at Red, White and Marine Wife Great job ladies!!!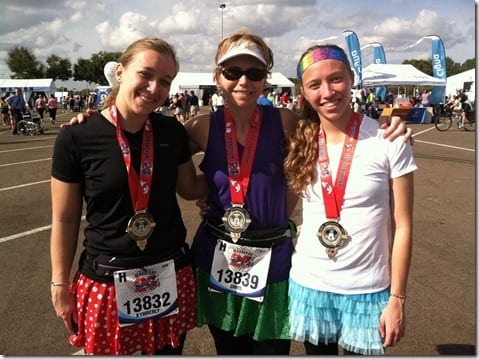 Aaaand…. in epic news of America…
My brother proposed to his girlfriend in Catalina today!!! It was for the f-ing Catalina Wine Mixer! (Please tell me you know where that's from.)
No word on whether or not she said Yes…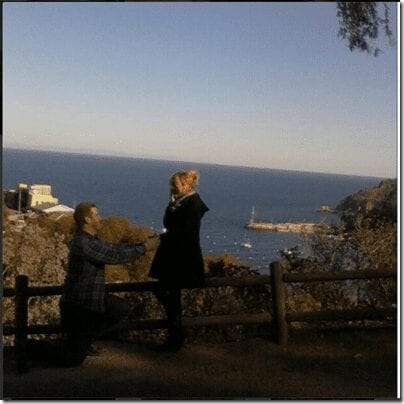 Kidding.
See you later