I arrived in San Francisco after midnight. My flight was delayed and the shuttle ride took a while. So, I went straight to bed after researching today's run.
Last night I googled "How to run across the golden gate bridge" and found a familiar website at #5! I ran the GG a few years ago when I was in town for the Foodbuzz Festival. Hello Run Eat Repeat, fancy seeing you here!
So, I confirmed my notes with the front desk (who were no help and told me the driving directions to the bridge) and set off on foot.
Running Across the Golden Gate Bridge
Running Across the Golden Gate bridge is easy, but I got lost the first time I tried it so I wanted to make sure I knew where I was going.
1. From all area hotels – get to Fisherman's wharf or take a taxi to Crissy Field.
2. If you stay near the water you will come to Fort Mason and a steep hill. Keep going on that path and it curves you to the right again toward the bridge.
3. There are two ways at this point, I chose to stay near the water because it's gorgeous and peaceful. After a while you will see a sign on your left like the one below (or you can keep going straight which doesn't go to the bridge – this is how I got lost the first time).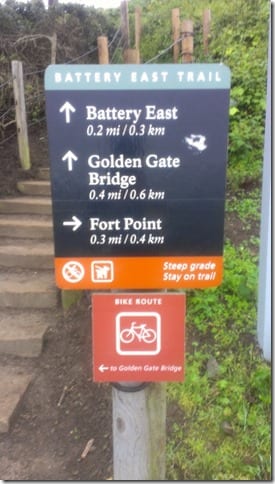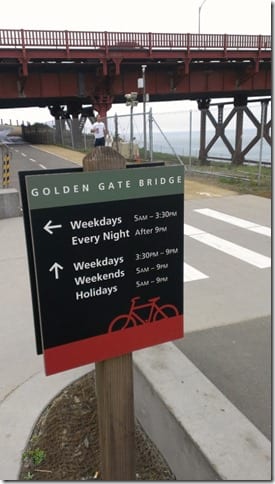 4. Go up the stairs and it will lead you to a winding path that takes you to the bridge. There is the famous look out point here too. Best photo op in San Francisco!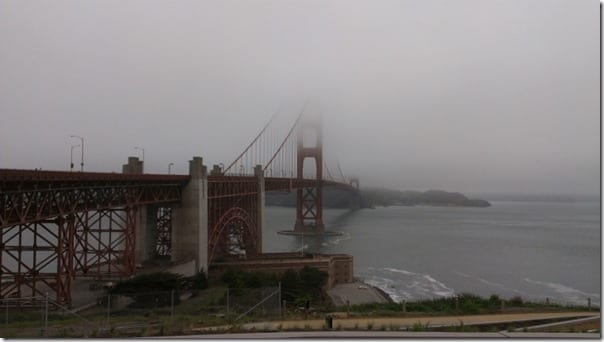 5. Finally you made it to the bridge! The Golden Gate is 1.7 miles across one way. Since it was early there weren't too many runners, but I have heard it gets pretty packed during the day.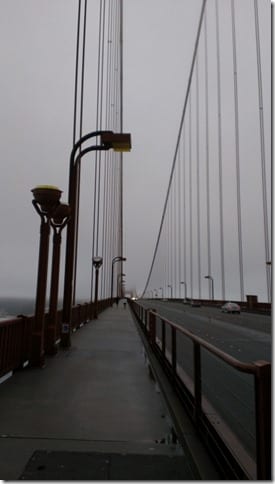 There is a good view of San Francisco from the other side, but that's about it.
I did about 11 miles but stopped a lot on the way back for pictures.
Later my victory lap is Ghiradelli… yeah buddy.
See ya later!
Run SMART Goals
Fill out this form to get the SMART Running Goals worksheet to your inbox!