So, I decided to start my day with a little run at the beach…
I got a surprise in the mail from ProCompression yesterday and opened up  these heart compression socks! LOVE. They are on sale tomorrow – stay tuned!
I was a little sad that SkinnyRunner is MIA this weekend. Apparently I like having a friend around. So, I was extra excited when my peep Leann shouted at me on the walk to the start!
I figured it was going to be cold at the start so I had a sweater to keep me warm. I randomly grabbed it and thought it was funny that it kinda matched my socks!
The course: Fairly flat, decent weather. But, it has a bad reputation for being frustrating as the out and back for the full marathon runners teases you. As you head to the finish you have to go away for miles 18-22 before actually heading back to the finish line. Also, it's at the beach hello.
Since it's at the beach there are beach restrooms and porta potties available, which is convenient.
Good crowd support for a bulk of it since full and half marathoners run along PCH for a long time.
Plenty of water AND Clif Shots in MOCHA => which I love.
Surf City Marathon Finish!
I finished in 3:40:58.
Post-race food bag:
Overall: I felt okay, not great at this race. I really wanted to take it easy but decided on a happy medium of pushing it a bit at the end but staying conservative for most of it. My ankle is tight and I really should be icing it.
Walking back to the car…
These socks are on sale tomorrow – come back and I'll share info!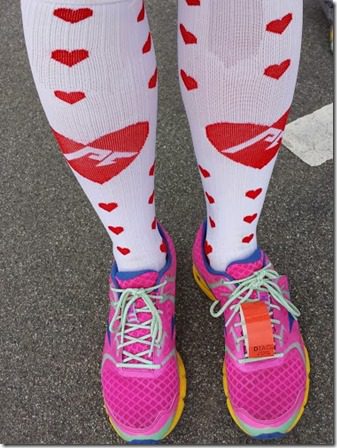 Bye!
Spotted this license plate on the way home – I love Gin. That is my cue to start drinking!
Question: What was the best part of your weekend?
Run SMART Goals
Fill out this form to get the SMART Running Goals worksheet to your inbox!